As the NHL world enters its least exciting October since 2004, many hockey fans have given in to fits of anger, sadness, and pure pessimism. After all, most NHL fans are being deprived of their favorite sport and are waiting to see the new versions of their teams. Pittsburgh Penguins fans want to see a healthy Sidney Crosby for 82 games, Minnesota Wild fans are anxious to see Zach Parise and Ryan Suter in green jerseys, Carolina Hurricanes fans are looking forward to Jordan Staal joining his brother Eric, and Los Angeles Kings fans want to raise their Stanley Cup banner!
For Kings' fans though, the lockout may not be the worst thing in the world for their team. Granted, it certainly will not help with growing the fan base or increasing coverage in Los Angeles, but the team itself may benefit from the extra time off. Here's a look at the top 5 positives for the Kings during this lockout.
1. Rest and Recovery for Jonathan Quick
One might say Kings' goaltender Jonathan Quick had a busy and pressure-filled 2011-2012 season. That would be an understatement. His regular season consisted of 69 starts, 3rd most in the league, behind the NHL's 2nd worst offensive team. He turned that scenario into a Vezina nomination and propelled the Kings toward a playoff berth as the 8th seed. Few would argue that Quick is far and away the biggest reason that LA made the playoffs.
Once the team was in the playoffs, Quick added 20 more starts to finish with 89, the most of any goalie in the NHL for '11-'12. Oh, and he also added more accolades in the form of a Conn Smythe Trophy and Stanley Cup as he backstopped the Kings to their first championship ever.
Recent history has demonstrated that, unless you're Martin Brodeur, goalies generally do not perform well season after season with that many starts. Add in Quick's minor surgical procedure to repair a disc fragment and it's clear that he would benefit from some time off. Be happy Kings' fans, the lockout is protecting and helping your new 10 year, $60 million investment!
2. More Time to Develop for Slava Voynov
Talented prospect Slava Voynov was not expected to be a full time defenseman for the Kings at the start of last season. He quickly made an unexpected NHL debut in October though when Drew Doughty went on the injured reserve list. Voynov continued as the first recall from AHL affiliate Manchester for any defensive injury until February.
In February, the Kings decided it was time to make a move. Voynov was ready for the NHL and the team needed goal scorers, so Los Angeles traded away defenseman Jack Johnson to Columbus for Jeff Carter. From then on, Voynov had a regular spot on the blue line and played in all 20 playoff games as well.
Now, in the midst of a lockout, Voynov has been sent back down to the AHL as one of the few Kings' regulars with minor league eligibility. During the last lockout in 2004-2005, players like Jason Spezza and Michael Cammalleri (then with the Kings organization) used their AHL time to hone skills and pass many veterans in development. When the lockout ends, Voynov may leave Kings' fans forgetting who Jack Johnson ever was.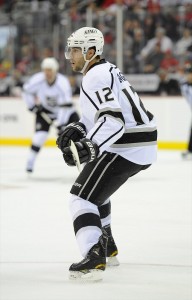 3. A Chance for Simon Gagne to Hit Reset
The Kings signed oft-injured Simon Gagne prior to the '11-'12 season. Oft-injured may not even do justice for the winger and his unlucky injury history. Gagne could not escape this past season healthy either, as he was limited to just 34 regular season games and 4 playoff games due to a concussion. Once the season was over, he proceeded to undergo surgery for a mass in his neck.
Now with his concussion behind him, surgery and recovery completed, and a lockout at the forefront, this may be the final time that Gagne gets a chance to restart his season/career fresh and injury-free. With little more luck, this lockout may be his key to lasting a few more years in the NHL than if he kept pushing through the rigors of NHL life without a break.
4. Less Time for Other Teams to Develop Chemistry
Some people would argue, "If it ain't broke, don't fix it." Others may say, "If you're not getting better, you're getting worse." It is clear that the Kings decided on the first philosophy in bringing back their entire Stanley Cup Champion roster to compete for a back to back championship run. As the lockout extends into the regular season and games are cancelled, this philosophy may prove to be incredibly wise.
Teams in Minnesota, Carolina, Dallas, and other cities around the NHL are currently in need of time to develop their team philosophies, work on line chemistry, and see how their offseason additions will mesh with incumbent players. Meanwhile, Los Angeles knows exactly what they have, what they are capable of, and how to pick up where they left off. The Kings should have no problem getting off to a quick start when the season does eventually start.
5. A Little Extra Time to Celebrate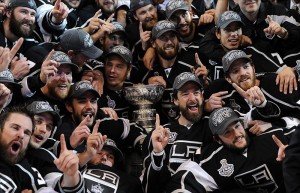 Once the season starts, Los Angeles will have a target on its back. Everyone wants to dethrone the Stanley Cup Champions and that can be grueling to deal with over 82 games before the playoffs even begin. The previous three Stanley Cup Champions (Boston, Chicago, and Pittsburgh) have not fared well in the playoffs after winning the Cup. Moreover, players from each team have discussed how fatigue generally sets in after a long season and a short offseason.
History does not give us much to work with for champions heading into a lockout. Logic dictates though that more rest, no roster changes, and a little extra time to celebrate in the sun should lead to good things for Los Angeles.
Perhaps in the 2013 Stanley Cup Finals, LA fans will look back and laugh at how the lockout helped them to another Stanley Cup berth, and maybe another win. Is the lockout so bad if it leads to a Stanley Cup?
Meesh is an attorney and one of the Pittsburgh Penguins Contributing Writers for The Hockey Writers. He also writes for ThePensNation.com. You can contact him on twitter @HockeyMeesh or e-mail HockeyMeesh@gmail.com