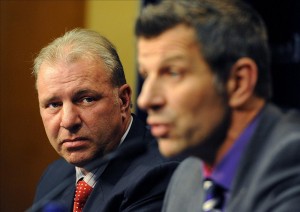 In the face of tragedy, it is often quite difficult to find the silver lining…and for hockey fans in Montreal, there are few tragedies more imposing than that of a lost hockey season.
But given the way things ended for the Canadiens last season, and the current political landscape in the province of Quebec, it doesn't take much of a stretch to imagine that this lockout, at least in some ways, could come as a blessing in disguise.
The 2011/12 season was a memorable one for the Montreal Canadiens… perhaps a little too memorable. The team lost nearly all if its coaching staff, its general manager, and a handful of once indispensable roster players such as Mike Cammalleri, Andrei Kostitsyn and Hal Gill. The end result was an abysmal 15th place finish in the Eastern Conference, leading many fans to wonder if management had actually pulled the plug in an attempt to garner a top draft selection.
But what hit closest to home for many followers of hockey's most storied franchise, myself included, was the language controversy leading up to the hiring of Michel Therrien as the team's 27th head coach.
In some circles, Therrien was seen as the clear logical choice; a Francophone coach with some solid NHL experience and a knowledge of what it is like to coach in the hockey-crazed Montreal market. Others saw him as one of only two coaches in the history of the Canadiens to have coached at least 100 games and not finish with a winning record. (Even Montreal super-villain Mario Tremblay had a better winning percentage.)
Buried beneath the semantics was an underlying question of whether the team has a responsibility to hire the best available candidate regardless of background, or if the club's French heritage trumps the logic used by every other professional sports team in North America… which would lead to hiring the best available French-Canadian candidate, regardless of who else is available.
The firestorm between French and English extremists had nearly reached a boiling point by the time Therrien was selected over Stanley Cup champion and former Canadian Olympic head coach Marc Crawford. Anger literally flowed into the streets as frustrated fans searched for ways to voice both their pleasure and displeasure, respectively.
And now just months later, the Parti Quebecois, with a separatist agenda at its core, has again come to power in the province of Quebec. The divide between French and English, even if ever-so-slightly, is once again widening.
The butting of heads in politics will inevitably throw off sparks, and the Canadiens have proven time and time again that they are nothing if not combustible. From riots over the suspension of Maurice Richard to riots over…well… nothing, the city of Montreal is rarely more than one misinterpreted comment away from disaster.
This can be blamed on the "non-fans" who are just out to make trouble, the extreme fans who take their team too seriously, or those fans who are unable to draw a line between entertainment and politics. But the truth is, it doesn't really matter whose fault it is. What matters is that conflict and chaos are an integral part of Montreal's hockey reality.
And with a team that is still at least a year or two away from being considered a true contender (that is, if all continues to go to plan with players like Pacioretty, Subban, and Galchenyuk), the situation is ripe for conflict. The political conditions are perfect, last year's coaching controversy is still fresh on the minds of both sides, and the team, although promising, would likely struggle if the season were to start this month.
Before a lockout became a realistic possibility, the table was all but set for yet another year of hockey headlines that have little to do with what is happening on the ice.
With the way things currently stand, however, the best case scenario is likely a partial schedule beginning sometime in early January, similar to the lock-out shortened 1995 season. By then, the dust will hopefully have settled on Quebec's provincial elections, and fans will have been away from the game long enough that they can just put their differences aside and be happy that hockey is back.
With any luck, we will be able to look at this whole incident as an unfortunate pot-hole in our rear view mirrors, never fully realizing the bullet we dodged. Then again, that rear view could also just as easily contain the billowing smoke of an upside-down police car.
After all, this is still Montreal we're talking about…