The Boston Bruins own a deep and talented prospect system. In the following rankings, I've listed the more than thirty Calder-eligible young men under contract or control of the Bruins' organization. In this final edition, I count down the top-five Boston Bruins prospects – all of whom are Ontario Hockey League players or alums.
Because of the system's depth, I split the rankings into five parts:
Part One: Honorable Mentions; Part Two: 30-21; Part Three: 20-11; Part Four: 10-6
Methodology:
Unlike some prospect-rankers, I don't value all prospects equally. While I rate excellent defensemen and goaltenders as slightly more valuable than their forward counterparts, they're significantly more risky (and goaltenders more so than blueliners). Consequentially, these players are devalued slightly in my rankings.
However, risk (and NHL-readiness) are small pieces of the puzzle compared to 'upside'. I hold 'upside' in the highest regard – enough to diminish all but the greatest risk. For example:
A forward with first-line potential but significant risk is more valuable than a more ready, less risky forward with second-line potential. Similarly, a high-risk defenseman with first-pairing upside is worth more than a very low-risk defenseman with #4/5 upside. In other words, in all but the most extreme examples, Potential trumps Risk.
Additionally, I include my "Current Favorable Projection" (CFP) for each prospect (where I expect them to land should their career advance positively); an Estimated Time of Arrival (ETA) for significant NHL action under the same circumstances; and other rankings for the prospects.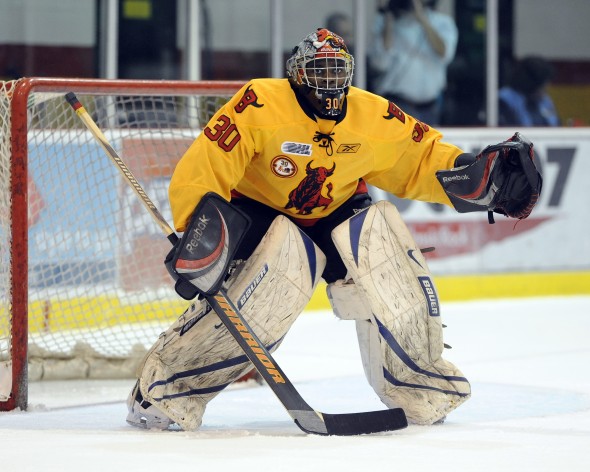 5. Malcolm Subban, G – 6'1, 190 lbs., Catches: L; 12/21/93
Other Rankings: Kirk Luedeke (NEHJ) – 5; Bill Ladd (HF) – 2; Corey Pronman (HP) – 9
2011-12 Club: Belleville Bulls (OHL)
Projected 2012-13 Club: Belleville Bulls (OHL)
The Bruins drafted the second Subban brother with their first-round selection in 2012 after an excellent sophomore OHL campaign. Finishing with one of the league's best save percentages (.923) and a 25-14-0 record, Subban led the Bulls to the postseason.
Subban's athleticism merits plenty of discussion. Quick and lithe in the crease, PK's younger brother possesses excellent reflexes. When he needs to slide side-to-side, he explodes to the new threat, pushing-off with powerful moves. He has the ability to make the dazzling save and has proven very tough to beat in penalty-shot situations.
Some point to his groin-injury history as reason enough for concern. There's worry that the excessive movement in his butterfly as even more troublesome. He's prone to leaving big rebounds and overplaying the first shot/chance/option – perhaps because his athleticism allows him to recover so easily.
Still, in terms of raw upside, no Bruins' prospect holds a candle to Subban other than Dougie Hamilton. If he makes it, he could be an elite starter.
Subban is back in Belleville for what may be his final OHL season (as a late '93, he's eligible for the AHL next year). Subban will look to take the Bulls to the next level before he graduates. There's a good team in Yardmen Arena this year and he should help them challenge come spring.
Current Favorable Projection: Borderline-Elite NHL Starter. (ETA: 2015)
Previously Unranked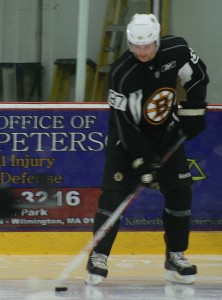 4. Jared Knight, RW – 5'11, 196 lbs., Shoots: R; 1/16/92
Other Rankings: Kirk – 3; Bill – 5; Corey –5
2011-12 Club: London Knights (OHL)
Projected 2012-13 Club: Providence Bruins (AHL)
A powerful north-south forward, Jared Knight has produced at a point-per-game rate each of the past two seasons. Last year he tallied 26 goals and 26 assists in 52 games for the Knights despite several significant injuries.
Knight has long been a favorite of Bruins fans for his drive and will to win. Nowhere was that will more evident than during the London Knights' Memorial Cup efforts where Knight, suffering from a high-ankle sprain, fought through the pain to contribute to his team's efforts.
If the 'book' on Knight leads with his grit and intangibles, his wheels and shot aren't far behind. Knight's wrister is deadly and very arguably the best in the Bruins' prospect-pool. When 100%, his straight-line speed is up there, but his lateral agility and acceleration are only a tad above average.
A dedicated gym rat, Knight has a man's body and can muscle through checks and camp the front of the net despite modest height. While not a punishing hitter, he plays a solid physical game and has excellent balance.
Because of his borderline-reckless, win-at-all-costs playstyle – and his recent injury history – there's some concern about his long-term durability. Knight must learn when to back off the throttle to protect his body (and the Bruins' investment) long-term.
Knight will don the spoked-P for Providence this fall and while the twenty year-old should experience some growing pains, a twenty-goal rookie campaign isn't out of the question – with the possibility of a call-up to Boston should the NHL resume work.
CFP: Mid-Line Two-Way Forward with Goal-Scoring Upside. (ETA: 2013)
Previously Ranked: 3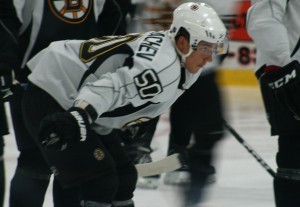 3. Alex Khokhlachev, C – 5'10, 185 lbs., Shoots: L; 9/9/93
Other Rankings: Kirk – 4; Bill – 4; Corey – 2
2011-12 Club: Windsor Spitfires (OHL)
Projected 2012-13 Club: Spartak Moscow (KHL)
Khokhlachev spent each of the past two years anchoring the Windsor Spitfires' offense, with well over a point-per-game each of the seasons. Last season was Khokhlachev's best yet – until a lacerated kidney sidelined him for the end of the regular season and playoffs. This year, 'Koko' will lace 'em up for Spartak of the KHL (where his father is the general manager).
Certainly, there are concerns that Khokhlachev may enjoy playing at home during his year back in Russia. But those worries were assuaged (somewhat) after Koko signed his ELC with the B's during Development Camp. That won't allay all fears, but certainly the outlook is far less gloomy thanks to pen and ink.
In terms of athleticism, Khokhlachev's skating saw the biggest improvements in the past year. While his recovery from the kidney injury prevented him from participating in contact-drills at camp, Koko 's mobility seemed significantly improved from a year ago – particularly in terms of foot-speed and acceleration. His physical game is well below average and his defensive game needs work; however, notably he played significant defensive minutes for Team Russia at the World Juniors.
Koko's puck-skills are elite. He possesses lightning-quick hands and divine puck-control ability. His shot isn't overwhelming, but he releases it from any angle with a flash. All things considered, he could score thirty and develop into an infrequent point-per-game player at the next level.
It will be interesting to see how Koko progresses while playing against men in the KHL. If he can produce like a league-average regular (or beyond), it bodes well for his future.
CFP: Top-Six Scoring-Forward. (ETA: 2014/15)
Previously Ranked: 4
2. Ryan Spooner, C/LW – 5'10, 181 lbs., Shoots: L; 1/30/92
Other Rankings: Kirk – 2; Bill – 3; Corey – 3
2011-12 Clubs: Kingston Frontenacs (OHL), Sarnia Sting (OHL)
Projected 2012-13 Club: Providence Bruins (AHL)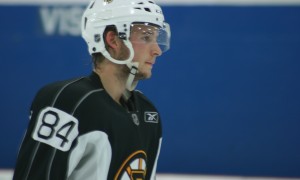 For the second consecutive year, Spoons comes-in as the Bruins' second-best prospect (and top forward). Splitting the year between Kingston and Sarnia (sandwiched around a mid-season mononucleosis diagnosis), Spooner set a career-high in points while helping Sarnia to the postseason.
Spooner's offensive talents are well-documented. He's a 'plus' playmaker. He can run an offense from the half-wall and deke through crowds. Like Khokhlachev, his wrister isn't a rocket – but it's deadly-accurate (but with the way he can dangle, it doesn't always need to be).
Physically, he's still under-developed (though he's made strides) and shouldn't be expected to reach even 'average' status in the checking-game. He'll have to make his beans on a scoring line or not at all. However, he's arguably the best skater in the Bruins' system with outstanding grades in the holy trifecta of speed, agility and acceleration.
If Spooner improves his strength, he's arguably a can't-miss prospect. Even failing that, he should still be a top-six forward who sees oodles of powerplay time and I place the over/under line on his career-high in points at 65.
As Spoons joins best-bud Jared Knight in Providence, he'll face some tribulations acclimating to the bigger, tougher pro game. Still, top-six minutes are all but a certainty and a fifty-plus point rookie campaign is well within reach.
CFP: Borderline First-Line Forward. (ETA: 2013)
Previously Ranked: 2
1. Dougie Hamilton, D – 6'5, 200 lbs., Shoots: R; 6/17/93
Other Rankings: Kirk – 1; Bill – 1; Corey – 1
2011-12 Club: Niagara IceDogs (OHL)
Projected 2012-13 Clubs: Niagara IceDogs (OHL), Boston Bruins (NHL)
Was there any doubt?
Dougie Hamilton's 2011-12 season ended any dispute at his place atop the Bruins' prospect rankings. With 72 points in 50 games and several solid international performances, the blueliner's offensive game blossomed after heading back to Niagara from Bruins' training camp last fall.
Hamilton's brilliant attacking game is predicated on plus skating and excellent hands.  He's extremely aggressive on the rush, jumping into the play and spending plenty of time down low in the offensive-zone. He's an excellent puck-mover and works both as a distributor and triggerman at the point.
His defensive game needs plenty of work. He plays a high-risk game in his own zone and some question his decision-making. His positioning needs major refinement – he's a 'rover' in the defensive-zone far too often. Still, his overall mobility allows him to recover from his mistakes and man-up against even the highest level of offensive opponents. His stick is active and he plays an average to above-average physical game.
If he can improve his reads and work on his decision-making, he has the potential to be an excellent defensive player. Coupled with Dougie's obviously dynamic offensive capabilities, his lofty potential is easy to ascertain.
With the lockout, Hamilton's nigh-inevitable jump to the NHL has been delayed. He re-joined the IceDogs and while the Bruins will have the opportunity to recall him at the end of the lockout, while he's in Niagara expect him to produce at a similar rate.
CFP: Two-way first-pairing defenseman. (ETA: 2012)
Previously Ranked: 1
Follow Bob Mand on Twitter at @HockeyMand