The Boston Bruins own a deep and talented prospect system. In the following rankings, I've listed the more than thirty Calder-eligible young men under contract or control of the Bruins' organization. In this second part, I discuss the Bruins thirtieth through twenty-first ranked prospects.
Because of the system's depth, I've split the rankings into five parts:
Part One: Honorable Mentions, Part Three: 20-11, Part Four: 10-6; Part Five: 5-1
Methodology:
Unlike some prospect-rankers, I don't value all prospects equally. While I rate excellent defensemen and goaltenders as slightly more valuable than their forward counterparts, they're significantly more risky (and goaltenders more so than blueliners). Consequentially, these players are devalued slightly in my rankings.
However, risk (and NHL-readiness) are small pieces of the puzzle compared to 'upside'. I hold 'upside' in the highest regard – enough to diminish all but the greatest risk. For example:
A forward with first-line potential but significant risk is more valuable than a more ready, less risky forward with second-line potential. Similarly, a high-risk defenseman with first-pairing upside is worth more than a very low-risk defenseman with #4/5 upside. In other words, in all but the most extreme examples, Potential trumps Risk.
Additionally, I include my "Current Favorable Projection" (CFP) for each prospect (where I expect them to land should their career advance positively); an Estimated Time of Arrival (ETA) for significant NHL action under the same circumstances; and other rankings for the prospects.
30. Cody Payne, C – 6'2, 190 lbs., Shoots: R; 1/14/94
Other Rankings: Kirk Luedeke (NEHJ) – HM; Bill Ladd (HF) – NR; Corey Pronman (HP) – NR
2011-12 Clubs: Plymouth Whalers (OHL), Oshawa Generals (OHL)
Projected 2012-13 Club: Plymouth Whalers (OHL)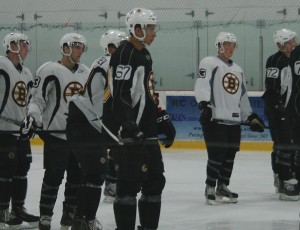 With only sixteen points in sixty games, London-born Payne's production in 2011-12 failed to live up to expectation. Still, many regarded him as a classic 'sleeper' pick thanks to his projectable size and substantial toughness and upside. Banking on that, the Bruins grabbed him with their second fifth-round pick in '12.
He's very skinny for his playstyle and will have to focus considerable effort on building muscle to play the power-forward role at the pro level. He's not ready for prime time by a long stretch – but there's a lot to like moving forward. He's got excellent low-risk, high-reward potential.
After a few seasons of sparse usage, Payne's role will likely increase for the talented Whalers' squad. With a marked jump in production – and some added bulk, Payne's ranking could jump as well.
Current Favorable Projection: Tough Bottom-Six Forward (ETA: 2017)
Previously Unranked
29. Tyler Randell, RW – 6'1, 195 lbs., Shoots: R; 6/15/91
Other Rankings: Kirk – 27; Bill – NR; Corey – NR
2011-12 Clubs: Providence Bruins (AHL)/ Kitchener Rangers (OHL)
Projected 2012-13 Clubs: Providence Bruins (AHL)/ S.C. Stingrays (ECHL)
A big, hulking winger with talent in his fists, Tyler Randell's performance in Providence early last season made him look more like a longshot than we'd envisioned last fall. After an unproductive stint with the P-Bruins, he was shipped back to the Kitchener Rangers, where he picked up some goals (eleven in eighteen games) in solid performances.
Much will depend on his return to Providence this fall. Randell is a solid net-front presence with good finishing capabilities, but he'll need to improve his skating or show more consistent creativity and distribution skills or he'll have to punch his way in.
CFP: NHL/AHL Grinder/Fighter with Goal-Scoring Upside (ETA: 2016)
Previously Ranked: 25
28. Maxim Chudinov, D – 5'11, 187 lbs., Shoots: R; 3/25/90
Other Rankings: Kirk – 6; Bill – NR; Corey – NR
2011-12 Club: Severstal Cherepovets (KHL)
Projected 2012-13 Club: SKA St. Petersburg (KHL)
Maxim Chudinov is one of the most difficult prospects in Boston's system to place. On the one hand, he's played major minutes for Severstal Cherepovets of the KHL in recent years, even tallying 35 points in just-over fifty games last season.
A plus-physical player (despite possessing less than ideal size), Chudinov brings grit and a nasty edge night in and out. He's mobile and savvy with solid offensive instincts and projects as an above-average puck-possession defenseman.
Chudinov could very well be in the top-ten (or even top-five) in the Bruins' system. Because he's an established player in a well-paying league in his homeland, one has to wonder if he's significantly motivated to journey across the pond. Of course, if he shows-up next summer (or the following) at Development Camp, he's instantly one of the B's best prospects and a challenger for an NHL job.
CFP: Middle-Pairing Two-Way Defenseman (ETA: 2014)
Previously Ranked: 22
27. Lane MacDermid, LW – 6'3, 205 lbs., Shoots: L; 8/25/89
Other Rankings: Kirk – 23; Bill – NR; Corey – NR
2011-12 Clubs: Providence Bruins (AHL)/ Boston Bruins (NHL)
Projected 2012-13 Club: Providence Bruins (AHL)
The Providence enforcer, MacDermid got his first taste of NHL action in five games with the Bruins in 2011-12. He dropped the gloves once for the big club, a solidly 'even' bout with Rangers' heavyweight Mike Rupp. In Providence, his production mirrored his previous season's – just under a point every four games.
His ceiling is modest – he never tallied more than 35 points in any season since starting junior. His possession-game isn't terrible (for his fourth-line prospects) but his grit and fighting-ability should make him all but a no-doubter for NHL action. It remains to be seen if he'll get a legitimate opportunity with Boston, but his enforcer-game should earn him a shot with some franchise in the future.
CFP: Fourth-Line Middleweight Pugilist. (ETA: 2013)
Previously Ranked: 23
26. Colby Cohen, D – 6'2, 215 lbs., Shoots: R; 4/25/89
Other Rankings: Kirk – 30; Bill – NR; Corey – NR
2011-12 Club: Providence Bruins (AHL)
Projected 2012-13 Club: Providence Bruins (AHL)
Acquired from Colorado for Matt Hunwick in November, 2010, Cohen's growing pains during his first full year with Providence failed to impress. Despite possessing a well-noted cannon from the point he only managed four goals for Providence in 2011-12 and has tallied under a point every four games during his pro career.  Some qualify his decision-making as questionable and he needs to work on his defensive positioning.
Of course, you can't forget this:
However, for a big defenseman with all the physical tools and offensive upside that Cohen presents, you can't help but be a bit bullish about the future. It was a difficult season for so many of the B's youngsters at the Dunk; he may be one just looking forward to starting fresh start this September. Still, in the defense-laden Bruins system, Cohen might be the sixth defenseman in-line for a shot with the big club and with Dougie Hamilton likely turning pro next season – it's not going to get any easier.
CFP: Bottom-Pairing Defenseman and Triggerman (ETA: 2016)
Previously Ranked: 19
25. Justin Florek, LW – 6'4, 194 lbs., Shoots: L; 5/18/90
Other Rankings: Kirk – 24; Bill – NR; Corey – NR
2011-12 Club: Northern Michigan University Wildcats (CCHA)
Projected 2012-13 Club: Providence Bruins (AHL)
The Northern Michigan University senior was second on his team in scoring and sixth overall in the CCHA with 36 points (including 19 goals) in 37 games with the Wildcats. Florek was a finalist for the league's top defensive forward award and also selected to the All-Conference Second Team.
After the Wildcats were eliminated from postseason play, he signed a contract with the Bruins and started contributing immediately with Providence, registering two goals and two assists in game one of his pro career against the Manchester Monarchs. He's been held scoreless in six games since but there's some significant offensive upside in the Michigan native.
With his impressive frame and finish, it's somewhat surprising that Florek (who, at one time, was considered to possess first-round potential) was passed over in two drafts before being selected by the B's in 2010. His foot speed is a major concern and he doesn't have plus playmaking capabilities or vision but he's defensively responsible and a solid forechecker. He fits the mold of a depth scorer but will have to pay his dues in the AHL before he gets a crack.
CFP: Third-Line Power-Forward (ETA: 2015)
Previously Ranked: 27
24. Lars Volden, G – 6'2, 189 lbs., Glove: L; 9/26/92
Other Rankings: Kirk – HM; Bill – 20; Corey – NR
2011-12 Clubs: Espoo Blues (SM-liiga), Jokipojat (Mestis)
Projected 2012-13 Club: Jokipojat (Mestis)
It's hard to put a finger on the Norwegian netminder's past season. He played poorly in time split between the Espoo Blues of Finland's SM-Liiga and their junior team, saving less than 90% of the shots he faced in twenty-one games between the two squads. However, he was a major player for Jokipojat of Finland's second division (after a mid-season loan) with a sub-2.00 GAA (both in the regular season and playoffs) and added a borderline-obscene .954 Sv% in the postseason, getting them to the final playoff series before losing to Sport Vaasa.
Volden is another long-term goaltending prospect for the Bruins. He has the size (6'3), technique and athleticism to be an NHL starter a long way down the road if he continues to progress. That said he's another relative long-shot.
He was loaned again to Jokipojat for the 2012-13 season, where we expect he'll get the lion's share of starting duties. If he continues to thrive, the Bruins may have no choice but to offer him a contract in the next two summers.
CFP: Good NHL Backup/Solid Euro Starter (ETA: 2016)
Previously Ranked: 29
23. Ryan Button, D – 6'1, 190 lbs., Shoots: L; 3/26/91
Other Rankings: Kirk – 28; Bill – NR; Corey – NR
2011-12 Clubs: Providence Bruins (AHL)/ Reading Royals (ECHL)
Projected 2012-13 Club: Providence Bruins (AHL)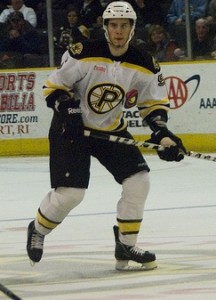 One of the biggest on my board, defenseman Ryan Button's inconsistent play earned him a ticket down to Reading of the ECHL for a spell where he scored his only goal of the '11-'12 season. His time with Providence resulted in two assists and a minus-eight in just under thirty games.
Still, there are few defensemen in the Bruins system with his upside (some even had him as the B's best blueline prospect as recently as last summer). Buttons solid size (6'1), plus-skating and puck-handling capabilities give him the raw tools to be a middle-pairing offensive blueliner. He attacks aggressively and is a good puck-advancer and rusher – but his hockey sense sometimes fails him, getting caught up ice and making bad decisions with the puck. Button's certainly not a bust yet, but he has a long way to go before fulfilling that potential.
The former third-round selection will have to fight for ice-time on a very (very) deep Providence blueline. With such a pivotal season ahead, he must start strong.
CFP: Bottom-Pairing Puck-Moving Defenseman (ETA: 2015)
Previously Ranked: 10
22. Matt Bartkowski, D – 6'1, 203 lbs., Shoots: L; 6/4/88
Other Rankings: Kirk – 26; Bill – NR; Corey – 12
2011-12 Clubs: Providence Bruins (AHL)/ Boston Bruins (NHL)
Projected 2012-13 Club: Providence Bruins (AHL)
The Bruins' defensive depth in Providence remains quite strong thanks in no small part to Matt Bartkowski. Bartkowski, acquired in the Dennis Seidenberg trade, consistently stands-out as one of the more NHL-ready blueliners in the B's current crop.
Bartkowski's best attribute – physically solid own-zone play – makes him an attractive call-up option. His offensive game is far less developed and could be classified as 'fringe' by NHL standards.
Unfortunately, in Bartkowski's brief stints with the big club he's looked very shaky. With the B's offseason acquisitions of Garnet Exelby and Aaron Johnson and potential big-league jumps for Torey Krug and Dougie Hamilton, the 24 year-old Bartkowski's opportunities for NHL time in Boston will only diminish unless he makes a big impression – and quickly.
CFP: Bottom-Pairing NHL/Top-Pairing AHL Defenseman (ETA: 2013)
Previously Ranked: 12
21. Kevan Miller, D – 6'2, 200 lbs., Shoots: R; 11/15/87
Other Rankings: Kirk – 18; Bill – 19; Corey – NR
2011-12 Club: Providence Bruins (AHL)
Projected 2012-13 Club: Providence Bruins (AHL)
Miller opened eyes in 2011-12 – his first as a professional – with his consistent defensive zone play. After four solid seasons with the University of Vermont Catamounts (as captain in his senior season), the Los Angeles-born Miller impressed the B's with a solid performance at the Bruins' rookie camp last summer (notably for a big hit he laid on Milan Lucic). He was quickly signed to an AHL deal – and then a two-way NHL deal in rapid fashion.
His play has helped him lead the P-Bruins with a +16 rating through all but four games of the regular season (second best among AHL rookie blueliners on a team with a heavily-negative goal differential). Miller is a solid stay-at-home type with good instincts. He doesn't have the offensive acumen to project into a top-four role – but if he continues to progress and develop his physical game and first-pass, he could find himself a role in the future with a NHL Club.
CFP: Number-Six Shutdown-Defenseman (ETA: 2014)
Previously Unranked
Follow Bob Mand on Twitter at @HockeyMand