While there's no question that the NHL lockout is a serious disappointment for many who love and are involved with the game of hockey in North America, sometimes it's good practice to reframe how we look at a situation in an attempt to glean something more positive from it.
For example, as it relates to Sabres fans, consider this an opportunity to acquire (or at least admire) some hockey memorabilia that may not have existed without the "benefit" of a lockout.
As the Rochester Americans get set to open training camp today in Buffalo, there's no question that guys like Cody Hodgson & Marcus Foligno would not be skating with their AHL counterparts if they were not currently locked out by the NHL and its owners. To his credit, Hodgson does appear to be making the best of it, despite the fact that his burgeoning NHL career seems to be stalled once again:
I'm excited. We'll get some serious hockey going. The AHL's going to be a good league this year. Obviously, everyone wants the lockout to end and get the NHL going, but I'm excited to get started here. (via John Vogl of the Buffalo News)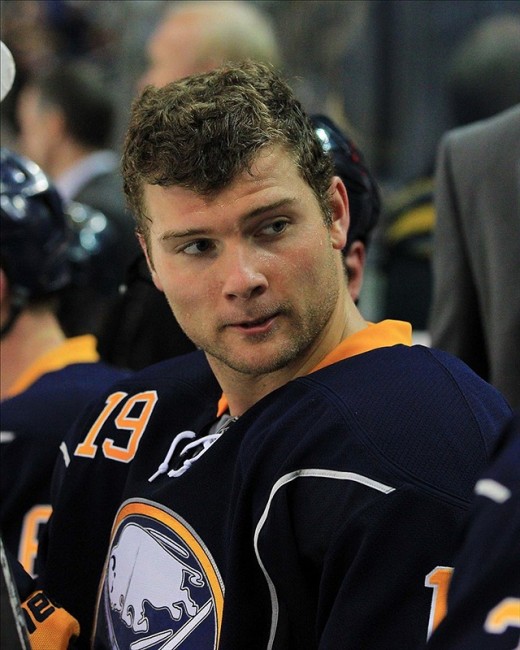 Hodgson played only 20 games with the Sabres last year, but was set to battle Tyler Ennis for the #1 centre position with the team this Fall. As Vogl points out, a stint in Rochester – however long it lasts – will allow Hodgson to become more acclimated with the organization and its other young, developing players, with a view to creating some chemistry which will hopefully translate into a measure of success at the NHL level, just as it did for those who came out of the last lockout in 2004-05 (Miller, Pominville, Vanek etc.)
This brings us back to what it means for fans of the team, who now have a limited opportunity to watch Hodgson & Co. in the Amerks sharp new third jersey, as introduced in this video from the team:
While talks between the two parties are expected to resume today, there's still no telling how long it will be until we see NHL hockey again. In situations like these, it's too easy to sit back and gripe about what's wrong while making no effort to embrace something good. There's no question that an active NHL is the best case scenario, but the reality is that hockey goes on.  At just a shade under an hour and a half, Sabres fans can catch a glimpse of the future, and witness a scene that would not have existed without a lockout situation.
To be one of a few people out there to have a Hodgson #19 Americans jersey in its new red form is small consolation to be sure, but at this point, it's a slightly bright idea in the midst of an otherwise grim predicament for the fervent Sabres fan.