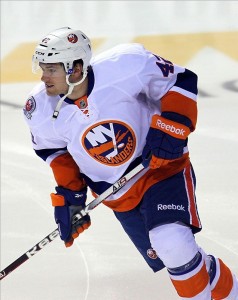 Dylan Reese began his hockey career in Pittsburgh, PA growing up in the suburb of Upper St. Clair. As an aspiring hockey player, he started playing for the Mount Lebanon Amateur Hockey Association. Reese idolized the hall-of-fame-filled Pittsburgh Penguins teams of the early 1990's as the Pens hoisted back-to-back Stanley Cups.
Like all young hockey players growing up in the greater Pittsburgh area at this time, Reese was heavily influenced by Mario Lemieux. However, Reese's hockey journey to the present day is attributed to much more than watching Mario Lemieux and the Penguins dominate the 90's.
Many kids who grew up playing hockey in Pittsburgh during the glory days of the Penguins wanted to be NHL hockey players. Only a handful of players have been able to accomplish such a feat. Growing up in the early 90's, the Steel City was not exactly a hockey factory churning out future stars of today's game.
Reese started his playing days when Pittsburgh area hockey was comical compared to Michigan, Minnesota, Massachusetts and especially Canada.  Reese and a handful of other Pittsburgh players started playing travel hockey for the Pittsburgh Hornets. At the time, people in Pittsburgh viewed travel hockey as driving to the other side of the city to play a game. Reese and a few other pioneer players, along with their families, decided to play in a league based out of Detroit, MI. Reese and his Hornets team were the laughing stock of the league after traveling to Detroit every weekend for two years and rarely winning a game.
But in year three, Reese and his Pittsburgh Hornets team started to receive praise and respect from the rest of the players and coaches who hailed from these hockey hot beds. Dylan was a standout for his tireless work ethic, and led his Hornets travel team to a division title in only their third year in the Detroit league.
Reese humbly deflects credit for his team's success. He gives all accolades to his coaches and what they taught him while growing up developing his hockey skills in Pittsburgh.
"I have to thank all of my coaches growing up. They all contributed to my success as a player:  Mike Magulick, Jeff Bele and Joe Gaul. They all taught me something to make me a better player," said Reese.
While many players chose to leave Pittsburgh at a young age to advance their hockey playing career, Reese was lucky enough to play Junior "A" hockey for the Pittsburgh Forge under former Pittsburgh Penguins Head Coach Kevin Constantine.
"At that time, Coach Constantine was instrumental in my career," said Reese. "He really helped me develop into a better player."
After his days with the Forge, Reese played four years at Harvard University. He was named team captain for the Crimson as a senior defenseman and named to the New England Hockey Writers' Division I Men's All-Star Team.
In 2003, before his playing days at Harvard, Reese was a seventh-round draft pick of the New York Rangers. While it was Reese's dream to be drafted into the NHL, many scouts claimed Dylan was too small to be an effective defenseman in the NHL. There were questions whether he could defend against bulky power-forwards.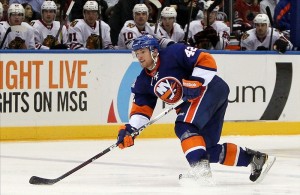 After graduating from Harvard, Reese never signed with the Rangers and bounced around the league between the Phoenix Coyotes, Columbus Blue Jackets and New York Islanders. After being acquired in a trade by the Islanders in 2009, days before the trade deadline, Reese made his NHL debut with the Islanders.
In the 2011-2012 season, Reese established career highs in games (28) and points (7) with the Islanders.
This off-season, Reese was contacted by the Penguins to sign a two-way deal with the club worth $600,000 at the NHL level.  While it was a dream come true for Dylan to sign with the team he grew up watching, he insists that signing with the Penguins had nothing to do with him being raised in Pittsburgh. Despite his Pittsburgh roots, the Penguins were one of the first teams  interested in Reese at the beginning of free agency.
"They [Penguins] had actually seen me play quite a bit. They said they liked the way that I played," said Reese. "I wanted to sign where I had the best chance of making the team and playing on a nightly basis."
The Penguins were obviously enticed by what they saw in the 28-year-old Pittsburgh native.  Penguins' management felt Reese's puck-moving skills would be a great addition to their club. After the Penguins expressed how they saw Reese fitting in with their team, Reese was convinced that the Pens would be his best option.
"I feel like this team is a really good fit for me. This team likes puck-movers and puck-retrievers, two parts of my game that I thought were strong and fit well with this team."
Some of the Penguins defensemen who have signed with the team in the recent past had trouble adjusting to the complex system played by Head Coach Dan Bylsma. Reese feels he will fit in comfortably with Bylsma's unique style.
"I've never really had a problem playing any system. I pride myself on being able to know the "X's" and "O's" of the game. Coach Bylsma is very detail-oriented and systematic. This is what makes the Pens so successful."
For Reese to get his chance under Bylsma's reign, Reese is going to have to make the team out of training camp. This is not going to be an easy task considering the surplus of young defensemen who have already been waiting to be penciled into the Penguins roster.
However, as Pittsburgher's are proud of their blue-collar work ethic, Reese has applied the same Pittsburgh mentality to his hockey-playing career. Nothing has come easy for Dylan to reach the NHL level. He has put in constant work to improve his game each off-season.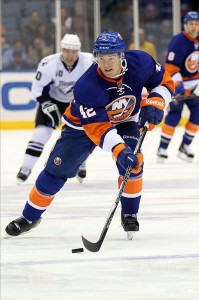 Reese, having reached the NHL level, still works on his skating stride every summer with renowned power-skating teacher Barbara Benedetti.
"Skating was one of my weaknesses growing up and Barb has been instrumental in my skating development. I feel so comfortable and confident having Barb critique my skating. After skating with Barb every summer, I know my skating stride will be back to where it needs to be in time for the start of the season."
If the NHL lockout ever ends, Reese will be ready to compete for a spot on the Pen's blue line to begin this season. He didn't sign with the Penguins with the intentions of starting the NHL season in Wilkes-Barre Scranton.
"I feel I have the experience under my belt now, and the confidence being in the league for a few years. I have my expectations set to be on the Pens' opening day roster," said Reese.
Over previous seasons Reese has evolved into a much smarter player since his professional career began back in 2007.
"I've learned how to use the size and strength that I have against different types of players. When I first started in the league, I engaged in every possible physical battle," said Reese. "Now I know my strengths and weaknesses and know how to play a forward who is much bigger than me to stay away from vulnerable situations."
While the NHL is locked out, Reese is going to play for the Wilkes-Barre Scranton Penguins alongside some of the other Penguins players who are also on two-way contracts.
Hopefully the lockout will get resolved and Reese gets the opportunity to make the Penguins roster. The long hours Reese has worked to become an NHL hockey player deserves to finally be recognized by his hometown city.