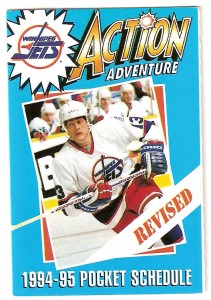 One of the more unique aspects of the collectibles world is that there is memorabilia created for every instance in the game, including times when the game doesn't happen.
Yes, as odd as it may sound, past NHL work stoppages have resulted in unique pieces being produced. While one would expect such events, which have a decidedly negative connotation, to not draw intrigue or interest from hobbyists, the opposite is more often the case.
Take for example the 1994-95 NHL Lockout. Back then, teams were gearing up for a season they expected to start on time. As a result, pocket schedules were produced to reflect the full slate of games that were set to take place for the season, and later needed to be reproduced to show the new, smaller schedule (this, of course, was pre-Internet boom). For the schedule collector, having a "set" of the two versions is a must.
Even more desired from that year are some of the produced souvenirs from the cancelled All-Star Game, slated to take place in San Jose. At the time, logo pucks became highly sought-after collectibles and to this day are still regarded as one of the more unique pieces in the market.
Flash forward next to 2004-05. Because NHLers dispersed to European countries, hockey card manufacturers overseas were able to include North American heroes in their sets, while locally, Upper Deck created its All World series depicting NHLPA stars in their gear from these leagues. In The Game, meanwhile, capitalized on its new relationship with the CHL and AHL, crafting memorable cards of NHLers in their minor or junior togs.
But the ultimate card produced that reminded fans of the lockout was created by Topps. Having exited the hockey card market following the 2003-04 season, Topps took the opportunity to produce one final piece before it officially departed from shinny, issuing a lockout card as part of its Chronicles series, a set that featured top news stories from each week of the 2004 year.
While no official collectibles have been seen yet for the 2012-13 NHL Lockout, rest assured that someone, somewhere, is crafting up a commemorative piece or two right now.