Bryzgalov starts against team that drafted him 44th overall in 2000.

— Jack Michaels (@EdmontonJack) December 15, 2013

Ilya Bryzgalov needed a fresh start. The lowly Oilers needed an upgrade in goal. It was a low-risk move for both sides. Bryz wanted a chance to prove he could still be a starter in this league, and Edmonton needed anything that was better than a tandem of Devan Dubnyk and Jason Labarbera. A collision back on December 1st put Bryz on the shelf, but he is healthy again after sustaining a head injury, and what better game to start than against the team that drafted him, the Anaheim Ducks.
Bryzgalov was drafted back in 2000 by the Ducks, in the second round 44th overall. He spent the majority of his first few seasons in North America with the Ducks AHL affiliate, but moved his way up the depth chart to become Jean-Sebastien Giguere's back-up in 2005. He played in 11 playoff games in 2006, and 5 in 2007, the year the Ducks won the Stanley Cup. Bryzgalov was widely considered to be one of the better backups in the league. When Giguere left the team in the 2007 conference finals for personal reasons, Bryzgalov stepped up admirably, winning three games en route to the Stanley Cup final.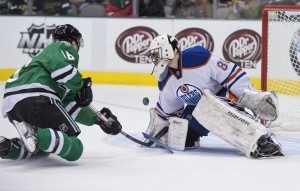 He didn't see any action in Anaheim's five game defeat of the Ottawa Senators, but could definitely be remembered for making a big contribution to that championships, something many back-up goalies don't get the chance to do. When Giguere didn't re-sign with the Ducks in the offseason, it would have made sense for Bryzgalov to be the team's number one goalie. However the Ducks signed Jonas Hiller from Switzerland and planned to go with him as a starter. When no trade came to fruition, Bryzgalov was placed on waivers and picked up by the Phoenix Coyotes. He quickly became their number one goalie and enjoyed four successful seasons with the team.
Bryzgalov and the Media
Perhaps the most memorable moment for Bryzgalov in a Ducks uniform came, ironically, on a trip to Edmonton:
It wasn't his heroics in the playoffs. It wasn't his strong play in relief of J.S Giguere many times during his tenure as a Duck. No, it was one of the most iconic lines in recent hockey history that will define Bryzgalov in Anaheim.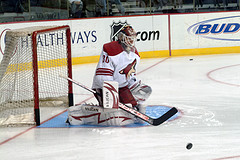 Make no mistake, there's a reason he become the Coyotes starter, and a reason why he signed a massive free agent contract with the Flyers. His time with the Ducks served him well in terms of preparing for life in the NHL. He got along well with then Ducks goalie coach Francois Allaire. He was able to make the right adjustments to improve his game. Sure, there was talk that Bryz didn't get along well with head coach Randy Carlyle. But then again, many players don't. Obviously, his good years in the Western Conference were tainted by the debacle in Philadelphia. He become a bit of a scapegoat for that team.
The past is the past, and tonight Ilya Bryzgalov will face the team that drafted him as a member of the Edmonton Oilers. And there shouldn't be any bad memories for Ducks fans. Bryz didn't play a ton of games for them, but he did well when he got the call. Unfortunately, he wasn't a member of the Oilers yet when they traveled to Philly earlier this season to face the Flyers. One wonders if he gets the chance to start there, how the fans would respond. He might say to them, amidst the boos, why you have to be mad?
Marcy, a former hockey player, is a hockey correspondent on CTV News and TSN radio. She began her career as a Sports Journalist in 2009 and has been part of The Hockey Writers since 2010, where she is currently a senior writer and editor.