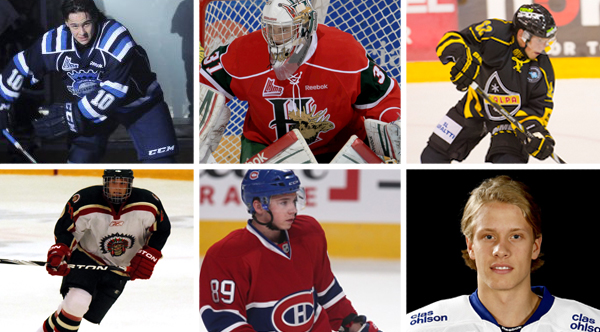 There is no better international tournament to showcase hockey's future than the IIHF World Junior Championships. Along with this year's Heritage Classic and Olympic Winter Games, enthusiasts across the globe are getting ready for an incredible hockey-filled winter.
With under two weeks to go until puck drop in Malmo, Sweden for the 2014 edition, teams are gathering their elite teenaged players together for a brief training camp as they try to pare down their rosters to the final cut. Here's a look at who will likely represent the Montreal Canadiens when the tournament gets underway on Boxing Day.
Team Canada
It's been four years since Team Canada won Gold, including last year's embarrassing 4th place finish. Although the final roster won't be announced until Christmas Day, in all likelihood the team will be looking to two returning Habs' prospects to help them recapture top prize.
Charles Hudon
By most accounts, diminutive left-winger, Charles Hudon was a steal at the 2012 draft when the Canadiens selected him 122 overall. Though only 5'10", Hudon is considered a versatile winger with great hockey sense and quick hands. Hudon, along with star forward Jonathan Drouin and Anthony Mantha formed Team QMJHL's best line at the Subway Super Series in late November, all but assuring his place on Team Canada.
"He's got poise with the puck, he's got hockey sense, he competes hard," said Team QMJHL coach Benoît Groulx. "When he's on the ice he's got the ability to bring the game to his speed. And you have to be a special player in order to do that."
Hudon currently plays with the Chicoutimi Sagueneens in the QMJHL where he has amassed 89 goals and 229 points in 207 games.
Bonne chance à notre capitaine @KidHud_10 avec team canada et avec ta nouvelle équipe! Très choyé d'avoir été un de tes derniers linemates!!

— William Gignac (@WilliGignac) December 12, 2013
This is the 19-year-old's second trip to the World Juniors, though an early back injury during pre-competition games last year forced him to miss the tournament.
Zachary Fucale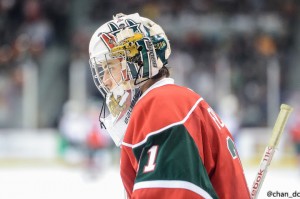 Montreal Canadiens Profile
Halifax Mooseheads goaltender Zachary Fucale is all but assured a spot on Team Canada when the final roster is announced because the team only invited two goalies to their selection camp. With a laundry list of credentials to recommend him, Fucale was an easy choice for Team Canada. So far in his young career, Fucale has won Gold at the U18 Ivan Hlinka Memorial Tournament, brought the President's Cup to Halifax for the first time and won the Memorial Cup Title. The only question surrounding the young goalie is whether or not he will be the team's starter.
As selection camp opens, @jamiemclennan29 says Fucale has edge in battle to be starter http://t.co/sQTuAkyMzk (vid)

— Mark Masters (@markhmasters) December 13, 2013
The 18-year-old was the Canadiens' first goalie selected at the 2013 draft, and went 36th overall. As my THW colleague Kenneth MacMillan aptly put it: "Fucale is a very quick and agile goaltender who has posted a nearly unimaginable regular season record of 96-49-5 since he arrived in Halifax as a 16-year-old rookie. However, it is his ability to play his best when the pressure is turned up a notch that is so enticing to Team Canada's management."
Team Sweden
Last year, Team Sweden attempted to be the first team since Canada to win back to back Gold Medals. Unfortunately, the team had to settle for Silver after a 3-1 loss to the USA in the final game. This year, the pressure is on for the home team to bring Gold back to one of hockey's dominant nations. They will have two returning Montreal Canadiens prospects to help them achieve that goal.
Jacob De La Rose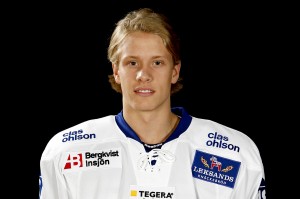 Jacob De La Rose played in the World U18 Championships in 2012 and was a member of last year's Silver Medal team. This year, expect the towering 6'2" left winger to play a leadership role on the young squad as De La Rose has spent the majority of his career playing against men for Leksands IF of the Allsvenskan.
RT @Sz1909_Szemberg: Jacob de la Rose misses his 1st SHL game today, sprained ankle. But it should not affect his World Juniors play

— Espoirs (@Habsfuture) December 14, 2013
His 10 points in 31 games this season bodes well for the 18-year-old who is trying to find space for himself on a team that was just promoted to the Swedish Hockey League, the highest caliber league in the country.
He is considered a power forward who plays well defensively, with strong skating and puck-possession skills and who is not afraid to play a physical game. Most notably, he is known for his work ethic and for leading by example.
Sebastian Collberg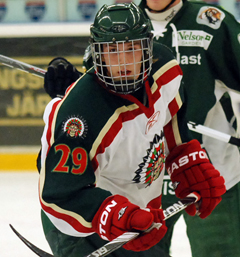 The Montreal Canadiens' 33rd overall pick in the 2012 draft, Sebastian Collberg has flourished in international play. This will be Collberg's third WJC and the fourth time he's played for his country. Known for his elite wrist shot and ability to score, the 5'11" right winger has scored more than a point per game in international competition and stands to become one of the top scoring Swedish junior players of all time.
At this rate, Sebastian Collberg is going to score the next #Habs goal. Next year.

— Dan ver.2021 (@DamnBirdshit) December 13, 2013
Like his compatriot, Collberg is currently playing professional hockey in his native Sweden for Frolunda of the Swedish Hockey League. However, he has struggled to find his niche on a talented and deep roster of established forwards. He has a disappointing 1 goal and 4 points in 24 games this season with the club but, on the upside, he also has 4 points in 5 games in the European Trophy tournament.
Team Finland
Finland finished a disappointing 7th in last year`s tournament. They will also be without two of their star players in Aleksander Barkov (Florida Panthers) and Olli Maatta (Pittsbugh Penguins) who are currently playing with their NHL clubs. The Habs have one representative on the Finnish roster, a team vying for its first medal since they won bronze in 2006.
Artturi Lehkonen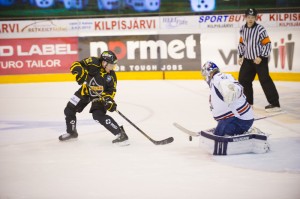 Despite his small stature, listed as 5'11", Artturi Lehkonen has been playing with men in the one of the best European leagues, the Finnish SM-Liiga, since he was 16; and he has done so with impressive numbers. Lehkonen has 15 points in 26 games with KalPa and is known for his natural scoring ability, elite wrist shot and strong hockey sense.
#Habs Artturi Lehkonen picks up an assist with KalPa today in Finnish Liiga action. Hits the 20P mark in 32GP. 7G, 13A.

— Robert Rice (@RobertB_Rice) December 14, 2013
Chosen by the Canadiens 55th overall in the 2013 draft, the 18-year-old left winger made headlines for his explosive play during the World Juniors Summer Camp last August. He will be playing in his second World Junior Championships.
Team Slovakia
Slovakia finished 8th in last year's tournament and has only medaled once, a bronze in 1999, since the Dissolution of Czechoslovakia in 1993. However, the Canadiens' can boast a star player on the Slovakian roster.
Martin Reway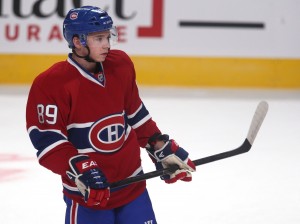 Martin Reway might be the smallest Habs prospect headed to the WJC, listed at 5'8", but he is also one of the most exciting. The Habs' fourth round draft pick at the 2013 draft (116th overall) has become one of the most prolific scorers in the QMJHL this season.
In November, Reway scored an astonishing 14 points in 4 games, second only to Team Canada star Jonathan Drouin. In his second season with the Gatineau Olympiques, Reway is averaging more than a point per game and was named the CHL player of the week in November. He is known for his playmaking skills but still many consider him too small and underdeveloped physically to play professionally.
Arguably the biggest star of Slovakia has already joined the Slovak U20 NT. #WJC2014 #martin #reway pic.twitter.com/UiD6geZgoK

— Jakub Homoľa (@Jakub_Homola) December 14, 2013
This will be the 18 year old's second WJC tournament and the fourth time he's played for his country.
Notable Omissions
There are no Montreal Canadiens prospects on Team USA this year. Unfortunately, Mike McCarron, the Canadiens' first round draft pick in 2013 (25th overall) was not included on the USA selection camp roster due to his disappointing play so far this year. Also of note is Brady Vail, the Habs' 2012 4th round pick who did not make the cut either, likely due to his poor showing at the Team USA summer camp.