The Washington Capitals are falling into old habits by leaning on Alex Ovechkin to do everything for them. For Capitals fans this is a deadly recipe for another postseason collapse. History has proven that when this squad relies heavily on their superstar winger they have tremendous regular season success; but fail to live up to expectations in the playoffs.
Through 31 games this season he is having an MVP-type season with: 28 goals, nine assists, and 37 points. Over his last five games he's chipped in seven goals, with four of them coming on the power play. His torrid start has gotten him on track to hit the monumental accomplishment of "50 goals in 50 games."
NHL.com's John Kreiser noted in his recent Capitals game preview that in his last 50 games, Ovechkin has been on this historic pace saying: "Ovechkin enters the Washington Capitals' road game against the Florida Panthers on Friday night with 48 goals in his previous 50 appearances dating to March 17, when he scored against the Buffalo Sabres. That includes a four-goal performance against the Tampa Bay Lightning on Tuesday in Washington's 6-5 shootout victory.
Washington has had success this season. Currently, they sit behind the Pittsburgh Penguins for the Metropolitan Division lead. Aside from the chase of their division, the Capitals 39 points has them in a comfortable spot for the playoffs.
However, where Washington has to worry is that Ovechkin's 26 goals is near three times that of the next player on that list, Joel Ward with 10. As a team, the Capitals rank second in the Eastern Conference is goals per game (2.91) and total goals (91). However, Ovechkin makes up for 28% of the team's total and is averaging 1.19 goals per game.
The Washington defense hasn't helped this season as well. They rank in the bottom half of the Eastern Conference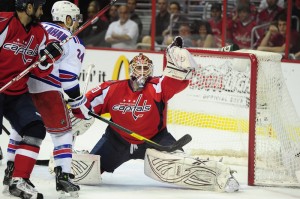 allowing 2.81 goals per game. Out of the current eight playoff teams in the east, their 0.09 goal differential is sixth with only Toronto and Carolina trailing the Capitals.
Ovechkin is a great player. He's proven his dominance in the past with individual awards and honors. However, what has eluded him is the team honors and awards as conference and Stanley Cup champion. If his teammates do not step up to support him they are going to taste playoff failure again.
Follow me on Twitter by clicking the link: @tjmcaloon
I've devoted most of my life to being a Pittsburgh sports fan. Currently, I live in Austin with my wife Sarah and our dogs Clooney and Maggie.. But, I had the pleasure of taking in all that is Austin, TX – mostly the Texas Stars American Hockey League franchise – for the past 4 years.