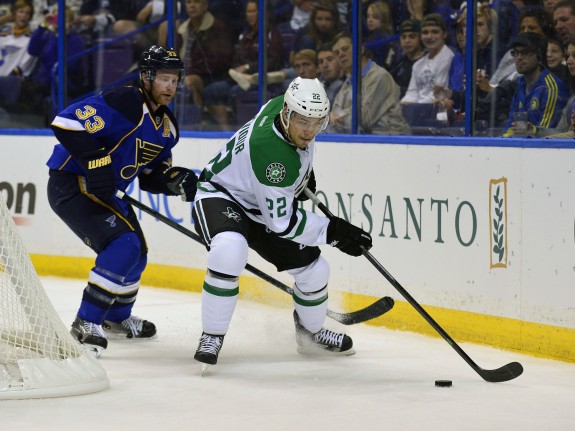 When right wing Colton Sceviour got called up from the AHL to the Dallas Stars last week, he surely knew that time was of the essence.
Since being drafted by the Stars 112th overall back in 2007, the native of Red Deer, Alberta had played 320 games for Dallas' AHL affiliate, the Texas Stars, but only suited up for two games in the NHL. In his fifth year in Dallas' system, the 24 year-old's window to make the club's big league team was steadily getting smaller as the organization continued to stockpile promising youngsters as part of a rebuild.
Last season, forwards Alex Chiasson, Antoine Roussel and Ryan Garbutt cemented themselves as Dallas regulars. This season, it was 18 year-old Russian rookie phenom Valeri Nichushkin. To make things even tighter, centers Travis Morin and Chris Mueller had already dressed for the Stars this year, while the team also plucked Dustin Jeffrey off of waivers from the Pittsburgh Penguins.
Undeterred, Sceviour put his head down and kept plugging away in the AHL. Building upon his success last season, when he lead the Texas Stars in points with 52 in 62 games, Sceviour exploded out of the gate this year, scoring 30 points in his first 26 games, with 18 of those points being goals, a total that currently ranks 1st in the AHL. The calls from fans for Sceviour to get a shot in Dallas got louder and louder.
So on December when Sceviour got the call that he was heading to Dallas, the pressure was on him to do something special to show the franchise that he belonged.
The results were, indeed, something special.
Making his Stars season debut on Saturday, Sceviour fired five shots against the Winnipeg Jets in 14:11 of ice time. None, however, were more important than the one that went in, his first career NHL goal, a marvelous breakaway tally that cushioned Dallas' 3rd period lead en route to a 6-4 victory:
Stars general manager Jim Nill definitely saw that. He might have even gone back and watched it a few times, just for good measure.
It was a brilliant moment for Sceviour, whose persistence and consistency, improving his game year after year while in both junior and in the minors, are admirable examples that younger Stars prospects can learn from.
Despite his impressive outing, the competition for roster spots in Dallas is still air tight, so sticking around won't be easy. However, Sceviour brings a ton of versatility to the table, as he is capable of playing all three forward positions, as well as both offensive and defensive roles, including on the powerplay and the penalty kill.
"I've played all over in my five years, and I can fit anywhere if there is room," he said in this interview with The Dallas Morning News' Mike Heika. "I think that helps to get in the lineup to not just have one specific skill set, to be able to be plugged in anywhere. I hope that helps get me in the lineup, but that's out of my control. I am just happy to be here and see how it plays out."
At this point, one thing is for certain: considering how well Sceviour did with his first chance, it certainly won't be his last.
"He's had a lot of success down there, and we could use a bit of help there," said Stars coach Lindy Ruff. "We feel we're getting close, and maybe he can help push us over the top."
Derek Neumeier primarily covers the Dallas Stars, but also other various topics related to the sport of hockey. A Journalism graduate of Mount Royal University, Derek also writes for Defending Big D, and has done previous work with the Edmonton Oilers as a communications intern and Hockey Canada as a freelance writer. You can follow him on Twitter at @Derek_N_NHL