The Arizona Coyotes are pushing for a strong finish to the first half of the season as the 2015 NHL All-Star Game approaches. Defensemen Keith Yandle, who leads Arizona with 26 points, and Oliver Ekman-Larsson, who is tied for the team lead with 10 goals, have both made compelling cases to be selected for this year's game. The remaining player selections will be announced on Saturday, so it remains to be seen if any Coyotes will make their way to Columbus. With the All-Star Game just a couple of weeks away, let's look back at some players and moments with the event involving the Coyotes.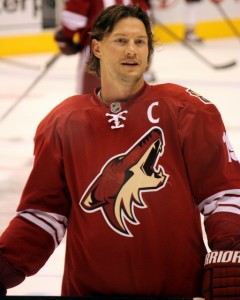 All-Star Players
There have been 10 different Arizona players that have participated in the NHL All-Star Game, with eight of them having gone multiple times. Two former Coyotes share the team record with three All-Star Game appearances: Keith Tkachuk (1997, 1998, 1999) and Teppo Numminen (1999, 2000, 2001). Other notable Coyotes to play in the All-Star Game include Jeremy Roenick (1999 and 2000), Nikolai Khabibulin (1998 and 1999), and current Arizona goaltending coach Sean Burke (2001 and 2002). As for current Arizona players, Shane Doan (2004 and 2009) and Keith Yandle (2011 and 2012) have both been selected twice.
The Game That Never Was
Shortly after the Coyotes moved into their new arena in Glendale, the NHL selected the team to host the 2006 NHL All-Star Game. While the event was scheduled to take place during the team's second full season at their new venue, those plans were put on hold due to the decision to allow NHL players to participate in the 2006 Winter Olympics following the lockout. Since then, the All-Star game has been held in Dallas (2007), Atlanta (2008), Montreal (2009), Carolina (2011), and Ottawa (2012). The Coyotes were originally going to get the 2011 All-Star Game, but with the team's future in Arizona still uncertain at that time, the NHL ended up moving that year's event to Raleigh.
Doan Wins Elimination Shootout
During the 2009 NHL All-Star Game SuperSkills Competition in Montreal, Coyotes captain Shane Doan and 35 other skaters faced some of the game's best goaltenders in the Elimination Shootout. After three rounds of penalty shots, Doan remained in the contest as well as Boston's Marc Savard and Colorado's Milan Hejduk. Hejduk was eliminated in the sixth round, leaving Doan and Savard to compete for the title. In round seven, Doan scored on Anaheim's Jean-Sebastien Giguere, while Savard was stopped by New York Rangers goalie Henrik Lundqvist to give Doan the victory.