On the eve of the NHL's free agency opening and team's across the league taking their first steps towards fine-tuning their rosters for next season, fans can't help but dream. Fans close their eyes hoping they wake up and see their team has grabbed a big-name free agent, they hope their team avoided throwing money at an injury-prone forward and overall hope their team comes out better, on paper at least, than they were whenever their season ended.
For the Los Angeles Kings, things are tense. Los Angeles is fresh off an exit from last season's playoffs after just five extra games, a five-game thumping handed out by none other than their instate rival, the San Jose Sharks.
While those wounds may still be fresh to most, the free agency is the first chance to move forward and the Kings must do so. There are several things that need to be done in Los Angeles in order for it to be seen as a successful offseason.
If the Kings can get the following done, they should move towards next season with the feeling that they are a better team than the team that skated off the ice after their brief playoff appearance.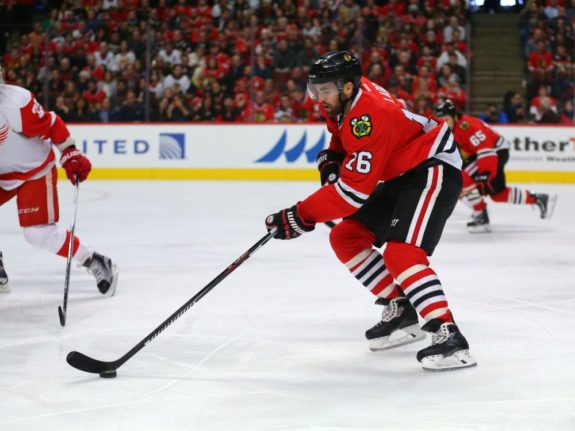 Sign Andrew Ladd
The Kings need a top-six wing, it's simple. Since Milan Lucic will not be returning to Los Angeles, and assuming 'That 70's Line' stays intact, the Kings need someone to skate on Anze Kopitar's left side.
There should only be one blip on the Kings' radar and that blip is Andrew Ladd. Ladd, who plays left wing, isn't as physical and mean as Lucic was but his physicality should fill the hole left my Lucic nicely. Ladd, who was the captain of the Winnipeg Jets before being traded to the Chicago Blackhawks at last season's trade deadline, is a two-time Stanley Cup winner and could slide right into a top-six role in Los Angeles.
Ladd's 6-foot-3 and 205-pound frame is a perfect fit for the rugged style of play Daryll Sutter expects out of his players and Dean Lombardi should be salivating at the mouth at the chance to grab Ladd.
In fact, this wouldn't be the first time Lombardi has been a suitor for Ladd. At last season's trade deadline, the Kings were players in acquiring Ladd from the Jets, before Winnipeg ultimately pulled the trigger on a deal with Chicago.
Ladd put up 25 goals (17 with Winnipeg and 8 with Chicago) and 46 points in 78 games (59 with Winnipeg and 19 with Chicago) played last season.
Get Drew Doughty Some Help
It is no question who the Kings' workhorse is. Only two players finished with a higher average time on ice per game than Drew Doughty's 28:01 a game last season.  Overall, Doughty seemed to never be off the ice for Los Angeles, he was on the ice for 65.5 percent of the Kings time with a man advantage, 51.5 percent of the Kings' time with the disadvantage and 46.2 percent of the Kings ENTIRE season.
There will be those that say those numbers come with being a Norris Trophy winner and the top defender in the league. Sure, Doughty is there for the workload and he can handle it. But the Kings need to bring a d-man in that can anchor the second pair while Doughty takes what little breaks he does.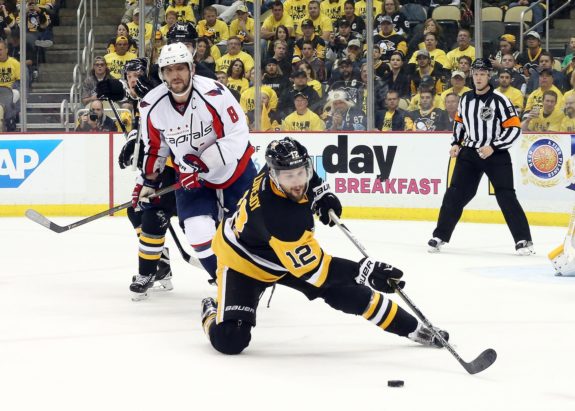 There are several options out there that could remedy the Kings' biggest shortcoming. Jason Demers and Ben Lovejoy are both available stay-at-home defensemen and have that sought after right-handed shot.
Demers is probably the top-ranked defenseman going into the free agency so a big pay-day for him might push him away from the Kings. But Lovejoy, who played a similar role on the left side of Pittsburgh's second defensive pair, could slide right in for Los Angeles and bring some stability to the Kings' defensive corps.
Lovejoy is coming off of a contract where he made $1.2 million annually and could be a cheap reliable option for the Kings if they shell out the majority of available cash for Kopitar's winger. Of course, all of this hinges on money available. Which brings us to our next point.
Trade Away Some Money
Los Angeles has very little wiggle room when it comes to the salary cap. General Fanger currently lists the Kings at just over $68.6 million in salary, which would give them about $4 million to play with. This is nowhere near enough money to get what needs to be done actually done.
This brings the Kings' bottom-six forwards into play. Trading away the likes of Dwight King or Jordan Nolan would free up some additional money for the Kings. John Hoven over at MayorsManor.com went deep into the probabilities of which forwards might get dealt and how much money each player's trade would free up for the Kings.
No matter who its, although it will likely be King due to the price tag associated with him, someone needs to go in order to help the overall picture.
Hope Lucic Finds His Way out of the Division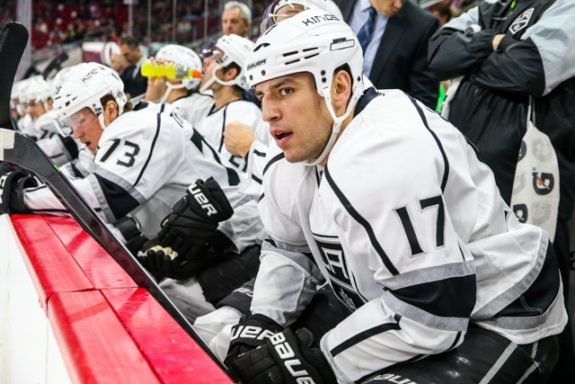 It was a match made in heaven. Lucic's rugged style of play was a perfect fit for the Kings. Lucic developed into a fan favorite and all signs pointed to him re-signing with Los Angeles and wearing a Kings jersey for the foreseeable future.
However, despite several reports over the course of the offseason saying Lucic's re-signing looked imminent, it was announced that the Kings and Lucic couldn't come to terms on a new contract. Now the 6-foot-3 winger is set to hit the open market and is looking to stay on the West coast.
Now the 6-foot-3 winger is set to hit the open market, and unfortunately for the Kings, he is looking to stay on the West coast.
This is the worse possible situation for Los Angeles. Not only do they lose out on Lucic but they will likely have to play four or five times a season after he ends up somewhere in their division or conference.
Obviously, where Lucic ends up is out of the Kings' control, and Lucic has said he wants to stay relatively close to Vancouver, where he grew up. ESPN's Pierre LeBrun reported a total of ten teams being interested in Lucic, you can bet the Kings are hoping there is a dark horse in those teams that could possibly lure Lucic east and out of a couple of games against the Kings.