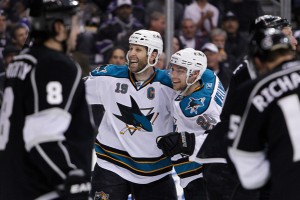 The Kings' annoyingly deja vu-esque 3-2 shootout loss to the San Jose Sharks last Wednesday tied one significant team milestone: the longest streak earning at least one point in club history (eleven). Over that span, the Kings are 7-0-4, helping the club to climb into third in the Pacific and sixth in the Western Conference, a mere three points behind the San Jose Sharks.
"It's kind of the same way they've beaten us on their rink, by one goal, comeback, or however it works out," said San Jose center Jose Pavelski, recapping the shootout win. "We know we can play with them. We had our chances to win there. They are probably saying the same thing here."
The Thornton goal, followed by Tyler Toffoli's subsequent miss to seal the victory:
The NHL record point streak is a distant dot on the horizon
Los Angeles has a long way to go to threaten the NHL record for the longest undefeated streak. In 1979-80, the Philadelphia Flyers went 25-0-10 over a 35 game span, a record threatened by last year's eventual champion Chicago Blackhawks, who started the season 21-0-3. "It's probably a more difficult task now because of the parity in the League," said Flyers GM Paul Holmgren, who played on that Flyers squad. "There were teams that weren't great. The parity in the League today makes it very difficult to do what they're doing and makes it more incredible than anything."
Los Angeles hopes to extend its streak to twelve against the 8-13-4 Calgary Flames at the Saddledome on Saturday night.
Walter McLaughlin is a Los Angeles Kings correspondent for The Hockey Writers. He is an avid sports fan, having followed the Kings since living in L.A. in the mid-1970's, as well as suffering through Seattle sports teams' general futility. He has a Bachelor's degree in Finance and has worked in community banking for over 25 years, specializing in SBA loans. He is married and has two daughters.