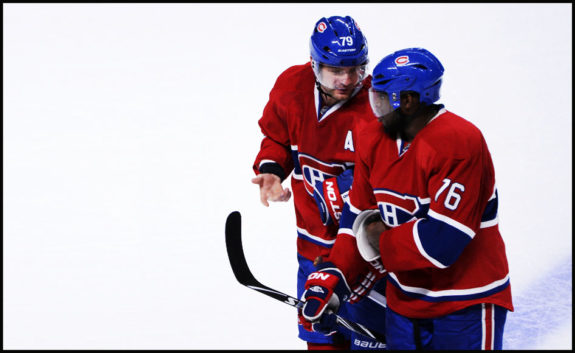 To be honest, I was reluctant to believe reports that had current Norris Trophy winner, P.K. Subban on the sidelines when the Olympic rosters are announced on December 31st…no, January 7th, no…
After all, the Montreal Canadiens' best defenseman is ranked 3rd in the NHL with 21 points in 25 games and is the only defenseman in the top 3 with a plus rating, at +7.  Nevertheless, early reports from Darren Dreger of TSN implied that Subban might be on the bubble, or worse, out:
If I were picking the CDN Oly team, Subban would be on it. Based on intel gathered, at this pt, he's a longshot…behind Boyle and Letang.

— Darren Dreger (@DarrenDreger) October 31, 2013
Naturally, debates and chatter erupted in the wake of this October 31 Tweet and since then Subban's name has come up to everyone and anyone associated with the Olympics or even a position of authority in the hockey world.
Wayne Gretzky on Subban going to the Olympics: "If you take PK you're going to win the gold." #habs #tsn

— Ben Kerr (@lastwordbkerr) November 23, 2013
Therrien: "The way he's playing right now Subban is making a case for the Olympics. We want him to go there."

— Marc Antoine Godin (@MAGodin) November 28, 2013
It's not just Habs-crazed fans looking for answers.  The fact that Subban would even be a question is legitimately puzzling.  I understand  it's a testament to Canadian talent that there are so many top-tier defensemen to consider and that Subban has to prove his worth as much as anyone, but hasn't he done that?  For the record, if he's not on Team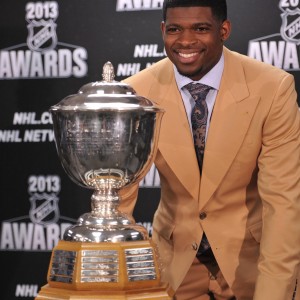 Canada's roster heading to Sochi he will be the only Norris Trophy winner, ever, to be left off any national team since NHLers joined the Olympic games.
Why They Say Subban Won't Make Team Canada
The biggest complaint, if we can call it that, I've come across against the young defenseman is that he's a risk-taker; something that Team Canada head coach Mike Babcock emphasized when he was questioned during a recent visit to Montreal. While Babcock was aptly vague or rehearsed, knowing he would face such questions on his arrival, he did hint that trust was a big factor in deciding who he's going to put on the ice:
"The great thing about playing on the Olympic team is you've got to be a 200-footer," Babcock said. "You've got to do it in both ends of the rink consistently and the coach has to trust you.  What I mean by that is you don't put people on the ice you don't trust, so you have to be dependable. So that's the No. 1 priority. I mean, there's skating, elite hockey sense, but you've got to be a trustworthy player, whether you're a goaltender, a defenceman, a centre. That's what we told them at camp. I don't think it's different for anybody."
Yes, Subban is a risk-taker, which is part of what makes him so exciting, but to refer to him as untrustworthy (not that I can conclusively infer that Babcock was implying as much) is simply false.  Of the 16 players invited to the Orientation Camp last August, Subban's +7 is better than 10 other invitees.  Or, if management is more concerned about giveaways, a stat that weighed heavily against Subban last season when he was credited with 42, this season it isn't a legitimate reason to exclude him.  Subban's 23 giveaways, or .83 per game, is tied with Dion Phaneuf and is considerably better than both Mike Green (1.14) and Kris Letang (1.44) and only slightly worse than Drew Doughty (.80).  While Mike Green might be a long shot at this point to make the roster, Doughty is as much of a lock on defense as they come.
The other obstacle is the much-discussed abundance of right handed defensemen on the projected roster.  To judge Subban solely against right handed shooters would certainly put his standing in danger.  9 of the 16 defensemen invited to camp shoot right.  These players include: Doughty, Dan Boyle, Mike Green, Travis Hamonic, Kris Letang, Alex Pietrangelo, Brent Seabrook and Shea Weber.  Considering Canada is aiming to bring 8 defenseman, Steve Yzerman and company would be hard pressed to choose just four from this list.  But of all the players who were invited to the Orientation Camp, and granted that list is somewhat outdated at this point as players have either played themselves onto the list or off of it, of all the players Subban is certainly ranked in the top 8, above players like Green or Hamonic or left handed shooters like Phaneuf, Karl Alzner, Marc Staal, Marc-Edouard Vlasic or Marc Methot.
As Steve Yzerman aptly put it early on:  "I do like the idea of having a right and a left [shooting defensemen] together, but I don't think it's the end all.  Ultimately, the two guys who are playing the best will go out there."  Because regardless of shooting side, Canada wants to put together the best team, which means finding the best players and using them to their advantage.
Subban is one of the best in all facets of the game.
Why Subban Will Make Team Canada
Stats aside and despite successful campaigns in two World Junior Championships where he won back to back gold medals, Subban belongs on Team Canada because it would be mutually beneficial.  His strength as a player is in the stats. If it's the intangibles Team Canada is worried about then they should rest assured that Subban is not the same player as the 21 year old kid who charged into the league.  For all the hype and controversy that has surrounded him in his young career, Subban has still found a way to mature and grow.
This season especially, his maturity is evidenced by his poise on the ice and in his willingness to listen and learn.  If we've learned anything about any of the players from watching the documentary series 24CH we've learned that much.  His constant questions to his coaches off the ice, or defense partner Andrei Markov on the ice is a testament to a young player wanting to become better. Subban could have leaned on his trophy this season but he hasn't.  He's on pace for a season akin to last and has only improved since the season began.
When I think of the upcoming Olympics, I think of Subban surrounded by Canada's wondrous talent and I can only envision a smart, eager and talented player ready to absorb everything in sight.  I can't see a one-man show, barreling into the offensive zone with two guys on him because he wouldn't need to carry the team on his shoulders, like he does in Montreal, or used to do. That's the advantage of having so much talent on Team Canada: no one has to carry the team; they simply bolster it and Subban, without question, makes Team Canada better.
The Montreal  Canadiens will be sending a number of players to the Winter Olympic Games in February, but of all the players to be wondering about it's hard to believe Subban is one of them.  Here's hoping we're all raising our arms in joy and not scratching our heads in wonder when the roster announcement is made because, as Wayne Gretzky said, Subban gives Canada their best chance to win gold.