Buffalo Sabres interim coach Ted Nolan was recently quoted as saying that he plans to "ride the horse" in reference to Ryan Miller, by giving him plenty of starts. Miller has appeared in 20 games compared to Jhonas Enroth's eight. At the time that Nolan made the comment, Miller was projected to play in 55 of the Sabres 82 games this season, assuming he remained with the team for the duration of the season.  For fans who want to see the team do well, 55 games isn't enough, especially for a player making $6.25-million. So assuming that Nolan can increase Miller's starts and the goaltender continues to play well, the question is, what is best for the Buffalo Sabres? Already, Miller has seen even more action. He has now appeared in 74 per cent of the team's games bringing his full season projection up to approximately 60 games.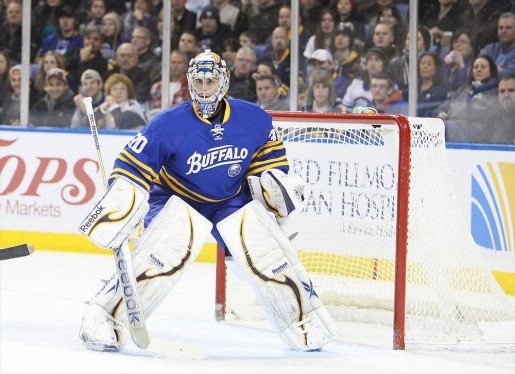 Pro-Numbers Don't Lie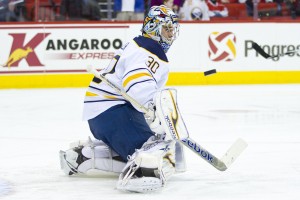 To say Miller has been the Sabres best player this season would probably be an understatement. To say he has been their only player might be more accurate. Despite only notching five wins in his 20 games, Miller has a save percentage of .918 and a goals against average of 3.05. Not to get ahead of things, considering there is a lot of season remaining, but Miller is on pace to record his best career save percentage. His goals against is a little higher than average, but that is a number that more accurately reflects the team. The fact is that right now Miller is putting up good numbers and is giving the Sabres a chance to be in games.
Con- Injury Potential
Miller has not typically been known for being an injury-prone player. He missed a month in 2009 with a high-ankle sprain, some time in March 2011 an upper body injury and who could forget the infamous Milan Lucic hit in Nov. of 2011.
That hit also kept Miller out for just under a month. So the track record for Miller has been good. He has had six seasons where he has played over 60 games and in last season's 48-game schedule Miller still appeared in 40. However, we can analyze all we want about his past history, the fact is that Miller is now 33-years-old and no matter the conditioning and off ice training that is done, he could suffer an injury at any moment that could result in a long period of time on the shelf. While this is true of any player in any amount of action, increasing his workload could result in increased fatigue, which opens up the possibility of an injury. If Miller were to be sidelined for any prolonged period of time, it would be one of the worst things that could happen to the team, as they would lose their best player and also their most valuable asset to bargain with on the trading market.
Pro- Star Power
Another Pro to the argument of playing Miller more is the star-power element. The Buffalo Sabres and their fans have had little to cheer about this season as pointed to by their last-place ranking in both the Eastern Conference and NHL standings. Yet surprisingly, the Sabres are still drawing fans to the First Niagara Centre. Recent numbers published by ESPN have the Sabres as 10th in the NHL's home attendance averaging 18,408 through 14 games. That number is better than notable teams like the New York Rangers and Boston Bruins. Having Miller helps those numbers because by having a recognizable star that fans of the struggling team can at least say "we are going to see one of the best goalies in the league tonight." When that time is split with Enroth or other goalies in the organization, it could impact fans wanting to attend a game. The more Miller time the Sabres fans get, the more likely they are to go out and support the product.
Con- Enroth's Development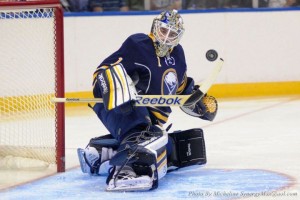 Speaking of Enroth, another Con of giving Miller a larger workload means that the development of Enroth is stunted. Enroth played well last season and then took another step in his development by leading Sweden to an IIHF gold medal at the World Hockey Championships in Sweden/Finland. Enroth was a huge part of that gold medal and it gave Sabres fans great optimism that maybe the 25-year-old was ready to become a starter in the league. If that is the case, then it makes moving Miller more digestible because there is another option waiting in the wings. In 12 appearances last season, Enroth went 4-4-0-1 with a save percentage of .919 and a goals against of 2.60. His numbers at the Worlds were even more impressive as he posted a 6-1 record with a save percentage of .958 a goals against of 1.14 and a pair of shutouts. So far this season he is 1-5-0-1 with a save percentage of .906 and goals against of 2.88. So while his numbers are not looking great now, in order for him to reach his potential he will need to play, a negative of giving Miller all that time in the blue paint.
There are two sides to every decision and this one is no different. The Sabres have to clearly outline their objectives and figure out what takes priority. If the end goal is to trade Miller to aide in the rebuild, than keeping him healthy and rested while letting him play will be key to attract suitors. If they want to try to appease fans then sticking him out there every night is what will happen. As the season progresses we should see what the organization's priorities are, hopefully they will be the right ones for the team to move on in the future from this nightmare season.
An avid sports enthusiast, Darren presently is the Communications and Marketing Coordinator at the Golf Association of Ontario. He has served as a Sports Editor with Etcetera Publications and colour commentator on TV Cogeco's junior hockey coverage. He has covered a wide range of junior and professional sports including: hockey, golf, baseball and football to name a few.