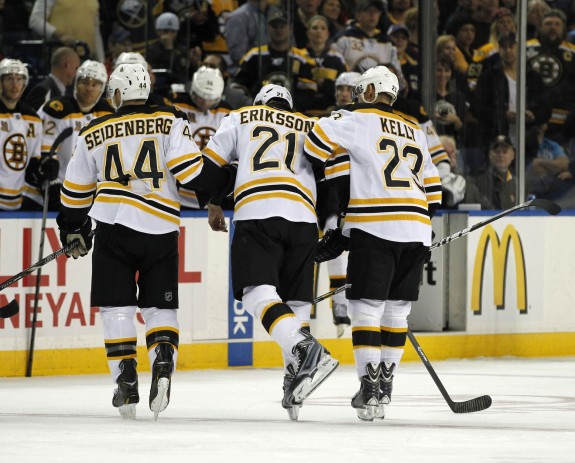 When the Boston Bruins traded Tyler Seguin to the Dallas Stars, a pox had finally left Boston and the Bruins could start anew. Making the trade even better was the haul that the Bruins got back from Dallas. The Bruins acquired the defensive minded forward Loui Eriksson, Reilly Smith, and others. Eriksson was clearly the centerpiece in the players coming to Boston. His style of play fits Claude Julien's defense first style and by pairing him with Patrice Bergeron, it was going to create a great defensive line for the Bruins and could make the team stronger.
However, that hasn't been the case so far.
With Eriksson on the second line, both Patrice Bergeron and Brad Marchand's numbers have fallen drastically. Bergeron only has twelve points in 26 games this season and Marchand only has eleven points in 26 games. Marchand is on pace to have his lowest scoring season since becoming a full time Bruin and Bergeron is on pace to have his lowest scoring season since 2008-2009. Is Loui Eriksson the cause of Bergeron and Marchand's startling drop of play, yes and no.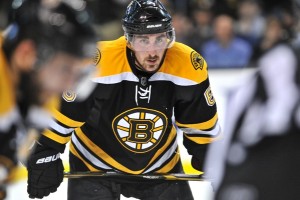 Bergeron and Marchand are used to playing with Tyler Seguin on the second line, but they are now with Eriksson, a completely different player than Seguin. Seguin is an offensive minded player who like to play to the hashes and by doing that created a lot of space for Bergeron and Marchand to move the puck around and score. Meanwhile, Eriksson like to play very close to the net and close up the space Seguin would have otherwise cleared. Reilly Smith has spent time on the second line this season when Marchand was briefly demoted to the third line and Smith did have some success, but Smith and Eriksson do have some playing time together in Dallas before playing in Boston. Smith and Eriksson played very briefly on the same line last season in Dallas, a line that was only used 1.61% of the time.
However, Eriksson does bring a better defensive play with him than Tyler Seguin. The Boston Bruins are tied with the Montreal Canadiens with allowing the fewest goals per game with two and have only allowed 29.2 shots per game, good enough for eleventh in the NHL. It's clear that Eriksson's defensive presence is felt on the Bruins team, he absolutely beats Seguin in that department.
Even though Eriksson missed five games due to a concussion, he still has outscored Bergeron and Marchand and that is both surprising and a problem.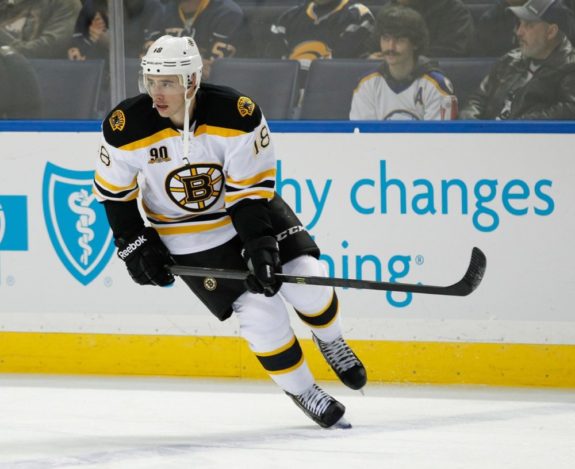 Even if Eriksson is the problem, one good thing came of this trade: Reilly Smith. Smith has been a great and pleasant surprise for the Boston Bruins this season. Smith is third on the Bruins in scoring with 17 points, two behind leader David Krejci, and is one pace to score 52 points, well above his career high. Krejci said earlier in the week that Smith is playing like a "10-year vet", Smith is just 22 years old, but he is providing leadership and great play. When it is all said and done, Reilly Smith, and not Loui Eriksson, could be the biggest prize in this trade and it could be because of the lack of play on Eriksson's second line.
It's become quite apparent that the line of Eriksson-Marchand-Bergeron is off to a rough and slow start, but that isn't to say that they won't  continue like this for the remainder of the season. Bergeron is much too good a player to continue at this slow pace and Marchand is very capable of getting hot very quick. It's taking more time than it should to mesh and gel with Eriksson, but everyone needs to get on the same page and eventually they will find their former selves.
So, Bruins fans, just be more patient, it's not Loui Eriksson's fault.
Do you think Loui Eriksson is to blame for Patrice Bergeron and Brad Marchand's poor start? Comment below or send me  a Tweet, @MarkWGraham