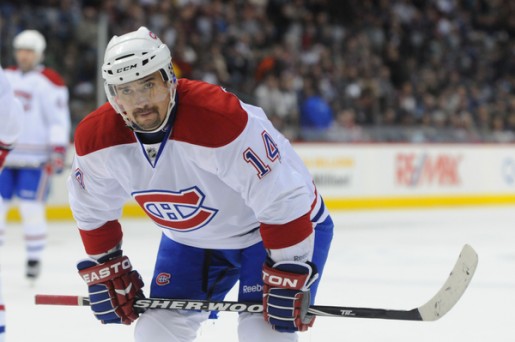 The Montreal Canadiens are going to the playoffs and the New Jersey Devils are not, but when the two teams met on April 23, it was the Devils who prevailed 3-2 in a 'playoff-style' game. The Habs who have been at or near the top of the East standings all season are still in a battle to win the NorthEast Division, but you couldn't tell that by the way they sleepwalked through the loss to Jersey's Team.
New Jersey was playing its first game since being eliminated from the playoff push and played well against the Canadiens after a putting up a stinker in their previous match against the New York Rangers. Martin Brodeur has always excelled when playing against his hometown team and improved his gaudy numbers against them with the win in his 16th straight start this season: 44-18-6 (68 games), 9 shutouts, 1.82 GAA, .930 save %.
"We played them hard, we were intense," said Brodeur after the win. "We were able to get some breaks and score a few goals. We know we are a good team and it is unfortunate that we missed the playoffs, but we still want to compete and prove that we are playing well."
When he was asked about beating the team he grew up rooting for, Brodeur responded with his trademark smile, "It's always nice (for me) to beat the Canadiens; a lot of texts from people back home – they were excited about this game. Some of them were happy that I won and some of them were not really happy that I won; so that's kind of nice."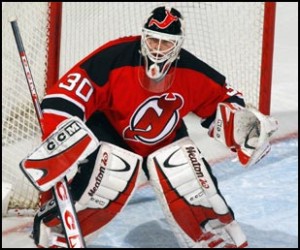 The Devils power play entered the game ranked 22nd of the 30 NHL teams, and has been one of the most predictable/easy to defend in the league. Against Montreal though they managed to score on their first two opportunities and finished the game 2-for-4. Basically the Habs made them look like the Pittsburgh Penguins. We've all watched playoff hockey and we all know how crucial special teams has become during postseason play.
[Also: Carey Price & A Weak PK Are Sinking the Canadiens]
"We're a competitive group in here, we have a lot of pride and we want to win every single 60 minutes that we play; tonight was the first one," said Devils' forward Steve Sullivan after the win in which he potted the GW-PP goal (and had an assist). "My goal was a great pass by (Marek) Zidlicky; I just went to the net. Z's head was up, we made eye contact and I gave him my stick to shoot at. He nailed it and I was able to deflect it in."
Watch how easily Sullivan & the Devs convert on this PP after an offensive zone face-off win:
http://www.youtube.com/watch?v=hDu98TDU-8A
The goal reminded Sullivan of his first for the Nashville Predators, a play that also involved Zidlicky. "My first game in Nashville, he assisted on two power play goals," he recalled with a grin. "It was nice to click again."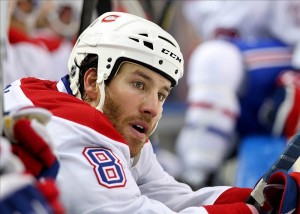 The loss by Montreal means they need to win their final game and hope that the Boston Bruins do not gain a point over their final three games to clinch the East's second seed. In the third period trailing by only one goal thanks to Lars Eller's last minute tally in the second period, the Habs mustered only five shots on goal; again — against a team that had nothing to play for (other than pride). With only one win in their last six games (1-5-0) and the team being outscored by an alarming 28-14 count, one can only imagine that their loyal fans and supporters are starting to panic and have visions of an early first round exit dancing in their heads.
Whatever has happened to the Carey Price that looked like a possible Vezina Trophy candidate and Team Canada starting goalie two months ago? Will Brandon Prust be able to keep his cool and not take silly offensive-zone penalties like he did in the loss to New Jersey? Finally, despite being the third-highest scoring team in the East (141 goals) do they have enough scoring consistency throughout their roster to win a low-scoring, grind it out playoff game/series? These are all questions I do not have the answers to, but I'm sure I am not the only one wondering these things as the Habs stagger into the 2013 NHL playoffs.
Then again, everything resets once the playoffs begin, and as we saw last year: ANYTHING CAN HAPPEN. Next time you're listening to an 'expert' make playoff predictions, ask yourself this: how many of them picked New Jersey to play the Los Angeles Kings last season in the Stanley Cup Finals?
Dan Rice can be reached via Twitter: @DRdiabloTHW or via Email: drdiablo321@yahoo.com