Through the first month of the 2015-2016 season the New York Rangers currently find themselves with a record of 6-2-2 with one game remaining in October on Friday against the Toronto Maple Leafs. A win at home against the Leafs would give the Rangers one of their best records to start out a season in a long time at 7-2-2.
Toronto is a team that despite their record, always seem to play the Rangers tough. The Rangers start to the season looks good in the standings, but has been mediocre from the eye-test point of view. The offensive leaders are not producing and the supposed best defense in the game has looked far from it.
The Rangers are turning pucks over in their own zone, allowing an enormous amount of shots on goal by their standards and have struggled to get scoring from their elite forwards. Even the captain Ryan McDonagh has had some struggles to start the year and has not looked like the player Rangers fans know from previous seasons. However, the good news is that their goaltending has carried them through the first month and allowed the team to be in a good position moving forward.
Henrik Lundqvist
Henrik Lundqvist is an elite goaltender who always started slow in the regular season. Supposedly last season during the teams' exit meetings, head coach Alain Vigneault challenged the Swedish goaltender to be at his top-form from the drop of the puck in October.
Lundqvist has responded with superb highlight reel saves it seems in every contest so far this year. He boasts a record of 4-2-2 with a 1.98 goals against average and .941 save percentage. Lundqvist continues to show why he is the Rangers most important player.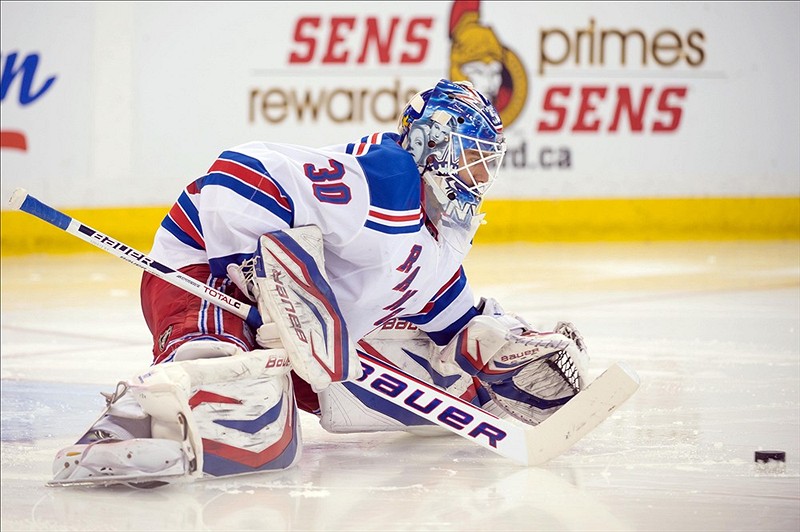 He deserves no blame for the loss to the Philadelphia Flyers the other night where he made 46 saves in regulation and overtime on 48 shot attempts. Sam Gagner and Claude Giroux are two elite players in the shootout and both showed why by roofing the puck with forehand-backhand top-shelf attempts.
Lundqvist is the Rangers most important player and the Rangers need to try to make his life a little bit easier on a game-to-game basis. He appears ready to challenge Carey Price for the Vezina Trophy this season.
Antti Raanta
The Rangers new backup goaltender from Finland comes to the Rangers this year with something to prove. Raanta lost his job last year as the Chicago Blackhawks backup goaltender to journeyman Scott Darling. It proved to be the right decision for Chicago as Darling was a very big reason the Blackhawks captured the Stanley Cup in 2015 with his performance in round one against the Nashville Predators.
There's no place like home. Antti Raanta improved to 16-0-3 in his career on home ice. pic.twitter.com/nSkGXNr2wO

— NHL (@NHL) October 26, 2015
Raanta is a goalie who has been around a winning tradition in Chicago to start his career. He has been great so far in New York and in two starts has posted a record of 2-0-0 with a 0.50 goals against average and .978 save percentage. Raanta is still a very young goalie at age 26 and should be an extremely reliable backup goaltender for Henrik Lundqvist this season.
I expect 20-25 starts this year for Raanta to ensure that Henrik Lundqvist is prepared for another grinding playoff run.