Ever since he was claimed off of waivers by Garth Snow during the lockout shortened '12-'13 NHL season, Thomas Hickey has been a model of consistency for the New York Islanders.
Tending to his role as a bottom-pair defenseman, Hickey has been a stabilizing presence for the Isles with his positional play and spatial awareness – even if some Islanders fans might not necessarily agree. Scoring 22 points in each of his last two campaigns – and missing only one game in that span – Hickey was the closest thing that the Islanders had to an iron man on the back-end of their defensive pairings.
Of course, defensemen such as Brian Strait and Marek Zidlicky have been cogs on the Isles' third defensive unit this season, but neither of the two rearguards possess the same versatility as Hickey – which makes Jack Capuano's announcement of the d-man's injury that much more frustrating.
As a result of Hickey being out indefinitely, Snow and the Islanders will be tasked with finding a suitable replacement for the defenseman, be it via the re-insertion of Zidlicky into the starting lineup or a dip into New York's ever-so-promising prospect pipeline.
Can Zidlicky-Strait Get It Done?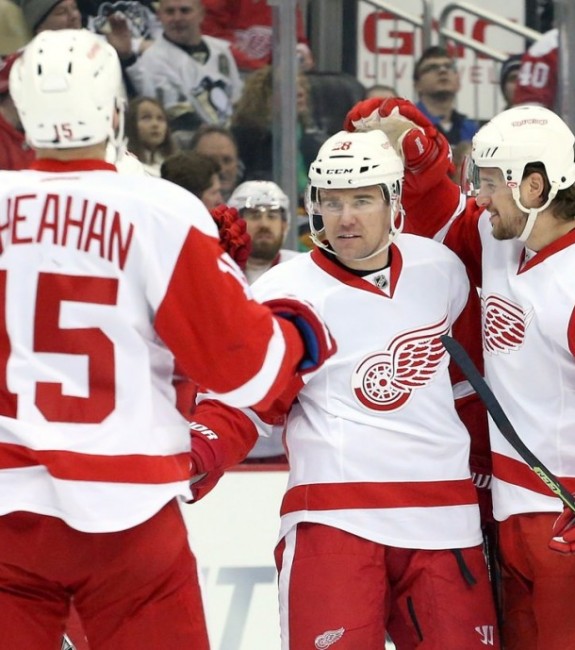 Over the course of his lengthy NHL career, Zidlicky has shown that he is more than capable of fulfilling his role as an offensive-minded defenseman.
Racking up a current total of 404 points (86 Goals, 318 Assists) in 790 games played, Zidlicky has made a living on special teams as more than half of his points (215) have been scored on the man-advantage. Carving out a niche for himself in the NHL, Zidlicky has proven that he can get the job done with tours of duty on various bluelines – both in the Eastern and Western conferences.
Despite his impressive point totals and prowess on the power-play, the defender's career -67 rating may leave some skeptical as to his execution of defensive duties. Of course, +/- ratings are not the be-all and end-all indicators of defensive play that some may consider them to be, but the fact that Zidlicky hasn't registered a positive +/- over the course of a full season since 2005-2007 – which were gained on defensively-sound Predators teams – paints a fairly consistent picture of the defenseman's shortcomings.
On the other hand, Brian Strait has been the bane of some Islanders fans' existence ever since arriving on Long Island. Unable to stay on the ice for a full 82-game schedule, Strait has failed to reach a consistent level to his game. While the defenseman has managed to register a good amount of hits and blocked shots when he has played, the negatives associated with his game seem to outweigh his positives by far – but don't take our word for it, just check out Lighthouse Hockey's in-depth analysis (from last year) of how Strait impacts his team when on the ice.
Sure, there are games when Strait seemingly has it all together and doesn't take away from the other four members on the ice with him, but how long could an offensive-defenseman and a defenseman with poor impact statistics keep New York's third d-pairing afloat? Only time and opportunity will allow the aforementioned situation to play out, but there are certainly other options that the Islanders can consider.
Maybe Mayfield? Possibly Pulock?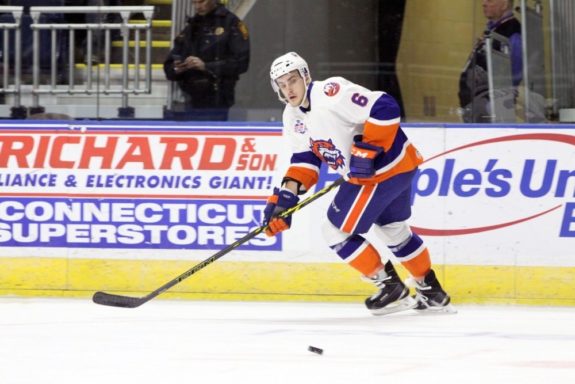 Throughout the last two training camps that the Islanders have held, one common question among fans has been who will be the Isles' next defensive prospect to make the leap from the AHL to the NHL.
Impressing Islanders fans since being drafted – and especially since registering a 105 mph slapshot at this year's rookie camp – Ryan Pulock has started scoring right out of the gate this season as he has scored four points (2G, 2A) in six games played for the Bridgeport Sound Tigers. Registering a -6 last year, fans must remember that Pulock was playing on a Sound Tigers team that was essentially pillaged of a good amount of talent as Brock Nelson, Anders Lee, and Ryan Strome graduated to the big stage and left quite a void to be filled.
Scoring 29 points (17G, 12A) in 54 games played last year, Pulock left no question as to his offensive abilities – and he's once again reinforcing it during the early stages of this current AHL season – but would the gifted, yet unseasoned, defenseman be given ample opportunity to succeed if brought up to the big club?
This is not to say that Snow and Islanders management would not give their prospect a chance to succeed in the NHL, but with Nick Leddy, Travis Hamonic, Johnny Boychuk and Calvin de Haan ahead on the depth chart, it would seem that Pulock would be relegated to bottom-pair minutes. Finding oneself on a third defensive unit in the NHL is definitely nowhere close to the worst thing that can happen to a prospect defenseman, but being partnered with another offensive-minded d-man (Zidlicky) or a defenseman that has the potentiality to hurt his team while on the ice (Strait) might not be the best introduction to the big stage for the young defender.
In contrast, Scott Mayfield might be just what the Islanders need to even out their third pair, and there's little to suggest that the 6'4″, 225 lbs. rearguard isn't ready for some more ice-time with the Isles. Having a five-game cup of coffee with the Islanders during the '13-'14 NHL season, and enjoying a two-game appearance in last year's playoff series against the Washington Capitals, Mayfield has seen a tiny bit of what it takes to play in the NHL.
Of course, seven games of experience in the NHL is nothing to write home about when talking about having a youngster up for an extended look in the big leagues, but the defenseman's size could serve as a good compliment to Zidlicky – possibly making the Isles' third defensive pair into a well-balanced unit that can move the puck up the ice and provide adequate coverage in their own zone.
With Mayfield being no stranger to using his body and making others physically aware of his presence, one can stand to argue that he might just be able to do the same things that Strait is tasked with doing when in the lineup. Even though it's dangerous to assume that a young defenseman could step into an NHL lineup on a whim and formidably perform duties that were asked of other more experienced d-men, New York has a perfect opportunity to find out what exactly they have in their second round draft pick from 2011.
Paying his dues with a total of 154 games played in the AHL, Mayfield is poised to get a solid look from the Islanders, and for good reason. Patiently waiting for his chance to play in the NHL, Mayfield has followed the same route as other prospect skaters (Nelson, Lee, & Strome) for the Islanders. Since the development process for defenders usually takes a bit longer than it does for forwards, it's certainly wouldn't be surprising to see Mayfield's fortunes rising just after his 25th birthday. Whether or not the Islanders decide that Mayfield is ready for more than just a handful of NHL games is yet to be seen, but if time and progress are any indicators of who could potentially play for a roster spot on the Islanders, then the St. Louis, Missouri native sure does look like a shoo-in.