The Washington Capitals started this year's NHL free agency unlike many would have expected. While it had been known for weeks leading up to free agency that star goaltender Braden Holtby was unlikely to return, what the Capitals did next was not expected. On Friday, Oct. 9, they signed "The King", Henrik Lundqvist, to a one-year, $1.5 million contract.
Lundqvist is a common name in most Capitals fan households as he has been a destroyer of many playoff hopes throughout the years. With the NHL cap being flat and future years being unclear due to the impacts of league revenue from COVID-19, a veteran goaltender for cheap is exactly what the Capitals were looking for. But what many fans are wondering, at 38, how much more does Lundqvist have to offer?
Lundqvist Over the Years
Lundqvist has played 15 seasons in the NHL and each one has been a treat for fans of all teams. When all is said and done, he will be in the conversation for one of the greatest goalies of all time. He sits sixth all-time in wins (459), 16th in shutouts (64), has five All-Star selections, five Vezina Trophy nominations, and one Vezina win. His career save percentage of .918 ranks 12th while his goals-against average of 2.43 ranks 23rd all time.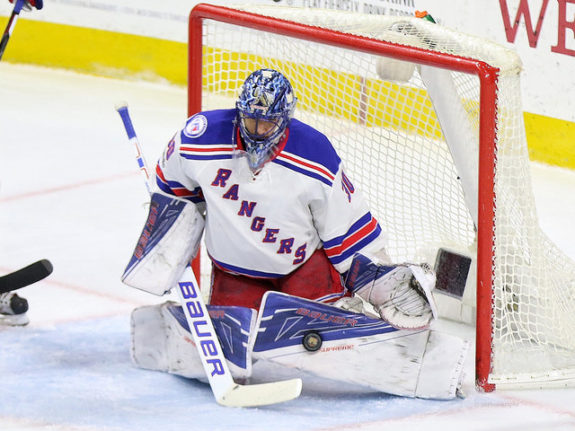 However, in his 15th season in the NHL, many people thought this was the beginning of the end for Lundqvist. The New York Rangers veteran appeared to struggle, and his starting job was quickly questioned with rookie Igor Shesterkin playing extremely well. By the time the bubble rolled around and Shesterkin was given the start in Game 3 of the play-in round against the Carolina Hurricanes, it was clear the torch had been passed. However, Lundqvist was not the problem with New York last season and while he may not have passed most people's eye tests, Washington fans should not be concerned with his performance last year and should accept him with open arms.
Lundqvist vs Holtby
Both Washington and New York performed below the league average defensively, giving their goaltenders an extra amount of work. However, with Lundqvist seeing some of the hardest work in the league, and significantly harder work than Holtby, he still managed to outperform the Washington goalie in many categories. Out of 48 starting goalies to appear in at least 30 games last season, Lundqvist finished ahead of Holtby in goals saved above average per 60 minutes at 5-on-5. Holtby posted a minus-.42 (45th) while Lundqvist posted a minus-.06 (32nd).
Related: The TJ Oshie Trade Analyzed
While Lundqvist's number was still slightly below average, he was significantly better than Holtby. In high danger goals saved above average, Holtby had a minus-.32 (45th), while Lundqvist posted a .25 (eighth). Lundqvist was phenomenal in high danger situations last season, as one of the league's top goaltenders. This is extremely impressive considering the Rangers gave up 12.49 high danger chances per 60 minutes at 5-on-5, the third-most in the league. Washington was slightly better at sixth-worst, giving up 11.32 high danger chances per 60 minutes.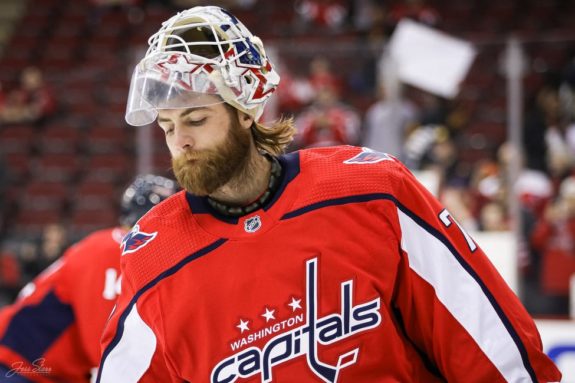 When considering all of these stats, you have to then pair them with expected goals against. Last season, Holtby had a 5-on-5 expected goals of 83.2. Holtby ended up giving up 103 goals at 5-on-5, well above his expected mark. Meanwhile, Lundqvist had an expected goals against of 56.63, but he only gave up 55 goals. This shows that Lundqvist, while looking to struggle at times, still managed to exceed his expected goals performance, while Holtby's poor play led him to be drastically worse than his expected goals performance.
While it is well known that Holtby was poor at best last season, it is important to note just how much better Lundqvist was while playing with a significantly worse defense in front of him. If Lundqvist can bring this same play from New York with him, then the Capitals are actually getting a slight upgrade in net for much cheaper, which is something Washington fans will rejoice over after many disappointing games from Holtby over the last two seasons.
Veteran Leadership
This is the beginning of the end for Lundqvist and he wants to end on a high note with Washington, as he looks to win his first Cup. Meanwhile, the Capitals are hoping that this is the beginning of what many hope is Samsonov's bright career, and Lundqvist can help with that. Lundqvist brings a veteran leadership that the Capitals have never had in goal during the Ovechkin era. Before Holtby, the Capitals had Michal Neuvirth in net whose inconsistent play led him to being replaced by Holtby before he even turned 30.
Now, the Capitals have moved on from Holtby at just 30 years old. At 38 years of age, Lundqvist is not only a true veteran but one of the most decorated goalies the Capitals have ever had. While Lundqvist does not have a Cup under his belt, he does have experience in the Stanley Cup Final and lots of deep playoff runs. This experience is exactly what a team wants for young goaltender Ilya Samsonov.
Now you may be thinking to yourself, "Holtby could provide that same experience and knowledge!" While this is true, Lundqvist costs $3 million less than Holtby would have, if Holtby had taken the same deal he did with the Vancouver Canucks. That $3 million allowed for the Capitals to have enough cap space to go out and improve the blue line.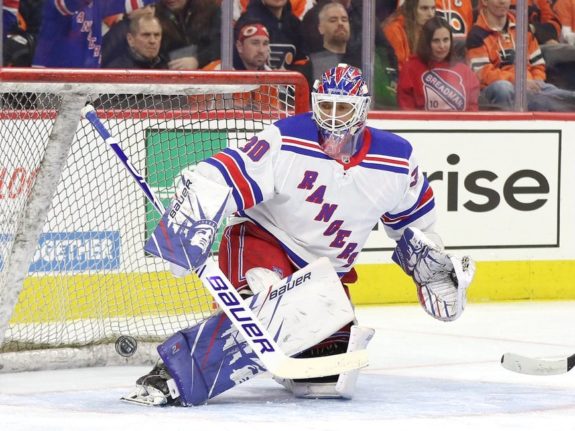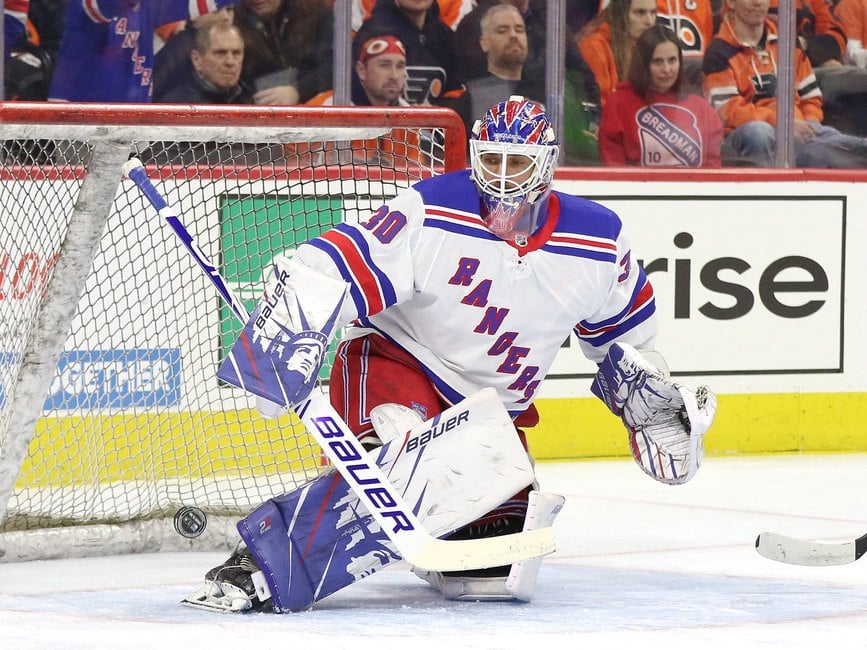 Lundqvist is not the answer for the Capitals' future, he isn't the goalie who is going to singlehandedly right the ship after a few poor Holtby seasons, and he isn't necessarily a goalie at 38 years of age that you're counting on to lead you to a Stanley Cup. But Lundqvist is exactly what you expect when you pay a veteran goaltender $1.5 million, and perhaps even more.
Lundqvist is going to be a support beam for not only the Capitals, but most importantly, Samsonov. He'll be there to get the job done on the back-to-backs and make sure that Samsonov is well-rested, as a veteran goalie should. And when the playoffs come around, he's going to be the calm, cool and collected mind that will support Samsonov and help him develop, because Samsonov is the future of the Capitals.
Related: 1974-75, the Capitals' First (and Worst) Season
It was tough for many Capitals fans to watch Holtby leave and Lundqvist, a long-time hated rival, come into town. Holtby will be missed well into next season, but the future is bright with Samsonov on the horizon. Rushing a goaltender in the NHL has been detrimental to many promising prospects in the past and that's part of the reason the Capitals chose to bring Lundqvist in before giving Samsonov free reign.
Lundqvist is still a very strong goalie in this league, and while he is not going to singlehandedly win the Capitals a Cup, he is going to significantly help the Capitals win a Cup. Because of this, I welcome the King to the nation's capital and hope that he can end his career on a high note, by winning his first Cup and bringing Lord Stanley back to Washington.
---
---