When you're part of a prospect pool as loaded as that of the Winnipeg Jets, coming out of the first game in Penticton as the clear standout is no small accomplishment. Despite being surrounded by top end talent, however, Brendan Lemieux stood taller than everyone else in tonight's losing effort to the Calgary Flames' prospects.
If asked before the game, I'm sure everyone from the coaches to the fans would've told you the focus of the game offensively was going to be Nikolaj Ehlers and Nic Petan for the Jets, and Sam Bennet for the Flames. While none of those players had a bad game exactly, none of them shone quite the way Lemieux did. Given the talent level of those three, that's no small thing. With spots on the line in the Jets' upcoming training camp, Lemieux must be hoping he left the same impression on Kevin Cheveldayoff and Paul Maurice that he left on fans, coaches, and commentators alike this evening.
The Forgotten Man
As was mentioned during the broadcast of the game by play-by-play man Brian Munz, Lemieux has become something of a forgotten part of the blockbuster Tyler Myers trade. Obviously Jets fans have had some good exposure to Myers and Stafford, and the assumption is Joel Armia will be in contention for a roster spot in training camp, but despite posting excellent goal totals in the OHL, Lemieux was at times overlooked in the return. After today's game, in which he hit, agitated, instigated, and scored the Jets' only goal, he'll be much more difficult to overlook.
The Tyler Myers swap with Buffalo was a true blockbuster, the kind that makes you sit bolt upright in shock when you first read about it, and while it's easy to lose the individual pieces in the sheer magnitude of such a large deal, Jets fans should know Lemieux will make them even happier with the trade than most of them already are. There is an open spot in the Jets bottom six this coming season, and while Lemieux does have a year of OHL eligibility still to his name (making him easiest to send back to junior) you can expect him to get a long look in preseason. A bottom six forward who can score is a valuable thing in today's NHL, and there's no doubt Lemieux can score, since he put up 41 goals last season.
Not, in short, a player unable to produce offensively.
A Chip off the Old Block
Brendan Lemieux will no doubt get sick of hearing comparisons to his father, long time NHL pest and former Conn Smythe Trophy winner Claude Lemieux, but in fairness to those making the comparison, the younger Lemieux made it all too easy to see the genetic parallels tonight. As you'd expect from anyone with Claude Lemieux's genes, Lemieux laid big hits several times, constantly stirred things up after the whistle, and even goaded a Flames' prospect into taking an ill-advised roughing penalty at the start of the second period. That he scored, at that point, was just gravy.
Unsettling opponents was always Claude Lemieux's game, and while it earned him a slew of nicknames unfit for print and the contempt of many of his opponents, it also earned him multiple Stanley Cups and a playoff MVP award. There is grudging respect for Claude Lemieux hidden underneath the sneers and snarls he inspired in his foes, and the same can be said of his son, who can impact the game in a wide variety of facets no current Jets roster player can boast.
Tonight, Brendan Lemieux was everything he was promised to be. If he reaches anywhere near his potential, the Kane-Myers swap may go down as extremely lopsided in Winnipeg's favour (this is to say nothing of first round selection Jack Roslovic, who could one day be another big piece of the trade). While I don't think Brendan Lemieux will make the opening night roster of a team notorious for not wanting to rush its prospects, I think he's going to give the Jets brass many a sleepless night over it. This is a player who will carve out an NHL future for himself in whatever capacity he's needed, whether it's as a grinder, a scorer, an agitator, or the same potent mixture of those his father was at his peak.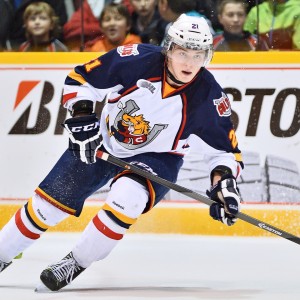 As for the Others…
Not every Jets prospect had the same outstanding game as Brendan Lemieux, but some others had their moments. Nikolaj Ehlers flashed some of the electric skill that has Jets fans anticipating his arrival so eagerly, and I expect I'll have plenty more to write about the dashing Dane before the tournament is over. Nic Petan was a bit of a let down at first, but then he got on the power play, and his future worth became instantly apparent. I have never seen backhand saucer passes delivered with such accuracy and such frequency. Much like Ehlers, his creativity is astounding, and shone through in spite of the rust that comes with not having played a meaningful game in months.
As much as Brendan Lemieux stood out, he wasn't the only player to earn big praise from those watching. Ryan Olsen had a terrific outing, earning praise from coach Keith McCambridge.  He was one of the Jets best forwards tonight, and brought a similar robust physical game to Lemieux. That he has played the game at the professional level was evident tonight.
Chase De Leo and Andrew Copp seemed to find some chemistry, and Copp was absolutely robbed on at least two odd man rushes where De Leo set him up. Both showed good speed.
The defense was far less encouraging than the forwards, however. Josh Morrissey needs to get stronger, as he was pushed around too much tonight. He's smooth as glass with the puck, but could stand to add strength. He also needs to learn to hit the net on the power play. Jan Kostalek was solid but unspectacular, as you might expect of him. Peter Stoykewych was strong in his own zone and laid the body well, although he did bobble the puck a few times. His future as a pro is as a steady, reliable blue liner, not an offensive dynamo. As for Aaron Harstad, his night… could've gone better. He coughed the puck up as the last man back, and that resulted in a penalty shot, on which, luckily Eric Comrie bailed him out. He owes Comrie for that one.
Both goalies were good, with Comrie not surrendering a single goal. I expected Connor Hellebuyck to be the better of the two, but he surrendered a very saveable goal in the first period that ultimately stood up as the winner.
For full game highlights, check out the Jets' website and see what you missed.
Up next for the Jets: A date with Vancouver on Sunday afternoon.
A long time hockey fan and player from Winnipeg, Manitoba. Play-by-play man with the SJHL's Estevan Bruins. Graduate of Red River College's Creative Communications program with a major in journalism. Former PxP man for the University of Manitoba Bisons. Lover of all things Jets and Avs related and always looking for a good hockey debate.