For the first time in many seasons, Pittsburgh Penguins fans saw former head coach Dan Bylsma put Evgeni Malkin and Sidney Crosby on the same line late in the 2014 Playoffs. Knowing now that Crosby was dealing with an injury, it makes more sense as to what Bylsma was trying to do; take some pressure off of 87. But fans and media can both agree that the 71-87 duo didn't produce nearly what many thought it would. Can two superstar centers mesh on the same line?
New head coach Mike Johnston seems to be toying with that notion. In Malkin's first practice back from an undisclosed preseason injury, he lined up on the left side of Crosby on the Penguins first line. It should be noted that Chris Kunitz was not at practice. But that doesn't stop the assumptions that those close to the team are beginning to make.
#Pens skating a line of Malkin-Crosby-Hornqvist #Allin -SK

— Pens Inside Scoop (@PensInsideScoop) October 7, 2014
Could Mike Johnston be planning on trying to unleash the "Two-Headed Monster" already? Penguins fans have planned on seeing a new look, including a new alternate jersey, but the 71-87 pair has often times failed to live up to the hype.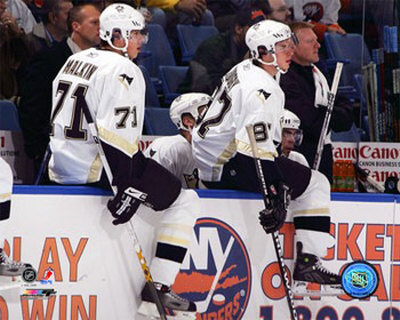 The most intriguing part of this story is that Malkin will likely make his way into the line-up Thursday night for the Penguins opener. Malkin, who has gone weeks without practicing, made his way back onto the ice for the first time Sunday morning, and didn't practice with the team until Tuesday morning. But many people that are close to the team say that Malkin will likely make the line-up against the Ducks Thursday night.
Malkin is skating smoothly and finally taking part in practice. Wouldn't be at all surprised if he plays on Thursday.

— Josh Yohe (@JoshYohe_PGH) October 7, 2014
Is it worth coming back so soon if he's not ready? If so, do you think that he can work well with Crosby? On paper, this line could easily be one of the best in the NHL. But will that happen? We want to hear from you! Comment and join the conversation on Twitter using #THW.
What's Malkin have to say about it?
"I can't say right now… 50/50."
Update, 10/8/14 12:30pm
Malkin will play winger with Sutter and Dupuis.
Top-six tomorrow:
Kunitz-Crosby-Hornqvist
Dupuis-Sutter-Malkin

— Josh Yohe (@JoshYohe_PGH) October 8, 2014
Smith works full time with Rise Against Hunger, a non-profit set on ending world hunger by 2030. He's a hockey enthusiast living in Pittsburgh, PA and formerly covered the Pittsburgh Penguins for THW.
Follow him on twitter @BSmithWV