The New York Rangers have missed the NHL playoffs in five of the past six seasons and prospects for a post-season appearance this time around aren't looking very good as teams ready themselves for the start of the 1964-65 NHL schedule.  Is there any hope for the gallery gods who occupy the upper reaches of Madison Square Garden?  The Rangers embarked upon a full rebuild late last season and hope that the young legs being brought on board will propel the club upwards in the NHL standings.
Last season
The 1963-64 season was not a good one for the Rangers or their fans.  Pre-season interest  last year was high and there were hopes of a playoff run, thanks to a major trade that general manager Muzz Patrick engineered with the Montreal Canadiens in the summer.  New York brought in three veteran Canadiens, including five time Vezina Trophy winner Jacques Plante.  Plante was supposed to solidify the Rangers goaltending and bring Stanley Cup-winning experience.  Forwards Don Marshall and Phil Goyette joined Plante in the move to New York, where it was felt their Montreal pedigrees would rub off on  other Ranger players.
Things didn't quite work out as planned for the Blueshirts.  Plante was mediocre, posting a 3.38 goals against average in 64 games.  That's hardly championship calibre although a contributing factor in that number might have been the terribly sub-par New York defence.  Marshall was exactly what he was in Montreal – a third line checker who managed a paltry 11 goals.  Goyette was the only pleasant surprise of the threesome.  Phil led the Rangers in scoring with 24 goals and 41 assists for 64 points, serving as the pivot on the first line.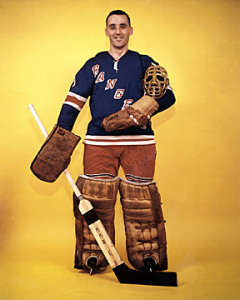 The Rangers didn't get much offence from many others, but two players who did contribute were young Rod Gilbert and slightly built veteran Camille (The Eel) Henry.  Gilbert scored 24 goals and showed the potential that has Patrick and coach Red Sullivan so excited about him.  Henry led the club with 29 goals and was dangerous around opposing nets all season.  Other than Earl Ingarfield's 15 goals, there really was very little firepower to speak of on the Rangers front line.
New York's defence unit was woefully inadequate, with only two bona fide NHL rearguards – the wily veteran Harry Howell, and 21-year-old Jim Nielson.  Nielson was in only his second NHL season and showed great improvement over his rookie campaign, but was still prone to mistakes caused by his lack of experience.  Howell, now in his 11th NHL year,  was by far the team's most (probably  only) dependable blue liner game in and game out.  The Hamilton, Ontario native played in every contest for a second straight year and posted his highest point total ever with five goals and 31 assists. The rest of the blueliners  did not exhibit NHL-calibre ability and not much can be said for their performances.
As Patrick saw the Rangers slipping farther and farther behind Detroit and out of the fourth and final playoff spot, a decision was made to trade the Rangers' only true superstar, Andy Bathgate, to Toronto.  New York fans were bound to be upset to see their captain heading out of town, but Patrick felt that the team needed a new direction and an injection of new blood.  So Bathgate and another veteran, Don McKenney were shipped to the Maple Leafs. Patrick had acquired McKenney only a year earlier in a trade with Boston.  Toronto's Punch Imlach had dickered long and hard for youngster Vic Hadfield, but in the end, Toronto instead settled for the former Boston captain McKenney.
In exchange, Patrick garnered five players.  The oldest was Toronto crowd favourite Dick Duff, only 27.  Joining him from the Leafs' roster was 25 year old Bobby Nevin, who was expected fill Bathgate's right wing slot.  Three youngsters were also sent to the Rangers, including two young defensemen – Arnie Brown, 21, who was with the Rochester Americans of the AHL, and 19-year-old Rod Seiling, a member of  the Leafs' junior team, the Marlboros.  The other player picked up by the Rangers was young Bill Collins, a forward who was with Denver of the Western Hockey League.  In one fell swoop, Patrick had changed the look and the character of his hockey club, and had, he felt, addressed the major issues facing the team.
 Off-season acquisitions
Because they were brought in so late in the season, Duff, Nevin, Brown and Seiling could be considered off-season pick-ups.  Duff and Nevin played only 14 games for the Rangers, and acquitted themselves quite well in that end-of-season stint.  Brown and Seiling will make their New York debuts this fall.
During training camp Duff has been scoring well but has been bothered by a wonky ankle.  Nevin seems to be taking his time finding his way as  coach Sullivan looks for a line on which he can click.  Brown has been hitting everything in sight and playing an aggressive game.  The brash rookie says he has no interest in going to the American League and fully intends on being in Manhattan all season.  The teenager Seiling has been a pleasant surprise and should stick coming out of camp.  He's not a physical defender, but carries the puck well and he makes intelligent plays.  Sullivan has said he has no problem going to Seiling in crucial situations.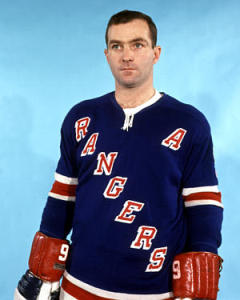 Other than the Toronto additions, the off-season saw the Rangers  bring in only two others that have a chance to help. Jim Mikol is a minor league forward drafted from Boston in a move that angered Patrick's brother Lynn, the Bruins' general manager.  Mikol is 26 and had 68 points with the Cleveland Barons last year.  Lou Angotti was picked up in a minor league transaction with Toronto and just based on hard work alone, he stands a good chance of making the team.  Angotti played three seasons with St. Mike's in Junior A before heading off to Michigan Tech for an education.  He was with Rochester in the AHL last year.  Angotti is an industrious worker, adept at shutting down the opponents' offensive stars and killing penalties. He has never been known to provide much offence.
Rookies to watch
Brown and Seiling are the obvious names to keep an eye on here.  Angotti is also a rookie and should be on the squad, likely as a fill-in and penalty killer.  But the rookie surrounded by the most intrigue is a 23-year-old Swede by the name of Ulf Sterner.
Sterner is the first European born and trained player to be signed by an NHL team. The Rangers had been watching him ever since he made his debut with the Swedish National team when he was just 17.  He's made steady progress and Patrick feels he is not far from being NHL-ready.  You can expect to see him suit up with the St. Paul Rangers of the CPHL initially, but it would not be a surprise if he gets an NHL trial some time this season.  When Patrick announced Sterner's signing, he remarked that there were other good players in Sweden, so moves like this may be something to be expected as the Rangers explore every avenue to become more competitive.
A few other youngsters who will be down on the farm but hopefully knocking on the door include Trevor Fahey, out of Kitchener in the OHA, Billy Taylor, who had 30 goals with St. Paul last year, and 19-year-old Sandy Fitzpatrick, a 51-goal scorer with Kitchener.   Patrick is very high on Fitzpatrick and feels that with a little more seasoning, he will be one of the Rangers' mainstays.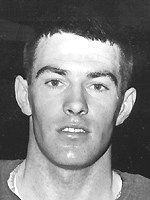 How they'll do this year
The Rangers have gotten younger.  They have added playoff experience. They have upgraded their skill on defence and have more grit.  Patrick really has engaged in an extensive makeover for the club and the look is totally different than the unit which faced off a year ago.  But the  question remains, are they good enough?  Have they added enough pieces to move up the NHL ladder and continue play in the Stanley Cup tournament?  Here are key factors that will determine how successful the Broadway Blueshirts will be this season:
Plante has to regain his Vezina Trophy form and give them big-league goaltending
Duff and Nevin have to provide leadership and scoring
Harry Howell must continue to lead the blueline corps
The youngsters Seiling and Brown have to prove they can be solid NHL defensemen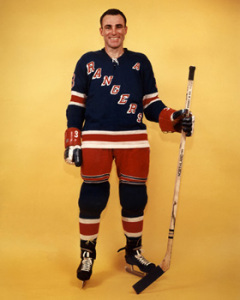 Patrick thinks he has put together a team that will not only challenge for a playoff spot, but will make it easily,  and then do some serious damage at the post-season party.  He had better be right, for if the Rangers don't get off to a good start, it could be curtains on Broadway for the Rangers' GM.