Manny Malhotra has played for six different NHL teams now as he begins his 15th season in the league and even though he never became a great goal scorer, the former first round pick brings a lot to an NHL team with his strong two-way game and ability to win face-offs on a consistent basis. When his playing career is over he will likely be most remembered for his incredible comeback from a very serious eye injury. Also of note: at the age of 18 when he made his debut with the New York Rangers, Malhotra became the second player of Indian heritage to play in the NHL, after Robin Bawa.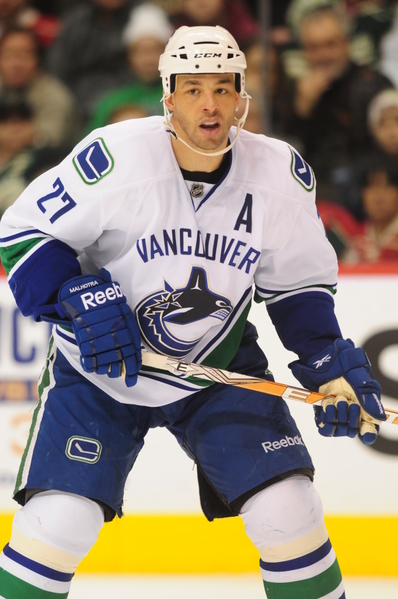 In his one and only season (2009-10) with the San Jose Sharks he set a career-high in goals (14), which led the Vancouver Canucks to sign him to a three-year contract the following offseason. The Canucks were dominating the league en route to capturing the President's Trophy for best record during the regular season and then tragedy struck. He had already surpassed 30 points (for the third consecutive season) and was second in the NHL in face-off percentage until March 16, 2011 when Malhotra suffered a major injury to his left eye, which required several surgeries. He ended up finishing fifth in voting for the Selke Trophy that season. Despite having lost a significant amount of his vision, amazingly he returned the same year to compete in the 2011 Stanley Cup Finals.
This summer with no NHL team willing to sign him yet, Malhotra signed a 25-game PTO (professional try out) with the Charlotte Checkers on October 3, the AHL affiliate of the Carolina Hurricanes and on October 31 he signed a one-year, two-way contract with the Canes.
The Hockey Writers spoke with Manny Malhotra after a recent game, discussing his incredible return from that eye injury, what it was like to play in the Stanley Cup Finals and what it's like to have a brother-in-law who is more famous than he is.
The Hockey Writers: What is it like for you to be back in the NHL now after everything you went through with the eye injury?
Manny Malhotra: It means a lot to me. I tell everyone I never take a day for granted in this league; I love being a part of it and I love playing in it. To be shut down like that, no real offers in the summer — to get an opportunity again means a lot to me; I'm just trying to make the most of it.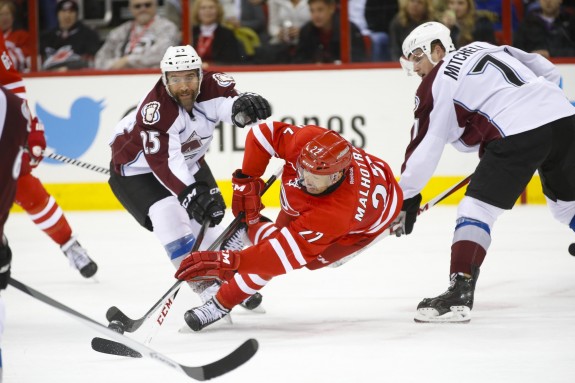 THW: This season (in just your third game) you scored your first & only goal in an overtime win against the Philadelphia Flyers, what were some of the emotions running through you after all you had been through?
MM: I tell people all the time – everybody enjoys scoring in this league – I'd be lying if I said I didn't. But I think that night was more special for us as a team in the sense that we got out of our little slump that we were in and we played the right way, which is something that we're really preaching right now and getting results from. Playing the right way and earning our opportunities.
Manny Malhotra plays good defense, which leads to this breakaway, backhand winning goal against the Flyers in OT:
THW: Were you happy with the win tonight against New Jersey despite almost blowing a three-goal lead?
MM: We played well for the first two periods; we played our game and really focused on dictating (the) play, getting pucks deep. We let them come at us in the third period; against a team like that, with that kind of talent — you just can't allow that. We played two good periods and fortunately we built up a big enough lead, but that's not good enough to be consistently successful.
THW: This is your sixth NHL team now, what has that been like (moving around a lot) playing for so many teams?
MM: It has been a learning experience everywhere I've gone. At the start of my career I wanted to be one of those 'franchise players' that stays with one organization the whole time. Over the years I've learned that it's such a blessing to be a part of so many different organizations: you get to learn from different coaches, meet different players & people in the league, see how different organizations see the game being played. I think it has allowed me to learn a lot in this game.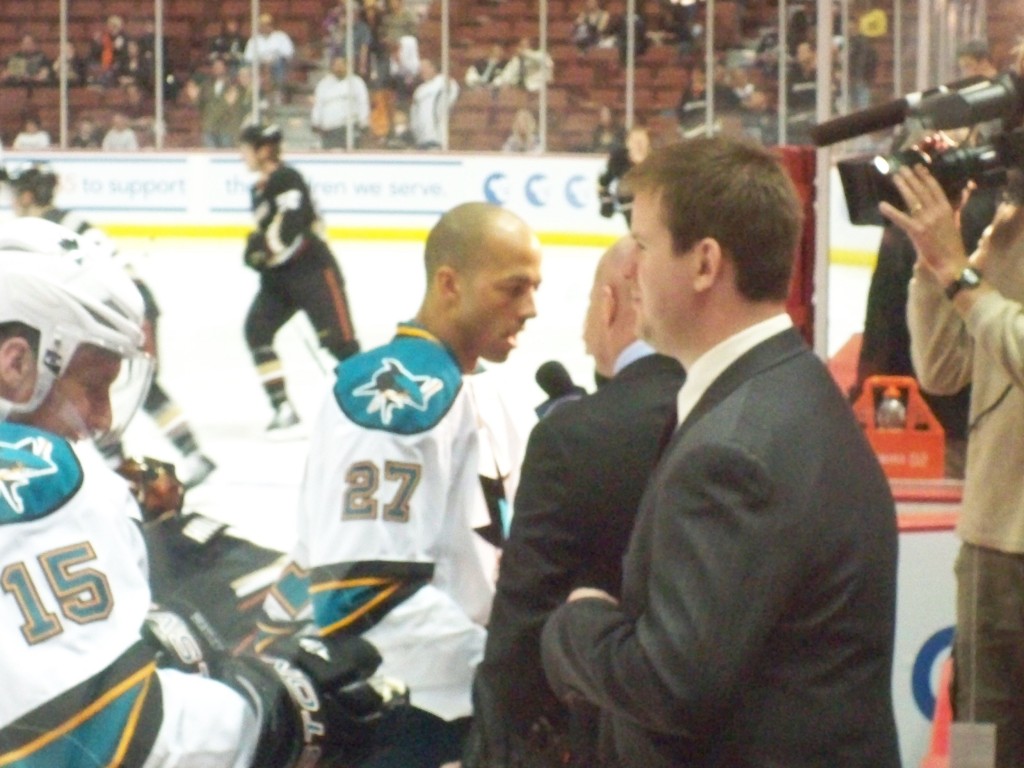 THW: You were drafted in the first round (7th overall) by the New York Rangers in the 1998 NHL Draft, what are some of your memories from that day & your time with that team?
MM: It's an incredible feeling, you dream about it your entire life — getting to the National Hockey League, and being drafted was a special experience. I still remember, there are so many memories from that day, but one that sticks out is on my way to the presser after being drafted Wayne Gretzky called and I talked to him briefly. I got to play in front of the fans at MSG, which was a special experience; it was a very fun time in my career and my life to be a part of such a special organization.
THW: Do you still have the puck from your first NHL goal?
(Manny Malhotra scored his first NHL goal against the Edmonton Oilers in his fourth career game (October 20, 1998) against Bob Essensa.)
MM: Yeah it was framed with a game sheet & picture from the game, it's at my parents' house; definitely something I'll never forget.
79 days after a career-threatening eye injury, Manny Malhotra returned to the Canucks lineup during the 2011 Stanley Cup Finals:
THW: When you were with the Canucks you got to play in the Stanley Cup Finals, what was that experience like for you?
MM: It was incredible; again, it's something you dream about your entire career. Playing hockey with your friends when you were a kid, at some point you yell out something like 'Stanley Cup Finals overtime, next goal wins the Cup!' To get to that point was very special to me; it was frustrating obviously to not win the ultimate prize. But going through that whole process, maturing with those guys, building & learning with those guys — it was a very special time in my career.
THW: You're brother-in-law is professional basketball player Steve Nash; what's that like and is he as nice of a guy as he seems?
MM: He's a great guy; you look up to him as a pro athlete. He's incredible at his craft and the work ethic that he displays at getting better is second-to-none. I learn a lot from him, but aside from the athletic accolades he's such a humble guy really and a nice guy to be around.
Dan Rice can be reached via Twitter: @DRdiabloTHW or via Email: drdiablo321@yahoo.com
Dan Rice is in his 9th year of reporting for THW & has covered NJ Devils home games for 15+ years at various websites. He began his journey working for legendary broadcaster/writer Stan Fischler from 2002-04 & completed an internship at the ECHL; he also has been writing features for the NWHL (nwhl.zone) website since 2016.