Many of you know that the initial season of the National Women's Hockey League is this upcoming season. In the fall, there will be four teams battling it out in the new women's professional hockey league. This brought to mind an event that goes back over 20 years. Let me set the stage.
The heart is beating just a little faster than normal. The hands and palms are wet with sweat. The knees are shaking ever so slightly. A rookie goalie is about to skate onto the ice of their very first NHL pre-season game. The equipment which has been worn thousands of nights before never weighed this much.
A plethora of hockey players have gone through the same ritual of making their NHL debut. But for one night on September 23, 1992 this was different. We're talking a history making difference.
On that night, Manon Rheaume made HER debut between the pipes for the Tampa Bay Lightning against the St. Louis Blues. She played one period in that game and allowed two goals in nine shots. In that one period, Rheaume made history by becoming the first woman to play in an NHL game.
Sideshow Attraction
At the time, many NHL observers thought and said to anyone who listened that this was just a stunt by one of the new NHL expansion teams. The Lightning were in their first year of existence when GM and Founder of the franchise, Phil Esposito invited Rheaume to the team's first training camp.
Esposito certainly has a bit of P.T. Barnun in him as a spokesman for the game he played and loves. He worked his butt off in those early years to legitimize the franchise while getting bodies in the seats. After inviting Rheaume to training camp, Espo acknowledged that he was seeking publicity for his new team with the signing.
Obviously, the naysayers were loud in their objections to what they perceived to be a blasphemous absurdity to the NHL game. There are still many today in and out of the NHL that refuse to accept the fact that the NHL is played in Florida. How did you think those folks were going to respond that September evening when Rheaume, a woman suited up and entered an NHL game, albeit an exhibition game?
Ice Cred
Despite the ploy by Esposito to draw attention to his new team in a market that wouldn't know an icing call from an ice cream cone back then, Rheaume had credibility as a hockey player.
In 1991, she was the first woman to be signed by a junior hockey team when the Trois-Rivieres Draveurs of the Quebec Major Junior Hockey League inked a deal with Rheaume.
There was no doubt that for any woman to make it in a men's professional hockey league is tantamount to scaling Everest. On a more level playing field, Rheaume was selected to represent Canada in the IIHF Women's World Championship and helped her country win two gold medals in 1992 and in 1994.
Deep Impact
To think that Rheaume played that exhibition game for the Lightning 23 years ago puts into perspective just how far women's hockey has come in that time.
She played six years before women's hockey became an Olympic sport. How many young girls began to play or follow the game simply because Rheaume blazed this trail? Since playing in that exhibition game in Tampa, there have been four women elected to the Hockey Hall of Fame including one of this year's recipients – Angela Ruggiero.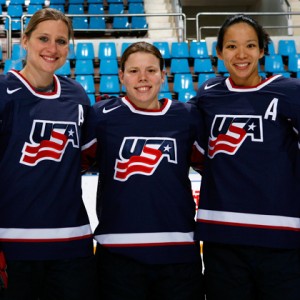 There can be little argument to the fact that for any young woman to see a female goalie in the net in an NHL game has to be monumental. Rheaume playing for the Lightning in that exhibition game in 1992 and again in another a year later could be pointed to as the beginning of when women's hockey began to explode.
Final Thoughts
There was a point in time that nobody thought a person could run a mile in less than four minutes. There was a time when some went along with the notion that an African-American didn't belong in Major League Baseball.
And without a doubt there was a time that some people thought women shouldn't play hockey, let alone suit up in the NHL. Rheaume proved these folks wrong and by doing so, opened minds throughout North America that women can indeed play the fastest game on earth.
All together, Rheaume played parts of two NHL pre-season games. She didn't set the hockey world on fire. No one will ever mistake her for Patrick Roy or Martin Brodeur or any other NHL goalie of that era. But she showed that the impossible could be possible with hard work and determination. She showed millions of young women that they were wrong if they gave up on their dreams.
The success of women's hockey on the collegiate level, international level and with the upcoming NWHL about to embark on their maiden season, owes a debt of gratitude to Rheaume. In reviewing the top ten draft picks of the new women's league, I noticed that none of these players were born when Rheaume donned her pads and faced the Blues at the Tampa Fairgrounds that night in 1992.
Here's hoping that these young women beginning their professional careers later this fall become cognizant of Manon Rheaume and her role in laying the foundation for women hockey players all over the globe.