The National Hockey League is not fully committed to expansion just yet, but they have definitely opened the door to adding new franchises to the league in the near future. NHL Commissioner Gary Bettman was accepting applications for new NHL teams last week and received two bids, one that would bring hockey to Las Vegas for the first time, and another bid that would bring an NHL team back to Quebec for the first time since the Nordiques packed their bags for Colorado in 1995.
As devilishly sweet as it was for Habs fans to watch the former Nordiques win the Stanley Cup – backed by legendary Canadiens goaltender Patrick Roy no less – in their first season in Denver, thus leaving the Habs biggest rival to dwell on what might have been had the Nords lasted just one more year, it would be extremely exciting for the provincial rivalry to return.
The game has changed a lot since the infamous rivalry between the two Quebec franchises hit a fever pitch during the 1980's thanks to meeting four times in the Stanley Cup Playoffs, so bench clearing brawls may not occur between the Canadiens and Nordiques Part 2. However, watching the heat turn up on the Battle of Alberta once again with the Calgary Flames returning to the postseason, and the Oilers adding Connor McDavid who promises to be their best player since "the trade" sent Wayne Gretzky to California, makes any Canadiens fan yearn for the days of the Good Friday Massacre.
A lot could be written about the potential re-kindling of fires between the Habs and Nordiques and it surely will if Quebec City is given the thumbs up to fill their brand new arena with an NHL tenant. However, this post is going to look at how expansion, and more specifically the expansion draft would affect the Canadiens roster, and not their rivalries within the league.
Setting The Expansion Draft Ground Rules
Expansion hasn't taken place in the National Hockey League since the Columbus Blue Jackets and Minnesota Wild joined the league in time for the 2000-01 season. It was the third straight year that an expansion draft took place, as the Atlanta Thrashers had joined the league a year previous and the Nashville Predators were granted an NHL team for the first time just one season before the Thrashers brought hockey back to Georgia for the second and probably final time.
In all three instances, the rules were quite similar for existing NHL teams. They had the option of either protecting one goaltender, five defensemen and nine forwards or two goaltenders, three defenders and seven forwards. Basically, if you wanted to protect both of your goaltenders, you had to leave two more defensemen and two more forwards vulnerable to being plucked away for nothing.
If a player was protected, the new expansion team was not allowed to select them. The expansion team could take any players left unprotected, but could only take as many as two players from any existing team. Once a team lost two players in the expansion draft, the rest of their team automatically became protected.
To ensure that the new expansion team doesn't end up with an entire roster of American Hockey League players, each existing team had to leave at least two forwards and one defenceman who played 40 games in the previous season unprotected. This way, the new team would not be getting front line talent, but at least they would be loading up on players who were good enough to play in the NHL.
The only other wrinkle was one that prevented the new team from loading up on top prospects from around the league. Teams did not have to protect drafted players who were not yet signed, or any player who had just finished their first or second pro season as they were all exempted from the draft. This meant teams did not have to use one of their nine forward protection slots to keep a player they drafted in the first round of the recent drafts.
What If Expansion Draft Happens Next Summer?
Though it would be interesting to see who the Habs would protect if this draft were to be held tomorrow, obviously that isn't going to happen. It's a bit of a stretch to think expansion will happen as early as next season, but both Las Vegas and Quebec have arenas in place that could host an NHL team, and the new-Nordiques could sell that building out in a matter of days, while Vegas has already gone through a ticket drive to prove their ability to sell tickets in a non-hockey market.
So, instead of assuming this draft takes place tomorrow, let's assume it is announced tomorrow that this draft will take place on June 20, 2016 (days after the Habs win their 25th Cup!) Hey, it's my fantasyland we are in right now, so why not?
In order to decide who the Habs will protect and leave exposed next year, we have to make a few assumptions. First, they have to leave at least two forwards and one defenceman who will play 40 games in the upcoming season unprotected. So, who is going to play 40 games for the Habs next year?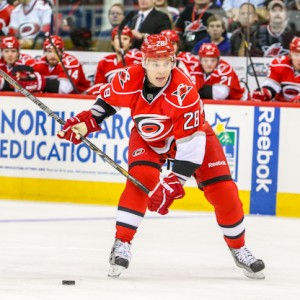 With injuries, trades and lineup shuffles, the Habs had 13 forwards and seven defencemen on their roster at the end of last season who played 40 NHL games in 2014-15. Looking ahead to 2015-16, it is not difficult to expect all of Max Pacioretty, Tomas Plekanec, Brendan Gallagher, Alex Semin, David Desharnais, Alex Galchenyuk, Lars Eller, Jacob De la Rose, Zack Kassian, Devante Smith-Pelly, Torrey Mitchell, Michael Bournival and Dale Weise suiting up 40 times.
On defence, the Habs have eight players who are all but certain to play a significant number of games in Montreal this season. Andrei Markov, P.K. Subban, Nathan Beaulieu, Jeff Petry, Tom Gilbert, Jarred Tinordi, Alexei Emelin and Greg Pateryn would have to pass through waivers to be sent down, and in all likelihood will be full-time NHL defenders this season.
Injuries and lineup shuffling could easily see each of the aforementioned 13 forwards and eight defencemen play the minimum 40 games necessary to be left unprotected for the expansion draft, meaning the Habs will have to choose at least two of those forwards and one defenceman that will be left exposed.
Which Nine Forwards Can The Habs Not Afford To Lose?
It is easy to rhyme off a handful of names to get the protected list started. Pacioretty, Galchenyuk, Eller and Gallagher are the cornerstones of the Canadiens forwards in the future so they obviously get protected. Plekanec and Semin will be pending unrestricted free agents, so the Canadiens have to make the decision to re-sign and protect or just let them walk away as a UFA. My guess is Plekanec is brought back and becomes the fifth Hab protected, but Semin is allowed to walk.
https://twitter.com/HabsTalk11/status/623549493917667329
With a plethora of their depth forwards left to choose from, the Habs will have the ability to protect four more at this point. Thankfully, the Habs bumper crop of young prospects including Nikita Scherbak, Charles Hudon, Michael McCarron, Zach Fucale, Noah Juulsen, Jeremy Gregoire as well as De la Rose won't need to be protected since they will be coming off their first or second pro season.
So it comes down to picking four of Desharnais, Kassian, Smith-Pelly, Mitchell, Bournival, Weise and Sven Andrighetto who will be finishing his third pro season and coming off his entry level contract. This means three of these names will be left unprotected and could be lost to the new team in Las Vegas or Quebec.
A lot will depend on how these players perform in the upcoming season, but the more important aspect may be cap space. In June, 2016, Desharnais will have one year left on his deal at $3.5 million, while Smith-Pelly, Bournival, Andrighetto and Kassian will be RFAs. Mitchell will have two years left at a $1.2 million cap number and Weise will be a UFA.
https://twitter.com/draglikepull/status/504483599090188288
Though Michel Therrien loves Weise, let's allow him to walk and Mitchell is a speedy fourth line center, but is easily replaceable and may not be worth his three year deal anyway, so he isn't protected either. Desharnais is a decent player, but his cap space may be very valuable with an incredible group of players becoming UFAs next summer, so he is left unprotected as well.
That leaves Bournival, Smith-Pelly, Andrighetto and Kassian but the Canadiens still have four slots to fill so all of these depth forwards are protected.
Habs Protected Forwards (9): Pacioretty, Plekanec, Eller, Galchenyuk, Gallagher, Kassian, Smith-Pelly, Andrighetto, Bournival
Notable Unprotected Forwards: Desharnais, Semin, Mitchell, Weise, Flynn
NHL Forwards Exempt Due To Age (Automatically Protected): De la Rose
The toughest decision among the forwards will be Semin if he has a good year for the Habs. He was great with the Carolina Hurricanes on a one year deal, but turned out not to be worth a long-term investment. If he scores 20 goals and 60 points this season, would the Habs re-sign him and protect him? Maybe, but if they do it would be a fairly easy decision to keep him and leave Bournival vulnerable, as he may already have been replaced by the 19 year old De la Rose.
Habs Must Choose Between Youth & Veterans On Defence
On defence, things are going to be much more interesting and difficult for Canadiens general manager Marc Bergevin. We are going on the assumption there are eight defenders who are going to be NHL players this season, which may be flawed to begin with. How will the Habs clear up this logjam on the blue line?
Let's go with the simple solution that Gilbert, who is entering the final year of his contract is traded in September, because he will not be protected next summer anyway. That leaves Markov, Subban, Beaulieu, Petry, Pateryn, Tinordi and Emelin on the roster. Being able to only protect five of these seven defenders will make things interesting next June.
@Habarnac You have to move one of Gilbert or Emelin, but the Habs already have too many D as it is, since Tinordi is waiver eligible.

— Marc Dumont (@MarcPDumont) July 8, 2015
The easiest decision on the roster, aside from protecting Carey Price as the lone goaltender, is to make Subban a keeper. Petry and Beaulieu will clearly be protected as well, but the picture is not very clear for the final two selections. Emelin has struggled since signing his four-year contract extension and will have two years left with a $4.1 million cap hit. He's not worth his cap number, so the Habs could clear up more cap space by leaving Emelin unprotected.
This leaves Markov, Tinordi and Pateryn, but the room to protect just two of them. Assuming Emelin plays forty games this season, you don't have to worry about meeting the minimum games played criteria since only one defenceman who played half the season needs to be available, so it doesn't matter if Tinordi or Pateryn end up sitting in the press box for more than 42 games.
Again, a lot will depend on how next season plays out, but it may make the most sense to keep the young duo of Pateryn and Tinordi while allowing career-Canadien Markov to be left available. Markov is not the same player he was years ago and will be 37 years old next summer, with one year left on a contract that carries a $5.75 million cap hit.
Loyalty runs pretty deep in a lot of sports organizations and it would tough, even embarrassing for Markov to be claimed by an expansion team. However, do you allow Tinordi, a former first round pick to be taken by your new provincial rival because Markov used to be great? I should hope not. So, though it may be controversial, Markov is left available and Beaulieu takes over his role as the top pairing defender in 2016-17.
Habs Protected Defencemen (5): Subban, Beaulieu, Petry, Tinordi, Pateryn
Notable Unprotected Defencemen: Markov, Emelin, Gilbert, Barberio
Notable Defencemen Exempt Due To Age: Juulsen
Habs Protected Goaltender: Price
Notable Unprotected Goaltender: Tokarski
Notable Goaltenders Exempt Due To Age: Fucale, Condon
So, the Habs would leave the following players exposed in an expansion draft next summer: Desharnais, Semin (UFA), Mitchell, Weise (UFA), Flynn, Emelin Markov, Barberio and Tokarski.
Remember, the Habs can only lose two players at most and also keep in mind the needs of an expansion team. Would they even take Markov, knowing he's a 37 year old defenceman or would they elect to take Emelin instead, who will be 30 at the time? Would the new Quebec team be able to pass on Desharnais, who is from the province and is a decent offensive player who will be 29 next summer? Does Vegas roll the dice on a pending UFA like Semin, knowing how difficult it is for expansion teams to land skilled forwards? Depending on what goaltenders are available, would they want a 26 year old Tokarski?
The best case scenario for the Canadiens might be if Quebec grabs Desharnais and Vegas takes Emelin. This would free up $7.6 million in cap space next summer, and the Habs would not be losing core players in the process. Desharnais and Emelin are both decent players, and would have value for an expansion team, but haven't lived up to their lofty contracts and could be replaced by one of the Habs impressive prospects by this time next summer.
An expansion draft is designed to take talent from existing teams and weakening them, in order to strengthen the new franchise and spreading the talent around the league to give the new teams a fighting chance. The Habs could be weakened slightly on the ice, while lifting a heavy financial burden from their salary cap.
An expansion draft next summer might just be a blessing in disguise for the Montreal Canadiens. Even if it doesn't guarantee a holiday double bench clearing brawl with their provincial rival.