The Toronto Maple Leafs have had their fair share of prospects represent their respective countries at the World Junior Championship (WJC) over the years. While some prospects make more of an impact that others, it is still exciting to see the future perform on such a big stage.
With impressive performances from Rasmus Sandin and Nick Robertson over the past few years, Maple Leafs fans have gotten the chance to see prospects play that they might not have usually seen. With the buildup to the tournament, I thought what better way to start my coverage than to look at some prospects who could make an impact at the 2021 World Junior Championship.
Nick Robertson
One of the players I recently highlighted in my article of "untouchable" Maple Leafs prospects, Robertson has been a favourite of mine since the day the Leafs drafted him. In five games for the United States last year, he collected two goals and three assists for five points.
Robertson brings a dynamic skill set wherever he goes. Whether that be working his way to get into position to receive a pass or making plays with the puck on his stick, he is always making a positive impact when he is on the ice. Having been the first 18-year-old to make his NHL debut in the playoffs since Jarome Iginla did it in 1996, Robertson has already shown that he can play at a high level. Having already proven that he can dominate the junior level, I'd expect him to put up great numbers if the United States squad can make a deep run this year.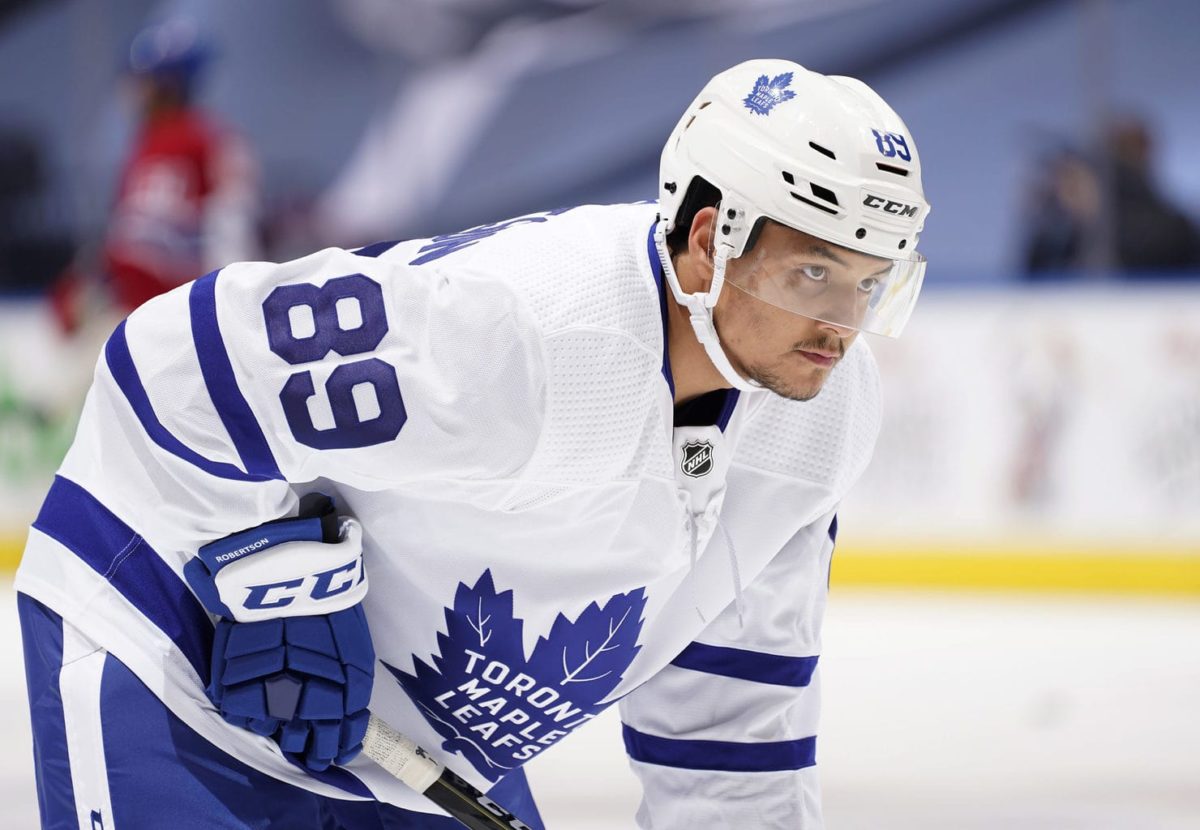 In what is his last eligible year to play at the WJC, I expect Robertson to play a big role. What stood out to me in his games against the Columbus Blue Jackets is the fact that he can make the little plays as well. Robertson completed 94% of his passes in the three games he played as well as averaging 1.5 takeaways per game in the neutral zone, signifying that he is able to read the play and react accordingly to limit scoring chances against his team. I imagine he sees lots of power play time and will be relied upon to score goals. All in all, Robertson has the chance to be a special player and we are all in for a treat.
Mikhail Abramov
While he may not be known to the casual Maple Leafs fans, those who pay close attention to the team's prospects have definitely heard of Mikhail Abramov. Although the Quebec Major Junior Hockey League has had many hiccups so far, Abramov has managed to make his impact felt so far. Serving as captain of the Victoriaville Tigres, he has collected eight points in four games thus far.
Having never represented his native country at the U20 World Juniors, Abramov will have a real chance of making an impact for the Russians this year. With potential teammates such as Vasili Podkolzin, fellow Maple Leafs prospect Rodion Amirov, and Nashville Predators pick Egor Afanasyev, Abramov will no doubt have the chance to play with some very skilled players.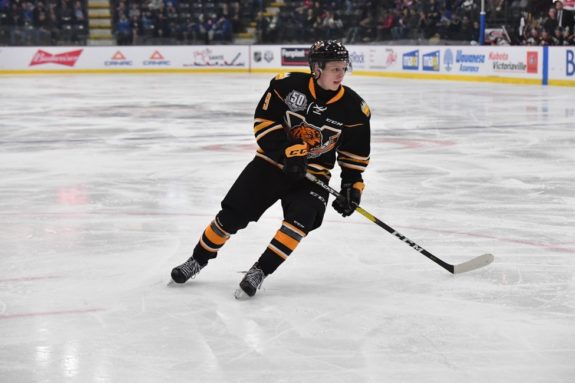 What impresses me the most about Abramov is his versatility. With the puck on his stick, he is able to create scoring chances for his teammates and uses his skating ability to weave in and out of traffic. He is great at faceoffs, having won 64% of his draws this season and averages 2.9 takeaways a game. Abramov also has a great shot. Given time and space, he can shoot the puck from anywhere in the offensive zone and often makes opposing goalies look silly. I imagine he will see some power-play time at the WJC and could be a difference maker.
Mikko Kokkonen
Someone who could see big minutes on the back end for Finland, Mikko Kokkonen is going to be exciting to watch for Maple Leafs fans. Although he has been held pointless while playing for Jukurit of the Liiga so far this season, he has made solid strides in his development.
Having played for Finland at the WJC last year, Kokkonen managed to score two goals in seven games. This year though, I expect him to be playing a lot more. He is a great puck-moving defenseman who is not afraid to take a chance. He is a decent skater who likes to jump into the rush every once in a while and one who I could see getting some power-play time this year.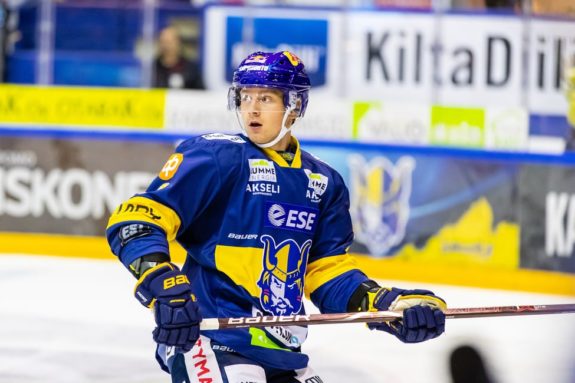 What I like most about Kokkonen's game is his play without the puck. Currently averaging 5.5 takeaways a game, he is so good at pouncing on a errant pass and will make the opposition pay by making a great transitional play up the ice. His coaches trust him to play when it matters the most as he is averaging 21:26 of ice time per game and I can see him taking on a big leadership role with Team Finland. While he may not be signed yet, Maple Leafs fans should be excited to watch Kokkonen play and see how he furthers his game as the season continues.
Rodion Amirov
The other player that I highlighted in my recent piece on the Maple Leafs' "untouchable" prospects, Rodion Amirov has the chance to be something special over the next few seasons. Currently playing for Salavat Yulaev Ufa of the Kontinental Hockey League (KHL), he has scored three goals and added three assists for six points in 19 games played. He also just finished representing his country at the Karjala Cup and collected three goals in three games.
Amirov could be a very important piece for the Russians in the upcoming WJC. While they will be deploying great players such as Podkolzin and Afanasyev, I expect Amirov to be relied upon heavily for offense. Gifted with elite skating ability and a great shot, he is able to get to top speed quickly and will benefit from playing with skilled linemates. He loves to have the puck on his stick and can deliver a crisp pass onto his teammates stick with ease.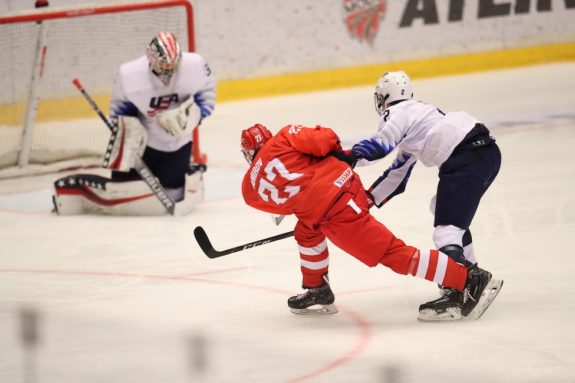 As a teenager in the KHL, Amirov has been trusted to play big minutes. Currently averaging 15:50 of ice time, his coaches clearly have trust and know that he can create scoring chances on a nightly basis. While playing against players his own age, he is a force to be reckoned with. When he is on his game, he can singlehandedly change the game. I truly believe he could be on the first line for Russia and I cannot what to see how he is going to play. Some fans have not gotten the chance to see how good he is yet, but that is all soon to change.
Exciting Times
While these are the guys I expect to make some of the bigger impacts at the WJC amongst Maple Leafs prospects, there are still a lot of other great players that might get the chance to play some big minutes for their respective countries. Kyle Dubas and his staff have been able to find skill at every level of the draft and it will be extremely exciting to see some future Maple Leafs players on the big stage.
All stats were provided by InStat Hockey.
---
---
My name is Mathieu Sheridan. I am a writer here at THW who covers the OHL and prospects in general.