It has been nearly a month since we took a look at how the Jets prospects currently playing for overseas teams are doing.
Related: Jets Loaned Prospects Excelling in Europe
In mid-October, we took a look at six Jets' prospects playing in Europe in order to keep sharp and hone their skills while waiting for the 2020-21 NHL season to begin. Today we'll take a look at nine: Marko Dano, Arvid Holm, and Skylar McKenzie in addition to the half-dozen from before.
Here's a brief update on how each player is doing since we last checked in on them, in alphabetical order.
Mikhail Berdin
The flashy Russian goalie with a penchant for playing the puck has taken over the crease for the KHL's SKA St. Petersburg and is playing in the exact same way he did for the past two seasons as a member of the Manitoba Moose, throwing body checks behind the net and making unorthodox, outrageous saves.
The 22-year-old, who many consider to be the heir apparent to the Jets' backup role next season, has further improved his numbers since our last update. He's now 6-3-2 with a 2.39 GAA and .919 SV% in 12 games. He also has an assist and four penalty minutes.
Marko Dano
AT the time of our last update, Marko Dano wasn't a member of the Jets. The 25-year-old, who spent parts of four seasons in the organization between 2015 and 2019 and suited up for 82 Jets games was signed to one-year, two-way contract earlier this month.
While not a prospect, per-se, the first-round 2013 selection of the Columbus Blue Jackets is playing for Trencin Dukla of the Slovakian Extraleague currently and has two goals and an assist in two games.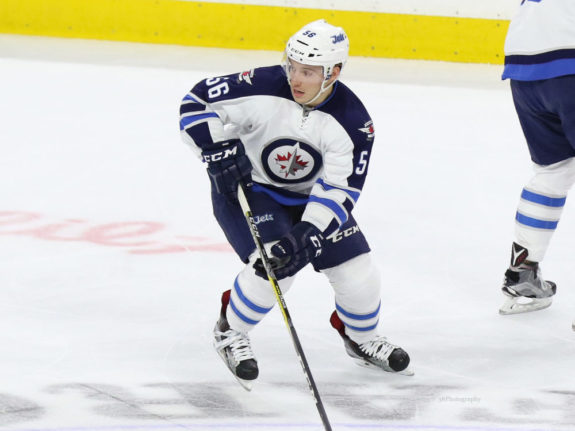 Dano's season with Dukla hasn't been so smooth so far: he pulled a groin muscle in practice and missed four games, and was also shelved with COVID-19 as the virus circulated among his teammates in October, the Winnipeg Free Press reported last week. Thankfully, his symptoms were mild and he quickly recovered. (from 'Third-time charm for Dano with Jets?,' Winnipeg Free Press, 11/6/20.)
2020-21 will be Dano's third go-around with the Jets. He was originally acquired in 2016 as part the Andrew Ladd trade with Chicago Blackhawks.
Related: Ladd Trade Was, Is, and Will Be Good for Jets
In 2018-19, he was waived and the Colorado Avalanche claimed him, but he was reclaimed a month later after the Avalanche waived him as well.
Dano will be used as AHL depth when hockey in North America resumes.
Leon Gawanke
Gawanke was loaned to the DEL's Eisbären Berlin, his hometown team, back in September. The league has not begun play yet as the start of the season has been delayed due to COVID-19, but is expected to start in mid-December.
However, he did play in the Deutschland Cup 2020 last week, in which Latvia defeated Gawanke's Germany in overtime in the final game. Gawanke had an assist in the loss.
Related: Winnipeg Jets Top 10 Prospects for 2020-21
Gawanke turned heads in his 2019-20 rookie campaign with the Moose as he rose from a player in and out of the lineup as a healthy scratch to the quarterback of their top power play. He paced all Moose blue-liners in points with 26.
David Gustafsson
Gustafsson, who played 22 games with the Jets at the beginning of last season before playing in the World Juniors for Sweden and then the Moose, continues to light it up in the HockeyAllsvenskan League for Tingsryds AIF in a first-line centre role.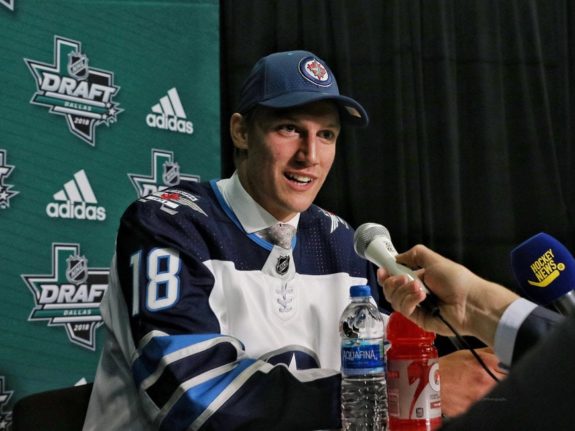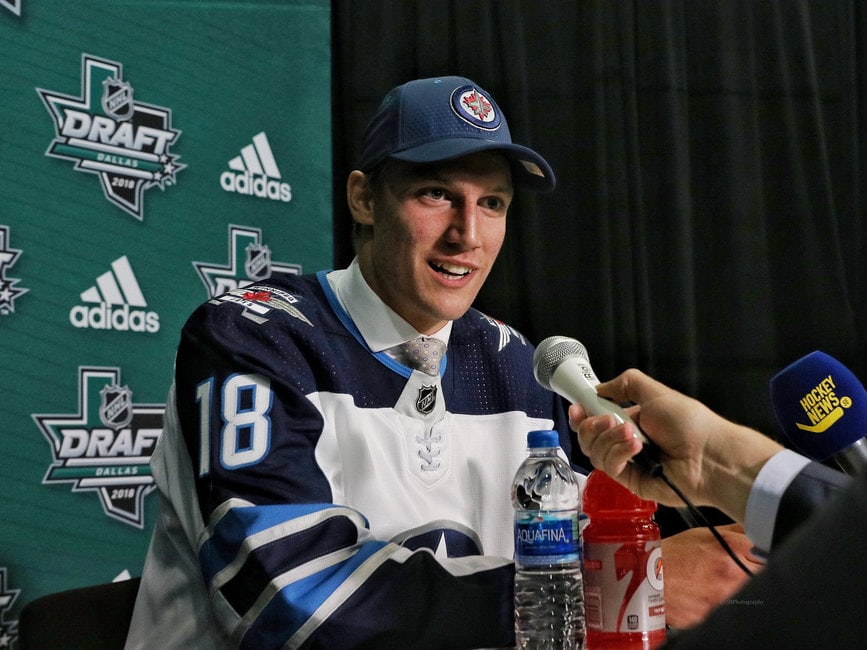 The 20-year-old 2018 selection has posted four goals and eight assists in 13 games and will compete for a bottom-six role on the Jets upon his return this winter.
Ville Heinola
The Jets' top defensive prospect has played 12 games with Lukko Rauma of SM-liiga on their top d-pairing, and has recorded five assists while skating an average of 18:42.
Heinola also finished the 2019-20 season there, playing 29 games, after turning heads in eight games for the Jets to begin the season and representing Finland at the 2020 World Juniors.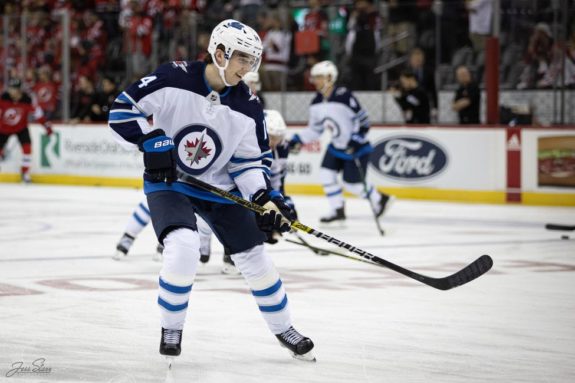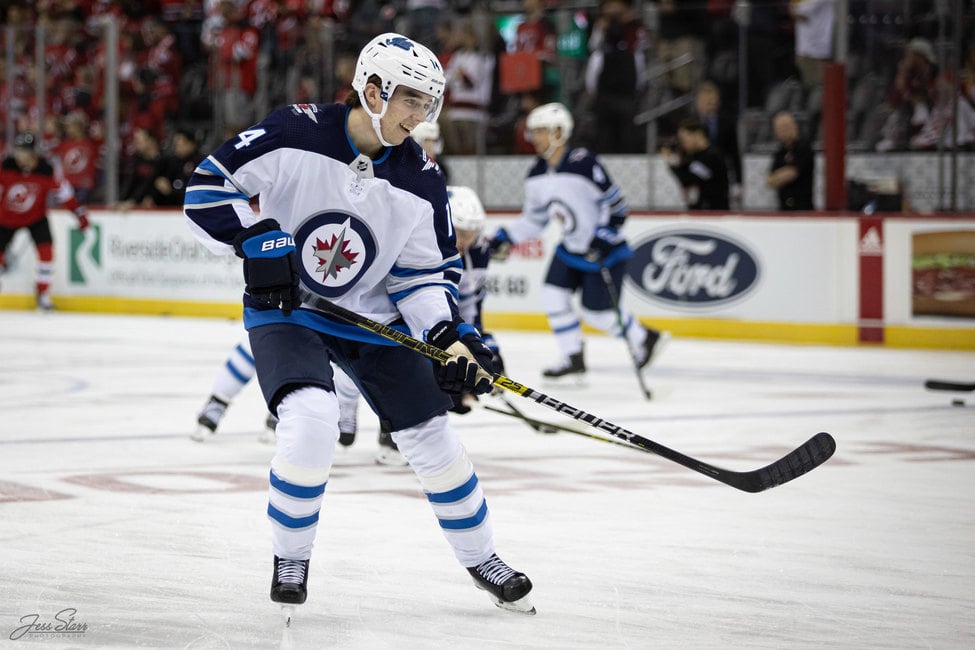 The 2019 20th-overall selection will certainly challenge for a full-time spot on the Jets' in-flux blue line in 2020-21.
Arvid Holm
Holm, a 6-foot-4, 205-pound Swedish goaltender, is playing for the Swedish Hockey League's Farjestads BK Karlstad and was loaned to the team for the entirety of the 2020-21 season back in July.
Holm, who signed a three-year ELC in mid-June, is 5-5-0 with a 2.64 GAA, .921 SV%, and one shutout in 11 games.
Related: Jets' Reichel and Holm: What You Need to Know
The 22-year-old Swede — selected 167th-overall in the sixth round of the 2017 NHL Entry Draft — also spent the entirety of 2019-20 with the club, posting a 20-10-0 record, a 2.27 GAA, a .915 SV%, and one shutout in 31 games.
Joona Luoto
Another Jet playing in the SM-liiga is 23-year-old joona Luoto. He has recorded four goals and three assists in 14 games with HIFK Helsinki.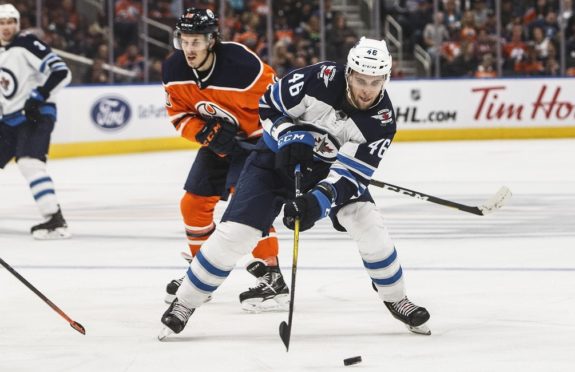 Signed prior to the 2019-20 season as a free agent out of Tappara Tampere, he played 16 games with the Jets last season, recording no points, and 18 games with the Moose, registering four assists before an upper-body injury that required surgery ended his season.
Skyler McKenzie
The Jets seventh-round 2017 selection has played three games for Freiburg EHC of DEL2 and has one goal and one assist in those games. He is the only North American prospect playing overseas.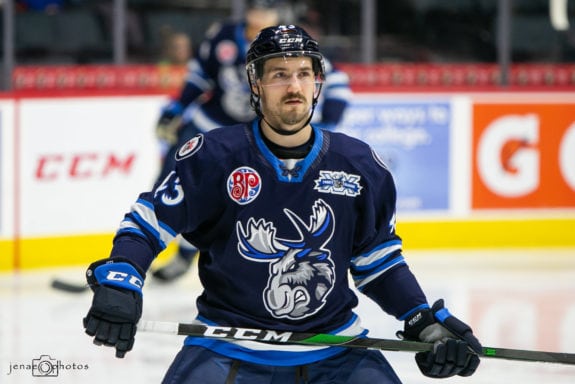 McKenzie, who spent the past two seasons with the Moose and recorded 39 points in 105 games, was loaned to Freiburg on Oct. 30 prior to their season-opening game on Nov. 6.
Kristian Vesalainen
After not finding a team for the beginning of the SM-liiga season, he was sent to HPK Hämeenlinna on Oct. 21.
So far, Vesalainen has three goals and two assists in just four games. A couple of his goals have been pretty sweet, including this slick snipe.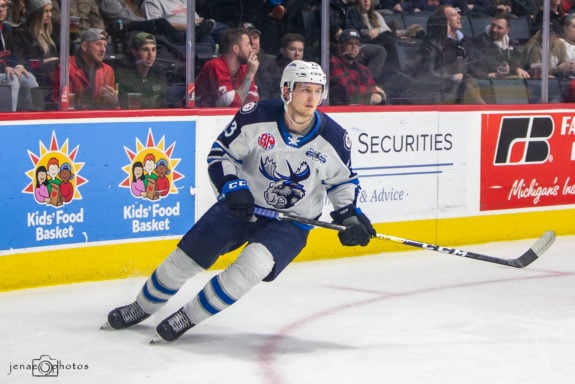 The 24th-overall 2017 pick suited up for 60 games with the Moose last season, recording 12 goals and 18 assists. Once thought as one of the Jets' top prospects, he's been slower to develop than the team has hoped.
He played five games for the Jets in 2018-19 before opting to head to the KHL's Jokerit rather than stay in North America and play for the Moose. There's no denying his elite shot and offensive awareness, but his dedication and effort-level remain question marks.
Keep an Eye on These Other Jets' Picks, Too
The Jets also have five draft picks who have yet to sign ELCs playing overseas: Santeri Virtanen (105th overall, 2017), Henri Nikkanen (113th overall, 2019), Simon Lundmark (51st overall, 2019), Daniel Torgersson (40th overall, 2020), and Anton Johannesson (133rd overall, 2020).
Related: Winnipeg jets 2020-21 Top Prospects: #11-20
We'll visit their seasons sometime soon.
---
---