It could have been a disaster, but in the end, the Toronto Maple Leafs' 5-3 loss to the Florida Panthers was simply bad timing. In fact, if you listen to coach Sheldon Keefe talk, the game really wasn't as bad as the score indicated.
Related: Maple Leafs Team News: Muzzin, Matthews, Nylander & Mikheyev
Keefe had this to say after the game, "I don't think the result is in any way indicative of the way the game went. When you talk about the maturity of our team, a lot of the narrative is how we can't defend. That's the best defensive game we've played the entire season. I don't know if we gave up over four scoring chances at even-strength."
Still, a loss is a loss and the Maple Leafs are currently resting fitfully just below the line that separates playoff teams from non-playoff teams. Furthermore, they have a starting goalie who might not be ready to play in the next game. As the team travels to New York to play the Rangers, in this post I want to help fans keep up with the news and rumors emerging from the team.
Item One: Andersen Was Injured, But How Badly?
During the game against the Panthers, Frederik Andersen became tangled up with Panthers forward Frank Vatrano who slid into his net during a 2-on-1 rush. Andersen left the game and didn't return.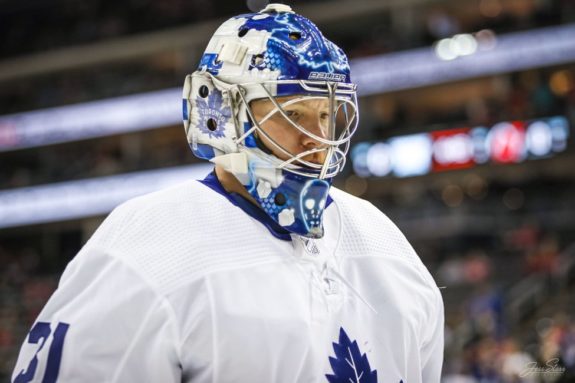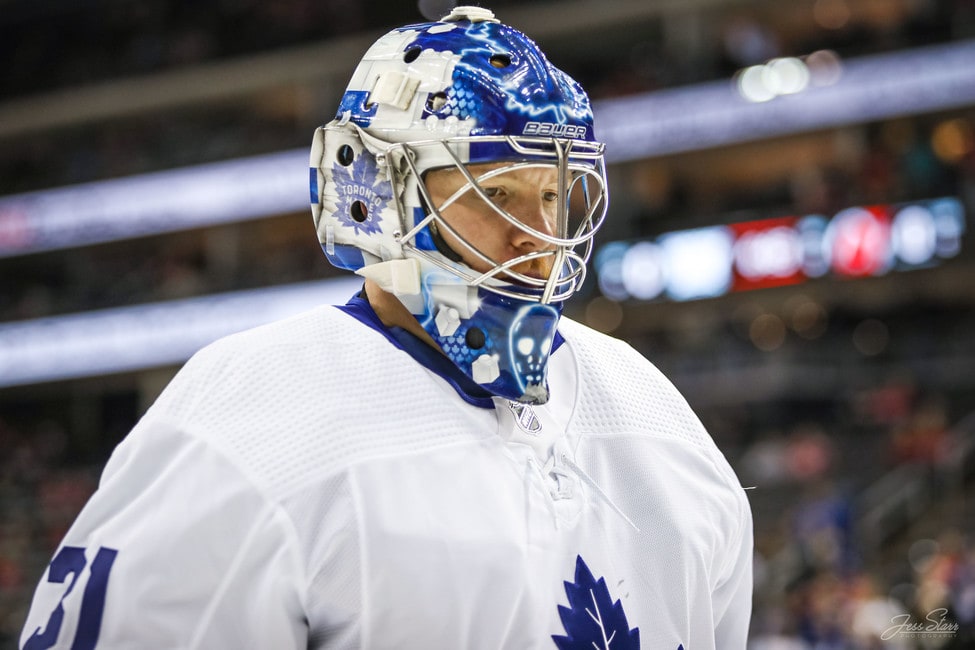 The last word we have is that Andersen might be able to practice on Tuesday. What was labeled an "upper-body" injury and later confirmed as a concussion might not be as bad as feared. When Andersen's tests reported "positive results," so reports Sportsnet's Chris Johnston.
That probably means Andersen avoided a major head injury and might not miss any time. Andersen has a .910 save percentage and goals-against average of 2.87 in 42 games this season. He ranks third among NHL goaltenders with 42 games, with only the Montreal Canadiens' Carey Price (44 games) and the Winnipeg Jets' Connor Hellebuyck (43) games having played more.
Item Two: Marner Scores 2 Assists In Loss to Florida
Even in a loss, Mitch Marner is scoring. During the 5-3 loss on Monday night, he collected a pair of assists. He also drew two penalty minutes.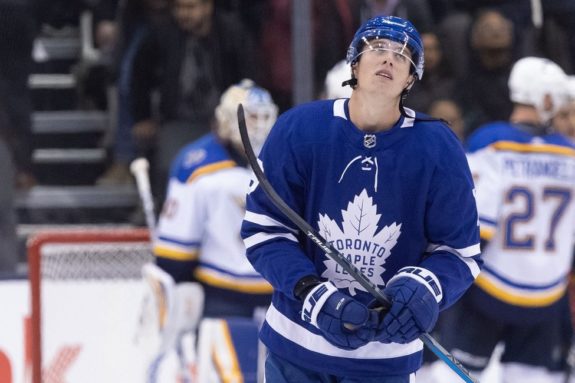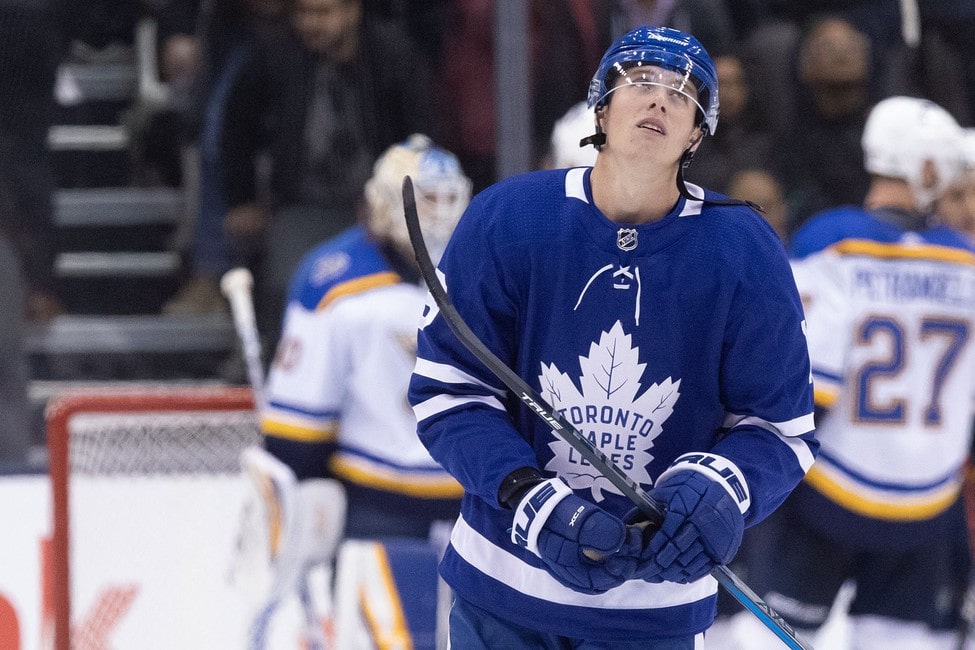 The 22-year-old Marner had secondary assists on both John Tavares' and Auston Matthews' goals. Marner's point streak now is five games, with a goal and six assists in those games. He currently has 14 goals and 53 points in 42 games.
Item Three: Tavares Scores First Goal in 6 Games
After six games, Tavares' dry spell is over. His 19th goal of the season was a power play goal, which interestingly was his first goal on the man advantage since Dec. 27, 2019. Tavares hasn't kept up his point-a-game pace, and now has 42 points in 46 games.
Item Four: Nylander's Point Streak Continues
William Nylander's personal point streak remains alive and is now eight games. His 25th goal of the season temporarily gave the Maple Leafs a 2-1 lead, which obviously they couldn't hold.
Related: NHL Rumors: Byfuglien, Kreider, Kapanen, Barkov, More
With each goal, Nylander pushes his career high in scoring higher. During this eight-game streak, he's scored six goals and four assists and has scored goals in six of his last seven games.
Item Five: Matthews Is Closing in on His 2016-17 Career High
Auston Matthews' career-high in goals was the 40 he scored in his 2016-17 rookie season. Although he hasn't reached that mark yet, he's matched the 37 goals he reached last season. This season his 37th goal came in 53 games and matched the total he scored in 68 games last season.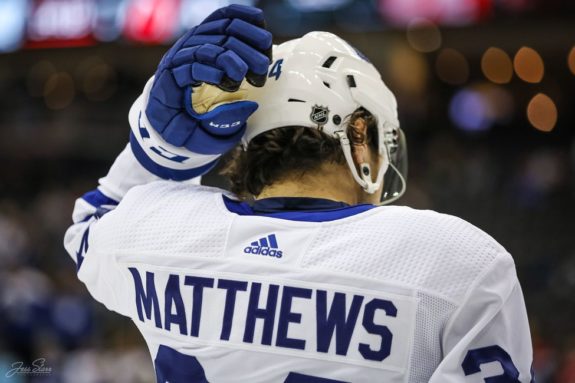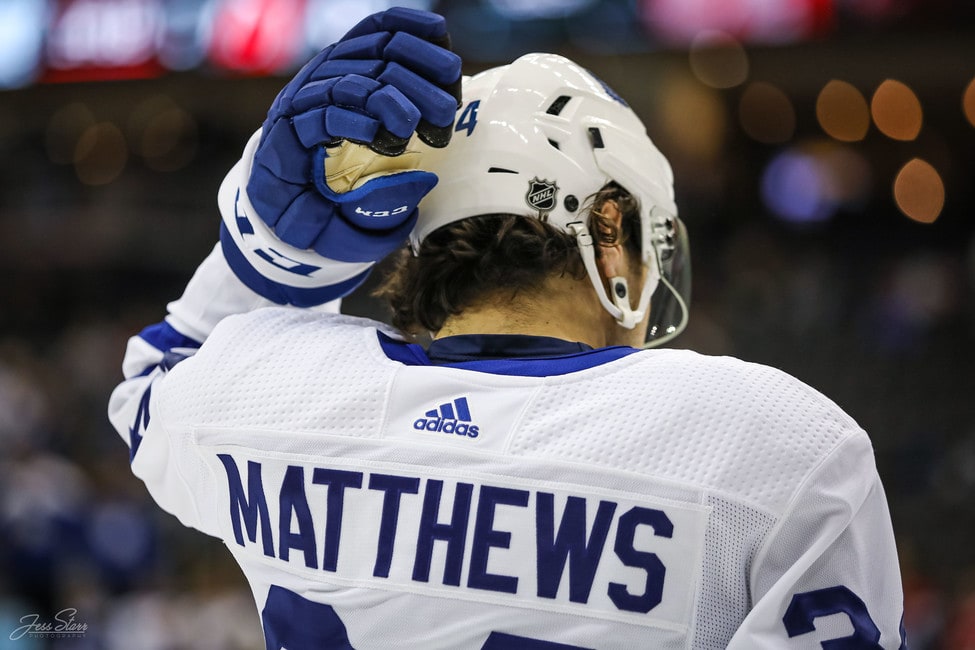 He'll likely break both his rookie season's totals of 40 goals and his career-high point total of 73 (last season). There's also a chance Matthews can hit 50 goals and 90 points for the season. If he really gets on a roll, which the team needs him to do as they fight for the playoffs, he might even score in the triple digits.
Item Six: So What Happened with Kapanen?
Finally, we learned about the Kasperi Kapanen kerfuffle. We also learned that the phrase "internal accountability" means that he overslept and was late for Friday's practice. In hockey circles, that's a no-no.
Related: Maple Leafs' William Nylander Proving Doubters Wrong
The wild speculations that occurred because (a) Kapanen was scratched from the Maple Leafs' lineup on Saturday; (b) the team hadn't reported an injury; and, (c) his name had been churning in the rumor mill, simply added up to an incorrect conclusion. Kapanen remains with the team. Instead, it's the cautionary tale of a kid who slept in, was late for school, and was sent to the corner for a time out.
On Monday, Kapanen met with the media and reported that he'd been scratched because he overslept and was late for Friday's practice. He also admitted it wasn't the first time and that he'd done when he played for Keefe in the AHL.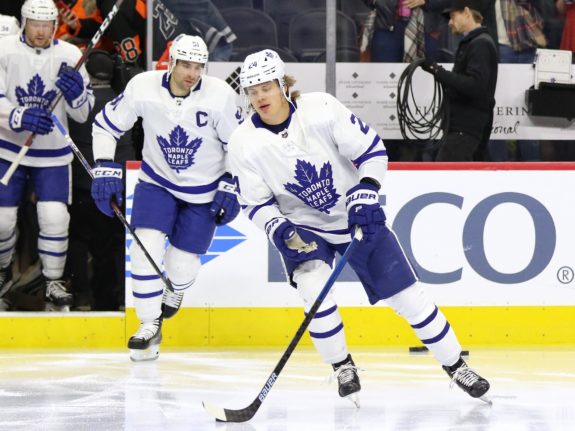 Considering that history, the coach felt it was necessary to send a message. It was a tough call for Kapanen and the team given their current struggle for the playoffs. As I noted in a previous post, I believe this is good news for Maple Leafs fans who want to see Kapanen stick around. I'm not sure the organization would demonstrate such public discipline with someone they planned to trade in three weeks with an action that might depress his trade value.
What's Next with the Maple Leafs?
It seems I say this often, but the team needs to keep winning if it's going to make the postseason. It's a tight race and every club in that race – including the Panthers, who came to town injured, who won despite being basically shut down offensively, and who are now tied with the Maple Leafs with 63 points but have two games in-hand – are playing desperate hockey.
Related: Maple Leafs News & Rumors: Keefe, Bracco, All-Stars & Power Rankings
With the goalie situation in flux as it currently is for the team, the Maple Leafs should be as desperate as anyone. How that desperation will play out in Madison Square Garden on Wednesday evening remains to be seen. I hope Kapanen is on the plane to New York.
Get the latest Toronto Maple Leafs news, rumors, commentary and analysis
The Old Prof (Jim Parsons, Sr.) taught for more than 40 years in the Faculty of Education at the University of Alberta. He's a Canadian boy, who has two degrees from the University of Kentucky and a doctorate from the University of Texas. He is now retired on Vancouver Island, where he lives with his family. His hobbies include playing with his hockey cards and simply being a sports fan – hockey, the Toronto Raptors, and CFL football (thinks Ricky Ray personifies how a professional athlete should act).
If you wonder why he doesn't use his real name, it's because his son – who's also Jim Parsons – wrote for The Hockey Writers first and asked Jim Sr. to use another name so readers wouldn't confuse their work.
Because Jim Sr. had worked in China, he adopted the Mandarin word for teacher (老師). The first character lǎo (老) means "old," and the second character shī (師) means "teacher." The literal translation of lǎoshī is "old teacher." That became his pen name. Today, other than writing for The Hockey Writers, he teaches graduate students research design at several Canadian universities.
He looks forward to sharing his insights about the Toronto Maple Leafs and about how sports engages life more fully. His Twitter address is https://twitter.com/TheOldProf