LEAFS DAILY:
The World Junior Tournament starts today and the Leafs will have five players involved in the tournament – two Canadians, two Swedes and a Finn.  Here is a information on all five players.
Travis Dermott
Playing defense for Team Canada, and picked in the second round, 34th overall, last summer, Dermott is a six-foot 197lbs left-shooting defenseman who is playing his third season  in the OHL for the Erie Otters.
He currently has two goals and 27 points in 29 games so far this year.
Hunter on Travis Dermott: "hope he can be a top-4 defenceman with the #Leafs. I see that growth with him."

— Michael Traikos (@Michael_Traikos) December 21, 2015
His Elite Prospects scouting report says "All-in-all, a two-way defenseman that makes smart, high-percentage decisions in all three zones." The Leafs are hoping that Dermott can turn out half as good as P.K Subban, Duncan Keith or Shea Weber – all recent second-round picks who turned into star NHL defensemen.  While that is a long-shot, Dermott is already making people ask how he could possibly have fallen to the second-round.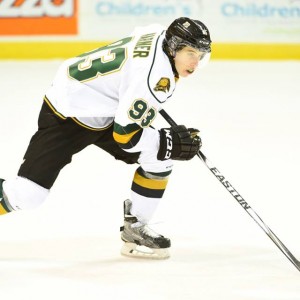 Mitch Marner
What is left to say about Mitch Marner? The most exciting Leafs draft pick in recent history went back to junior while the Leafs new management preaches patience.  Picked fourth-overall only because it was one of the greatest drafts in NHL history, Marner is essentially as good as getting a first-overall pick in a normal year.
He is currently playing for the London Knights and making an absolute mockery of a league he has no business playing in, as evidenced by his nearly goal-per-game pace (22 in 25) and ridiculous 58 points in 25 games.
The current Leafs team is essentially in a purgatory year as fans bide their time until next year when Marner and William Nylander will debut for the team.  To have these two in the organization and not playing is an absolute tease, but also a sign that the current Leafs management has learned from  mistakes of the past.
If you need to get even more pumped about Marner, just watch this awesome video, which is essential viewing for all Leafs fans.   Marner will be paired with Dylan Strome this tournament for Team Canada on what is sure to be one of the  most exciting lines in the entire Tournament.
Kasperi Kappanen
Suiting up for team Finland is the Leafs wild-card prospect, Kaperi Kappanen. Picked up in the Phil Kessel trade last summer, Kappanen is a former first-rounder who has a ceiling close to Marner or Nylander, but with perhaps a much lower floor.
Kappanen has scored ten points in 17 games in his AHL rookie season, but missed the first two games of the year and then was sidelined later for a couple weeks with a back injury. He is known for his skating and his ability to deceptively change speeds.
Last season Kappanen's stock fell slightly after what was seen as a sub-par World Junior performance, and the hope is that this year he can contribute more and show the Leafs that they have a potential impact player going forward.
Dmytro Timashov
A 19 year-old winger playing on a line with top-prospect Nylander on Team Sweden, Timashov has shown such strides recently that people are already questioning how the Leafs managed to draft him in the fifth-round.
Perhaps the answer is that NHL teams still continue to undervalue skill players who are small, and Timashov is only 5'10. Still, he is in the top five in QMJHL scoring so far and is playing on the Sweden's top line.
His Elite Prospects scouting report says that he "will shock audiences with his speed and creativity," which is pretty much the best thing I've ever read about a player taken in the fifth-round just a few months ago.
With Timashov, Connor Brown and Andreas Johnson, the Leafs have an embarrassment of late-round small, skilled wingers who show potential far beyond their draft position.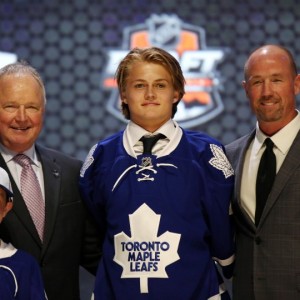 William Nylander
Nylander will lead the Swedes at this years WJC, and he currently also leads the AHL in scoring, and is roundly considered the best player in the world not  currently in the NHL.  He is set to become the Leafs' best player for the next decade and even though he is yet to play an NHL game, would probably not last until the 8th pick if teams could redo the 2014 draft.
Sure, it's been tough being a Leafs fan since Mats Sundin retired and the team has essentially just been a directionless mess, but the fact that the Leafs have Marner and Nylander in their system is more than enough to make up for a decade + with only a single playoff appearance.
Thanks for reading.