When the Toronto Maple Leafs announced that they had signed forward Alexander Barabanov to a one-year entry-level contract back in April 2020, many Leafs fans had never heard of him. Many had heard rumblings of him potentially signing with the Leafs in the weeks leading up to his signing but it is certainly hard to tell what type of player he is when he is playing overseas in Russia.
Fast forward to January 2021 and many Leafs fans are excited to see what Barabanov can bring to the Leafs lineup. Since the start of training camp, Barabanov has been on a line with Jason Spezza and Wayne Simmonds. In the Blue vs. White game that the Leafs hosted on Jan. 9, many fans praised the way Barabanov played and expressed their desire to see him as a regular in the Leafs lineup. Here is what Barabanov brings to the Leafs lineup and why he will be a valuable contributor on a nightly basis.
Ability to Play in Multiple Situations
Barabanov has the ability to make his presence felt even when he is not producing offensively. He is great at getting in hard on the forecheck and putting pressure on the opponents to move the puck quickly. As a player who will not see top-six minutes with the Leafs, this skill is extremely valuable to Sheldon Keefe and the Leafs coaching staff.
Although the game of hockey is continually shifting to a faster and more skilled version of itself, the ability to put pressure on the opponent and being able to grind the opponents down is still prevalent in today's game. An example that I draw on might be painful for us as Leafs fans to relive but is very relevant and that is the play-in round against the Columbus Blue Jackets. The Blue Jackets' ability to roll four lines that are skillful but can wear down their opponents worked marvels for them last season and ultimately allowed them to out-duel the Leafs.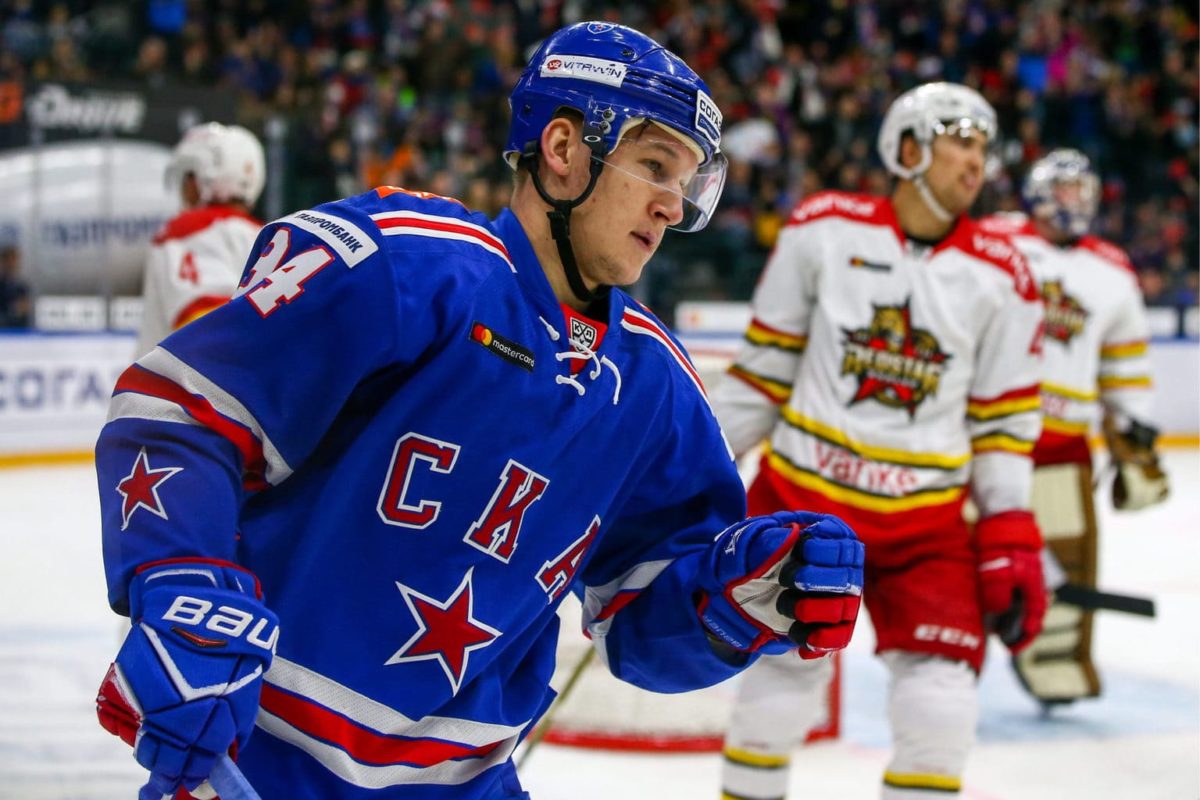 Keefe will be able to trust Barabanov to play in multiple situations such as the penalty kill and defending the lead when the game comes down to the wire. He reads plays really well and is able to effectively close off passing lanes with his active stick. While he may not be the biggest player on the ice, standing at 5-foot-10, Barabanov is not afraid to battle in the corners either. He has great lower-body strength and uses his frame effectively.
Offensive Ability
While his numbers took a bit of a hit last season, Barabanov is still more than capable of contributing on offense as well. Although he likely won't see top-six minutes, he can still be a viable option to appear on the scoresheet. While playing for SKA St. Petersburg of the KHL in 2019-20, he managed to score 11 goals and nine assists for 20 points in 43 games.
What impresses me the most about Barabanov is the fact that he is in the right place at the right time. Whether that be finding open ice in the middle of the slot or being by the net for an easy rebound, he reads the play really well. He is also really good at being able to set up his teammates. He exudes confidence with the puck on his stick and is able to spot guys in the slot with ease.
Barabanov is also a very good skater. As seen in the clip above, he is able to use his great edge work to make his way towards the net for a scoring chance. He has great hands in tight and does not need a lot of time before being able to get a shot off in the offensive zone.
Talent Waiting on the Sidelines
While Barabanov has a ton of skill and can make a difference when he is on the ice, if he doesn't perform well, the Leafs have a ton of players waiting on the sidelines for playing time. The same goes for other players in the Maple Leafs lineup – the Leafs have excellent forward depth so if anyone isn't at the top of their game, I do not think Keefe will hesitate to take them out of the lineup. With that being said, I am really excited to see what Barabanov can do, and I am thrilled that hockey is back.
---
---