It's the question that's keeping many Toronto Maple Leafs' fans up at night. When it comes to the 2023 NHL Trade Deadline, what approach will they take in trying to improve their team?
---
---
No matter what the Maple Leafs decide to do, they have to get this right. Another playoff failure will lead to some potentially big changes within the walls of Scotiabank Arena.
This is where things start to get tricky for the Maple Leafs. There is more than one approach they can choose to take in order to address their needs.
The answer to the best approach is completely subjective. The only opinion that ultimately matters is the one GM Kyle Dubas agrees to sign off on. Because he's without a contract after this season, this now becomes the most important decision of his Maple Leafs' tenure. It could mean the difference between coming back or moving on.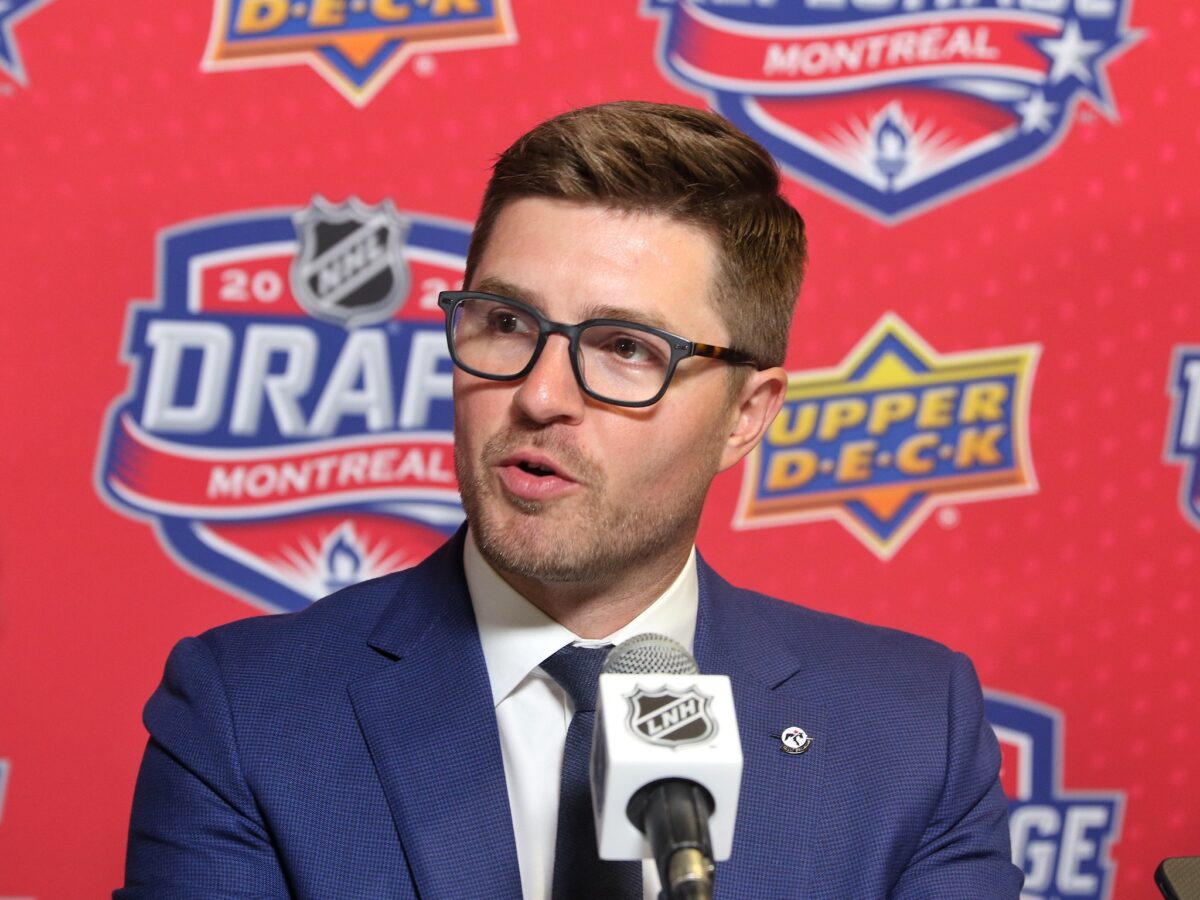 In looking at the overall situation, there is one approach that makes more sense than the others. As tempting as it might be to swing a big move, the Maple Leafs must avoid trading their top prospects. But when it comes to their picks, they should be fair game.
Debunking a Myth
To understand why keeping their top prospects is the best approach, we have to understand what other options are available for the Maple Leafs. But first we have to debunk a myth that some fans believe.
There is a notion out there that suggests the Maple Leafs must sell everything to give themselves the best chance to win. That is simply not true. Selling everything would be irresponsible. It's also bad business.
---
Latest News & Highlights
---
The Maple Leafs window is just opening. While it is true that big changes could come with another early playoff loss, their core will still be in tact. That's the part we need to focus on. As long as they're together, their window will remain wide open.
The issue becomes how to fill out the rest of the roster beyond the core. Because of the flat cap, that's where the Maple Leafs have been handcuffed. While they have a desire to bring in talent in other positions, the cap simply hasn't allowed them to do so.
What options do the Maple Leafs have? They could choose to do nothing because the prices aren't right and they have a good team. They could add some depth for a lower cost. They could try for some bigger names. If they elect to try for bigger names, they have to hold on to their top prospects.
Maple Leafs Must Protect Their Top Prospects
In order for the Core-4 model to work, their top prospects have to come in and play a big role. They're going to be big contributors in future seasons on their entry-level contracts. Our Peter Baracchini recently outlined this with Matthew Knies. He could be a factor in their top-six soon.
Related: Maple Leafs' Prospect Knies Developing Into Top-Six Forward
Other top prospects on the Maple Leafs could soon make an impact as well. Assuming his health, Nick Robertson looks close to NHL ready. Topi Niemela could push for a spot on the blueline in the near future. And while he's a little further away, Fraser Minten has buzz around him and could become a regular in a couple of years.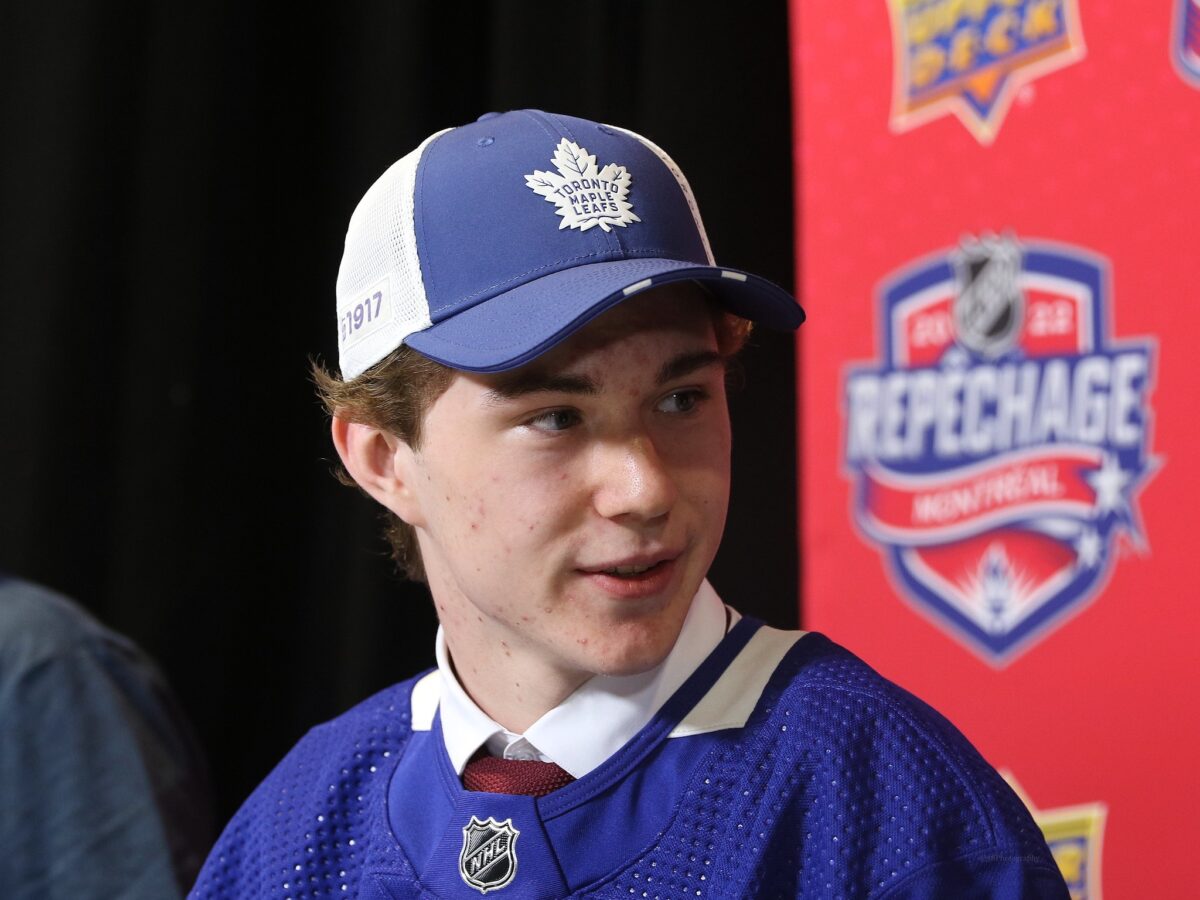 These players are primed to make important contributions while their cap hits would be minimal. Trading them would sacrifice their future in a way that could be devastating. Think of it this way. Which would you rather have as a Maple Leafs' fan? Your top prospects playing important minutes or someone acquired via free agency?
Dubas and the Maple Leafs have had good drafts of late. That has allowed them to have players ready to make the jump while trying to keep their core in tact. This is why they must do everything they can to keep their top prospects.
Draft Picks Are Fair Game
Now on the other side of the story, the Maple Leafs should make their draft picks available. This includes their 2023 first rounder.
The Maple Leafs at the All-Star Break are in third place overall in the NHL standings. That translates to a pick anywhere from the mid 20's to 32nd if they happen to win the Stanley Cup.
The Maple Leafs are not in a position to land any of the 2023 NHL Draft's top prospects. They can afford to part with their first-round pick. However they have to be smart about it.
How painful is the Nick Foligno situation still? That became one of the biggest wastes of a first-round pick in recent memory. If they find a player with term that will give them multiple seasons, then that's good business. It will most likely take a first rounder to get someone like that anyway.
You Might Also Like
The Maple Leafs need to make sure that the use of their first rounder in on the right player. Otherwise they don't hold a pick in 2023 until the third round. They still need to be willing to part with that pick if they want a bigger name. They could even consider their firsts in 2024 and 2025 if absolutely necessary. But that's only true if the return makes it worth the price.
For the Maple Leafs, the task is clear. If they're going to make some deadline deals, they must keep their top prospects at all costs but willing to part with high draft picks in the right situation. It sounds easy. But it's not especially given the pressure on everyone to win.
This could very well be Dubas' last chance. He needs to walk the line between improving the team now and in the future. Keeping prospects and exposing picks allows the Maple Leafs to improve now and in the future. That's why this approach makes the most sense.
We'll see soon if the Maple Leafs agree or not.