In a new series, I will look at the best player at every number that has ever been worn by a member of the Toronto Maple Leafs. Now, the rule is that the player had to wear the number for a good amount of time. A player who wore a number for seven years will be considered more than a player who only wore it for two.
Obviously, we start at No. 1.
Notable No. 1s
Geryy Cheevers, Jacque Plante, Damian Rhodes, Andrew Raycroft
Unsurprisingly, goalies are everywhere in the list of 30 players to ever wear the number. Turk Broda was the first, but it wasn't the number he was known for. The last player to wear the number was Raycroft and after his time with the Leafs, it might be understandable that no one else has touched the number, at least for a regular season or playoff game.
Who is the best however? Well, you can't get any better than Johnny Bower. He is the player with the longest tenure with the number, wearing it for 12 seasons.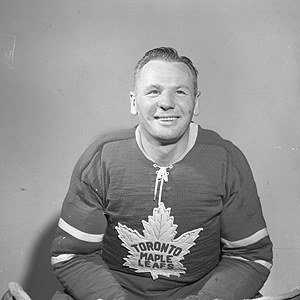 Bower, who was actually born John Kiszkan, started his NHL career with the New York Rangers. He played 70 games in the 1953-54 season but quickly fell down the depth chart. He would go on to play five games in the 1954-55 season and two more in the 1956-57 season to end his tenure with the Rangers.
He would be selected by the Leafs in the 1958 Inter-League Draft and you can say the rest is history. It didn't take long for him to establish himself with Toronto. In the 1960-61 season, he would win 33 of 58 games, eventually winning the Vezina Trophy and being named to the First All-Star Team. He was also second in Hart Trophy voting. That was only the start of his rise.
While not having as strong an individual season as he had in '60-'61, the Leafs won the Stanley Cup in the next three seasons. He also split goaltending duties with Terry Sawchuk in the 1966-67 season, helping guide the Leafs to their last Stanley Cup. Overall, the Leafs would make the playoffs for 10 years out of Bower's tenure with the team.
After retiring, Bower was elected to the Hockey Hall of Fame in 1976. The same year, he would join the Leafs again, this time as assistant coach. He would stay in the role until 1978. He is a mainstay in the community when it comes to Leafs alumni and is a regular at Leaf games. IN 2014, he had a street named after him in Toronto and was also named as one of the first players to be immortalized as part of Legend's Row.
The rest of the Maple Leafs by the Numbers Series can be found here.
Toronto Maple Leafs Writer At The Hockey Writers.