The Pittsburgh Penguins are a healthy team. It almost doesn't sound right to say that and I'll keep my fingers crossed that it's a trend for 2015-16. With Pascal Dupuis re-inserted into the lineup recently and Eric Fehr's debut, they're now rolling the full four-line attack everyone has been waiting for. And, it looks like it could be everything they had hoped for.
The Penguins faced the lowly Toronto Maple Leafs, so it's tough to put a lot of stock into their 4-0 victory last night. However, it's the small things that they did so well that should give fans some confidence in this group going forward. The addition of Fehr into the lineup was a big part of allowing them to do such things.
Penguins Fourth Line Overwhelmed the Leafs
I expect that Mike Johnston and the Penguins will experiment with a lot of different line combinations in the near future. With names like Sergei Plotnikov and Daniel Sprong moving in and out of the lineup it'll take some time to nail down where everyone fits long-term. Throughout the process of experimentation, last night's fourth line should be considered a main stay.
Fehr wasn't brought here to play fourth line minutes. It was widely assumed that the Penguins would slot him on the third line, likely next to Nick Bonino. However, the combination of Fehr, Matt Cullen and Sergei Plotnikov proved to be a formidable fourth line that the Leafs had no answer for. Giving them a look against a deeper NHL squad will be well worth Johnston's time. Fehr seems open to whatever role requested of him and has always been a player that looks out for what's best for the team. It has been a long time since Pittsburgh was able to fill a bottom line with the amount of size, strength and skill as they did last night.
The result of Fehr's return was two points including an assist and a short-handed goal. Cullen was also able to net his first tally in a Penguins uniform. Simply put, that trio can contribute unlike anything the Penguins have seen in recent memory. Give them some time together to see if they can truly flourish.
Other Notes and Observations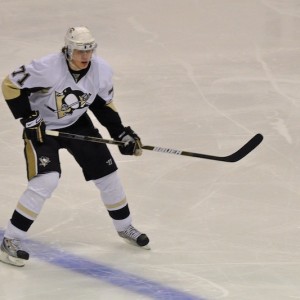 The power play is still a major concern. Despite recording a goal last night, which was fairly soft on the part of Leafs goaltender Jonathan Bernier, they failed to cash-in on a full five-minute major. The most disturbing part of their inability to convert was their lack of shots.
Overall, Pittsburgh recorded ten shots with the man-advantage. But, seven of those shots were from the second power play unit. It's time that the varsity unit gets it together and starts creating chances or change is needed. I wouldn't be surprised to see Derrick Pouliot called up from the AHL in the near future and if that happens, give him the reigns and see what he can spark. There's no excuse for not feeding Phil Kessel and Evgeni Malkin on opposite circles while Patric Hornqvist and Sidney Crosby play down low. The tools are there, the craftsman isn't.
Marc-Andre Fleury, though facing a fairly low total of 21 shots on goal, recorded his 40th career shutout and second so far this season. It goes without saying that Fleury is the most consistent Penguin so far and continues to play at an elite level. I covered some of Fleury's underlying numbers, mainly discussing situational stats but the Penguins have been able to lean on him no matter what so far. It's truly a pleasure to watch him play night-in and night-out.
The Penguins are beginning their Western Canada road trip in which they'll face the Vancouver Canucks, Edmonton Oilers and Calgary Flames. Both the Oilers and Flames are in the bottom-five for goals-against per game, so the Penguins should be able to light the lamp frequently in both games. It'll be a nice test for a team with such high expectations to produce goals. They've found ways to produce recently, can they keep it up and finally get this offense on track?
Pittsburgh Penguins writer for TheHockeyWriters.Com and PittsburghHockeyNow.Com. Youth hockey coach, and student of the game.