The Pittsburgh Penguins were arguably the busiest team this offseason. They acquired Phil Kessel from Toronto, Nick Bonino and Adam Clendening from Vancouver, signed Sergei Plotnikov out of the KHL and inked Eric Fehr via free agency. Also, they made several low-key moves like signing depth center Matt Cullen and allowing several surprising names to partake in camp on PTO's. So, there's no surprised that the goaltending position flew mostly under the radar. That was until their unexpected slow start to the regular season.
With Jim Rutherford signing Marc-Andre Fleury to a four-year contract extension worth $5.75 million annually, there is no question that he's their guy for the foreseeable future. Despite Matt Murray's emergence in the AHL last season, there was no goalie controversy to speak of and frankly, there were no headlines surrounding the crease. But, Fleury has created quite a buzz in his eight starts so far in 2015-16. Is it far-fetched to say that he's the reason they're sitting at .500 right now, rather than trending more toward the start that Columbus is witnessing? I don't think it is.
Marc-Andre Fleury Keeping the Penguins Afloat
When you think about a goaltender, the most telling stats for a lot of folks will be their individual goals-against average and save percentage. Fleury is currently among the league's best in both categories with a 2.02 GAA and .932 save percentage. However, digging deeper into what Fleury has accomplished so far is where the true indication of his brilliance thus far is revealed.
At this point in a very early season, it's tough to compare his metrics straight up with the rest of the league. But, when we consider his underlying numbers, they tell a story of how much he has contributed to the Penguins staying afloat during these trying times. How can a team that boasts the second lowest total goals-for in the NHL pull off four wins? Especially considering the caliber of teams that they beat? The following data is courtesy of stats.hockeyanalysis.com and war-on-ice.com.
First, consider that the Pens rank 12th in the league for high-danger scoring chances against per 60 minutes of play. This defense hasn't been as horrendous at shot suppression as some predicted but they are giving opponents a fairly large number of high-danger chances. Fleury has been up to the task so far. Also, there are situational stats that may surprise many, considering some of Pittsburgh's biggest struggles.
The Penguins have yet to win a game when trailing after two periods in the Mike Johnston era. In that situation though, while trailing (which accounts for 132:56 time-on-ice), Marc-Andre Fleury boasts the fourth highest save percentage with a 96.23. When the Penguins need him the most, he's there. There were questions about whether or not this team is built to win close games coming into this season and Fleury is the primary reason that they are. The days of buckling under pressure seem to be long gone.
Similarly, Fleury ranks in the top ten (9th overall) for even-strength save percentage while playing with a lead. So, in a situation that normally means the opponent is pulling out all of their offensive stops, Fleury continues to perform at a very high level.
Fleury a Rare Bright Spot for the Struggling Penguins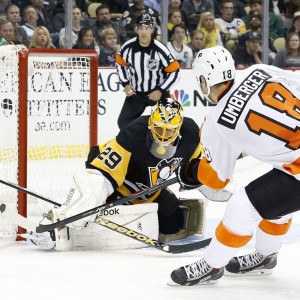 The panic among Penguins' fans is nearing catastrophic levels in a lot of ways. The team is struggling to score, their power play is clicking at a dismal 7.1 percent and Sidney Crosby has yet to completely break out of his scoring slump. Some view this season as a whole new challenge, while others see it as an extension of last year's struggles under this coaching regime.
Evgeni Malkin has been good. Phil Kessel and the surprising rookie Daniel Sprong are also notable bright spots. But, Marc-Andre Fleury is providing this team and their fans with hope. He's providing piece of mind by proving that once this team figures things out, which I assume they will sooner rather than later considering they've won three of four, he'll be waiting. Poised to potentially challenge for Vezina considerations, Fleury has been spectacular in the situations that the Pens need him most.
Of course, there are still questions. The Penguins' short-handed save percentage has dropped from last season, which is a category in which they ranked first in the NHL. There are also concerns about what happens if Fleury would suffer an injury. He should be considered the most important player on the roster right now, as this team could not survive without him.
Whether or not he'll keep up this pace throughout the entire season is obviously unknown. For Fleury, it's important that he doesn't slack off. It's important that he continues to play at this level so that he can shed previous reputations of choking. He has done a great job of that over the last few seasons and if I was a betting man, I'd put money on him continuing to do so.