In this edition of Toronto Maple Leafs News & Rumors, I'll try to offer fans more insight about the beginning of the 2020-21 NHL regular season. I'll then take a look at Calle Rosen, a Maple Leafs' defenseman who had been traded to the Colorado Avalanche with Nazem Kadri and then came back to the team in a trade that moved Michael Hutchison to the Avalanche.
Item One: Unofficial Re-organization of the NHL in the Works?
Things seem to be moving. Although the NHL hasn't officially outlined its plans for a 2020-21 regular season, decisions are being made that move the NHL toward a season's restart. First, earlier this week it was reported that the league and the players' union agreed on financial terms of the season. Second, there was a decision that Jan. 13 would bring the start of the season. Third, later yesterday CBS Sports reported news of the NHL's plans for a "temporary" division realignment.
Related: Maple Leafs News & Rumors: Goalie Considerations and an NHL Restart
These plans call for four divisions, and not surprisingly the plans include an all-Canadian division. The divisions have been reported to be as follows:
Division A (Canada): Calgary Flames, Edmonton Oilers, Montreal Canadiens, Ottawa Senators, Toronto Maple Leafs, Vancouver Canucks, and Winnipeg Jets  
Division B: Boston Bruins, Buffalo Sabres, New Jersey Devils, New York Islanders, New York Rangers, Philadelphia Flyers, Pittsburgh Penguins, and Washington Capitals
Division C: Carolina Hurricanes, Chicago Blackhawks, Columbus Blue Jackets, Detroit Red Wings, Florida Panthers, Minnesota Wild, Nashville Predators, and Tampa Bay Lightning
Division D: Anaheim Ducks, Arizona Coyotes, Colorado Avalanche, Dallas Stars, Los Angeles Kings San Jose Sharks, St. Louis Blues, and Vegas Golden Knights
In analyzing the strength of these divisions, Pete Blackburn of CBS sports (in his email edition that I received this morning) believed that Division C was the weakest and the 2020 Stanley Cup champion Tampa Bay Lightning would win that division easily. Group B should be the most competitive. Finally, the all-Canadian division would be the most interesting and get the most attention because of its "novelty." 
Related: Top 5 Jets 1.0 Draft Picks of All Time
As Blackburn noted, big questions remain unanswered about the upcoming season. First, what will the schedule look like? Second, will teams be playing games in their own arenas? Third, will fans be permitted to attend? Fourth, what will the playoffs look like (will the NHL return to its normal 16-team format or, because the season's shorter, will a more expanded postseason and play-in format be utilized as it was to complete last season)?
Item Two: Maple Leafs Loan Kalle Kossila to Germany
Yesterday, the Maple Leafs reported that they had loaned Kalle Kossila to EHC Red Bull Munchen of the Deutsche Eishockey Liga. The 27-year-old Finish-native had signed a two-year contract with the team in 2019 and had played 12 games with the AHL's Toronto Marlies (scoring three goals and three assists) last season.
CBS Sports seemed to hint that the move was "cutting loose" Kossila and that, with training camps expected to begin soon, Kossila's reassignment seems a bit odd. It probably suggests that the Maple Leafs saw no chance for Kossila to make the Maple Leafs roster. It also likely means he will spend his season in Europe or in the AHL.
Item Three: Calle Rosen Hopes to Prove Himself in Second Go-Around with Maple Leafs
Defenseman Calle Rosen is starting to get older; and, if he hopes to make a breakthrough with the Maple Leafs, this shortened season might be a good time to do so. Obviously, there's something that the Maple Leafs like about Rosen because, after the 26-year-old had been traded with Nazem Kadri to the Colorado Avalanche in the Tyson Barrie and Alex Kerfoot trade, he was brought back later last season in a move that sent back-up goalie Michael Hutchinson to the Avalanche.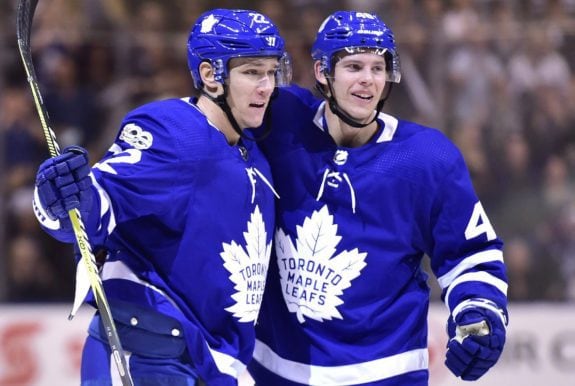 Rosen obviously wants a chance to fight for an NHL roster spot. To this point in his NHL career, that quest hasn't been easy; and, it's likely to be just as difficult this season.
Rosen wasn't drafted by an NHL team but stayed in his native Sweden to play for his hometown Växjö Lakers until the Maple Leafs signed him to a two-year entry-level contract in May 2017. After playing four games during the 2018-19 season for Toronto, he moved to Colorado and played eight games for the Avalanche during 2019-20; then, he moved back to the Maple Leafs.
Related: NWHL Bubble: Riveters' Connections to Lake Placid and What to Expect
During his time with the AHL's Marlies, Rosen showed he was a reliable defenseman. Starting as the third-pairing defenseman, he moved to the first defensive pairing and, by the time the Marlies were in the playoffs, he had become former Marlies' head-coach Sheldon Keefe's trusted top power-play and penalty-kill option. He averaged about 25 minutes per game.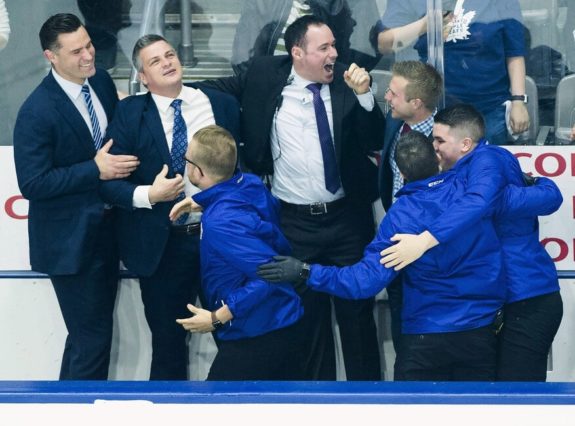 When he was moved to the Avalanche, one Colorado writer noted, "Until his broken foot near the end season, Rosen was by far the best defenseman in the AHL by goals, points, shots, and he made the AHL All-Star team, too."
Rosen does have skills. He's a good passer; he's a good skater for his size; and, he has a heavy shot and good shot selection. If the season were compressed and teams played a large number of back-to-back games, his skill set and experience could become helpful additions to the Maple Leafs in the case of an injury or a defenseman needing a game or two off.
What's Next for the Maple Leafs?
As I noted at the beginning of this post, some decisions have been made about the date of the beginning of the regular NHL season, the divisional organization about the regular season, and the financial agreement between the NHL and the NHLPA. Creating a schedule is the next big issue to be decided. After that, as I noted before, a myriad of other issues need to be checked off prior to a season's beginning.
Related: Maple Leafs News & Rumors: Matthews & McDavid, Line Combinations
This morning in my reading of the news on the Internet, I saw a number of photographs from Australia and New Zealand – both countries who responded to and handled the COVID-19 pandemic more-aggressively and, to my belief, better than we have in North America. The photos showed life-as-normal, and it was great to see people gathered together, walking and eating outside together, and celebrating life. It reminds me how wonderful and taken for granted normalcy was.
I'm looking forward to that time again. Having NHL regular-season hockey would move us all towards that feeling. We're far from out of the woods; but, I'm encouraged to hang in there so life can be normal again.
Watching a game with my son and grandson would be a great feeling.
---
---