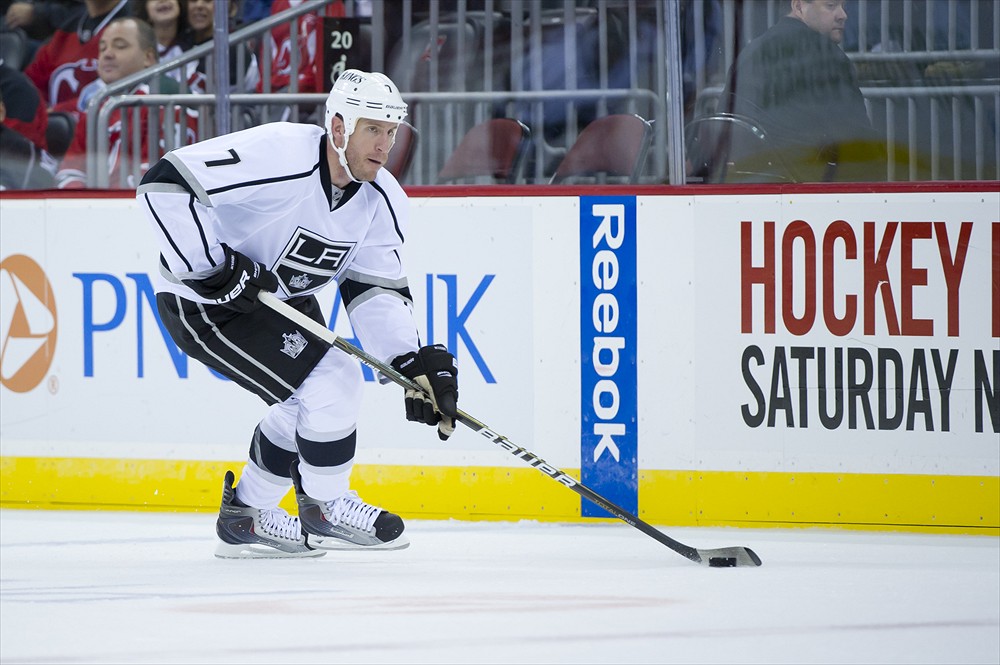 When the Toronto Maple Leafs acquired David Bolland at the draft last week, one of the enticing factors to the deal that general manager Dave Nonis noted was that Bolland knows how to win. He is coming off scoring the game winning goal in what was his second Stanley Cup victory with the Chicago Blackhawks.
A type of player with experience in big games is what Nonis has been looking to add to a young Leafs team ever since his hire.
Similar sentiments can be said about goaltender Jonathon Bernier, a player the Maple Leafs acquired, in what they hope will help establish the crease for years to come. Although Bernier won the cup with the Los Angeles Kings as a backup last year, the mere experience of lifting the cup and participating in a long, grueling season has some benefit.
When players are finally allowed to sign contracts tomorrow at 12pmET, one would assume Nonis will once again pursue players with similar playoff sentiment to Bolland and Bernier. The likes of David Clarkson and Nathan Horton come to mind, since they have both been apart of respectively long playoff runs over the last few years and fill certain organizational needs.
However, the player that tops my list while fulfilling organization needs is Los Angeles Kings defenseman Rob Scuderi. Although the possibility of him not making it to free agency remains, one can safely assume he won't be back as the Kings have already extended the contracts of defensemen Slava Voynov, Robyn Regehr, and Keaton Ellerby.
Scuderi, 34, is a player that was instrumental in the Kings stanley cup run last season. He was also part of the Pittsburgh Penguins cup victory in 2009. It is hard to suitably depict a great defensive player, since there do not exist such statistics to do so. We are all aware of the folly with the plus/minus stat. He's not a player you can expect offense from, as he's only scored four goals in the last four years. But that's fine, since that isn't the reason why you acquire him.
You acquire him because he brings a defensive pedigree, a veteran who knows his limits, and as mentioned above, winning playoff experience. He does a great job winning board battles down low and can provide a physical edge from time-to-time. I said during the season that it would be a great thing if the Leafs could add a player like Bryan Allen or Rob Scuderi, and thankfully the opportunity is now there.
Defense is the weakness of the Leafs, and that showed with the lopsided shot totals night-to-night. Their defensive coverage was always a concern, and it was obvious they required a pivot to stabilize the defense. Stabilizing the defense will also help lessen the workload for the goalies, in which they can perform better and not have to focus on point blank opportunities. James Reimer played like a top 10 goalie this past season, and imagine if the Leafs had a top 10 defensive unit to go along with that.
Scuderi can be paired with just about anybody on the Leafs defense. From captain Dion Phaneuf to youngster Jake Gardiner. A shutdown pair of Phaneuf and Scuderi is the most enticing scenario to me. Nobody wants to go through game seven in Boston ever again.
Amongst the various needs evident in the Maple Leafs organization, defense is one of them and a player like Scuderi will be available tomorrow. The Leafs should make a hard push for the veteran with hopes of stabilizing a mediocre defense.
Be sure to follow me on Twitter: @RaihanSays 
And give my personal Facebook page a like.
If you have any questions or concerns, please do not hesitate to email me at: Raihanh95@gmail.com. All inquiries are welcome!