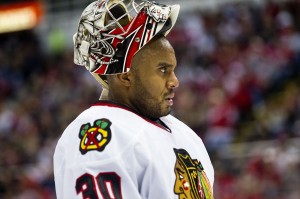 Ray wants to be the man in goal again.
He also says that he wants to stay with the Blackhawks.
Emery also wants to be wanted.
According to the Facebook fan page of the popular Blackhawks blog,The Committed Indians,Emery signed a one-year deal with the Philadelpiha Flyers. The deal is rumored to be in the neighborhood of 2 million.
Emery previously signed with the Flyers before the 2009-2010 season. Injuries derailed in first stint in Philly.
Contract talks between the Blackhawks and Ray Emery have gone back on forth since the season ended. Emery  moved on after backing up Corey Crawford for the last two seasons.
Emery said earlier this week that he wants to stay. He told ESPN Chicago as much:
"I'd love to stay here. See how that works out with what Chicago has in mind and see how the cards kind of play, but definitely would like to stay here."
Emery sounds like he being loyal to a team that gave him a shot when many though that his career was over.  A shot to start for a team such as the Philadelphia Flyers wastoo much for the co-Jennings Trophy winner to resist. Their team  really needs a goaltender.The team had a messy goaltending situation with Ilya Bryzgalov . The Flyers want to start fresh.
After listening to some sports talk radio in Chicago, there is still a faction of uninformed Blackhawks fans who are still not sold on Corey Crawford. I don't know what to say to those people. So I won't spend a whole lot of time dealing with them.
General Manager Stan Bowman has made some harsh (in the eyes of most fans) desicions regarding the roster after the Stanley Cup win.  Keep in mind that Patrick Kane and Jonathan Toews need to be paid as well in the near future.  Expect for the two Conn Smythe winners to get extensions similar to what Claude Giroux just got from the Flyers. Don't forget that the Blackhawks signed a goaltender during the playoff run in Antti Raanta. This was a goalie that could start for a few of the teams in the league. A few teams were after Raanta to do just that.
It's natural for a player like Ray Emery, who showed that he has plenty left in the tank, to want to be the guy on another team.
After how he saved his career by the way he played for the Blackhawks, fans of the team should wish him well.
Evan F. Moore is The Hockey Writers contributing Blackhawks Writer.His work has appeared in the Red Eye,The Checking Line,Gapers Block,ChicagoSide,Extra Bilingual Newspaper, Chicago Now, Time Out Chicago. He resides in Chicago.