Since being hired as general manager of the Dallas Stars in April, Jim Nill has suggested time and time again that he wants to tweak the roster that he took over, fix the holes and shape the team into something a little more to his liking.
But when you inherit a team that's missed the playoffs for five consecutive years and is no longer considered a premier NHL organization, righting the ship usually requires making a few big moves, not small ones. Nill's been trying to make such moves for weeks, only to fall devastatingly short each time.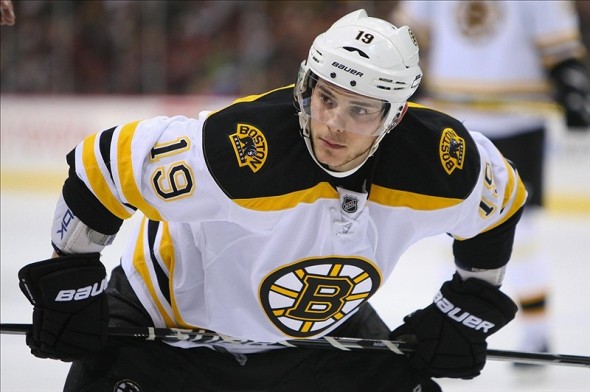 Nill negotiated hard for the services of coach Alain Vigneault, his clear preferred choice, but missed, with Vigneault choosing the New York Rangers instead. Nill was forced to settle for the consolation prize of Lindy Ruff, though a highly accomplished coach in his own right.
Nill then went hard after bought-out free agent forward Vincent Lecavalier, with Dallas being one of the final teams in the hunt, only to miss by a hair once again, with Lecavalier choosing the Philadelphia Flyers, and doing so even for less money overall.
It should be mentioned that Nill pulled off one of the steals of the 2013 NHL Entry Draft, picking up a very Ivan Drago-like beast on skates with Valeri Nichushkin, considered a Top 5 or even Top 3 talent in the draft, at 10th overall. For all his potential, however, Nichushkin is not yet ready to be the much-needed impact player that gets Dallas into the playoffs.
Finally, after weeks of determination, Nill's persistence paid off on Thursday, making not only one of the biggest blockbuster trades of the past hockey year, but also one of the biggest in Stars franchise history, acquiring Tyler Seguin, Rich Peverley and prospect Ryan Button from the Boston Bruins in exchange for veteran Loui Eriksson and valuable prospects Joe Morrow, Reilly Smith and Matt Fraser.
Yes, that's the same Tyler Seguin that famously went 2nd overall in the 2010 draft, that won the Stanley Cup as a fresh-faced 19 year-old the very next year, and then led the 2011-2012 Boston Bruins in goals (29) and points (67) the year after that. He's most recently coming off a season that saw him score 32 points in 48 games, and then 8 more in 22 playoff games as he made another appearance, albeit a losing one, in the Stanley Cup Finals.
Peverley is worth a mention as well, as he can be relied upon heavily at both ends of the ice, and will be given plenty of chances to become Dallas' second line center and play big minutes on special teams.
To call this a bold move by Nill simply wouldn't do it justice. Seguin, despite being only 21 and still having flaws in his game, is the type of center that entire franchises are built around. His elite mobility, puck control, and natural offensive instincts are a sight to behold for a player of his age.
"Tyler is a dynamic player that will be a part of our core group for a long time to come," said Nill, in this official article on the Dallas Stars' website. "A player at his age, position and talent level are extremely difficult to acquire and we're thrilled to bring him into our organization."
However, such a talent like Seguin doesn't get traded every day, meaning that there was a reason why Bruins GM Peter Chiarelli was willing to let him go at all. Rumours about Seguin's penchant for partying followed him everywhere, which was combined with an apparent lack of consistent professionalism towards the day-to-day rigors of the NHL. The rumours came to a crescendo at the draft on June 30th, with Chiarelli offering up the following blunt remarks, as reported by the Boston Globe:
"He's got to commit his mind and focus to the one task at hand. He's got to become more of a professional. You know what? I can say that about a lot of 21-year-olds. I know he got criticized for playing on the periphery and all that stuff. He did. He's got to commit to being a professional and focusing on the game. Simple as that. He does that, we don't expect him to be crashing and banging. Just play your game."
While it's hard to really fault a 21 year-old millionaire with a Stanley Cup ring for wanting to party, it's still easy to see where Chiarelli is coming from, especially with other elite young players such as Jonathan "Captain Serious" Toews setting good examples around the league.
But after years of slow building and stockpiling respectable youth depth under former Dallas GM Joe Nieuwendyk, the one thing that was truly holding the Stars back from taking that next big step was the lack of a true #1 center. As admirably as Jamie Benn had performed in that converted role for the last two seasons, he was never a perfect fit at that position, and can now slide back over to his most familiar spot on the left wing with Seguin stepping in at center.
Nill wasn't going to pull a perfect #1 center out of thin air, but he managed to find a project that, with the right time and care, could reap huge dividends for Dallas both immediately and in the long term.
The possible future top line of Benn (23), Seguin (21) and Nichushkin (18) is likely at least a couple years away from coming together, and probably a few more years after that from reaching it's full potential, but the very idea is already starting to get Stars fan excited. On paper, if all three develop according to plan, the Stars could have one of the league's best top lines for years and years.
The move didn't come without both a tangible and emotional cost, however, as the Stars said goodbye to longtime forward and a true fan favourite in Eriksson, a three-time 70-point scorer, who became more valuable and reliable than the Stars ever could have imagined when they drafted him 33rd overall in 2003. At the age of 27 he still has a lot of great hockey left in him, but he was a couple years ahead of the rest of the rebuild that has recently been established for the Stars and didn't fit as ideally into the organization's future plans. He should be a great fit in Boston with fellow two-way threats Patrice Bergeron and Brad Marchand.
Morrow, Smith and Fraser are all high-end prospects that show potential in their own respective ways, although all come with some risks attached. Luckily for them they're going into an established organization in Boston, and will be given lots of time and space to hone their games.
Most importantly for the Stars, however, is that despite shipping out three talented prospects, they made the trade without involving any of their best ones overall, as they still retain the rights of Jack Campbell, Alex Chiasson and Jamie Oleksiak.
For all the concerns about Seguin that have surfaced in recent weeks, the Stars are obviously trying to keep them firmly in the past as they focus their attention solely on the future.
Peverley, when asked about his former teammate in Boston and future teammate in Dallas, was steadfast in his defence of the young center.
"I've heard a lot of things in the past 24 hours about Tyler and I don't think it's true," he said, according to Mark Stepneski. "It's unfortunate that it's coming to people talking like that. He works very hard and he's got a lot more mature in the three years that I've known him. He commits himself to the game and getting better. I don't see any reason he can't continue to improve all the time"
Seguin himself is already aware of what will be expected out of him in Dallas, both now and in the future, and has said that he is up to the task. And with all the talk in the media about his attitude and his character, those are now just things that he can use to add fuel to the fire as he continues towards his goal of becoming one of the NHL's top players.
"It's a nice refreshing feeling that I get to go and start from scratch really, a new organization and new home," he said. "I'm going in seeing differently from my experiences in Boston, whether it is both on or off the ice I want to succeed in expectations that are given towards me and, if I can, definitely overcome those."