This morning in my email inbox, there was some good news for the world in general and for NHL hockey fans specifically. It's been reported that now two companies (both Moderna and Pfizer) have created a vaccine that's shown in clinical trials to be about 95% effective. As a result, there might be light at the end of the COVID-19 pandemic tunnel.
Related: Maple Leafs News & Rumors: Anderson, Hutchinson & the Goalie Situation
Obviously, even if these vaccines are successful there's still months of work to do to produce and distribute these vaccines in the numbers needed. However, that's as good of news as we've had for a while. It likely means there's a good chance NHL hockey might return to some semblance of normalcy – perhaps as early as the 2021-22 season. One day in the near future, we will likely emerge from the woods and there'll be a full regular season of NHL hockey. It just won't likely be this season.
For me, last season's return to play that wrapped up the 2019-20 season turned out much better than I expected. The hockey was high-quality and surprisingly competitive even without fans in attendance. It also felt important to crown a 2020 Stanley Cup champion.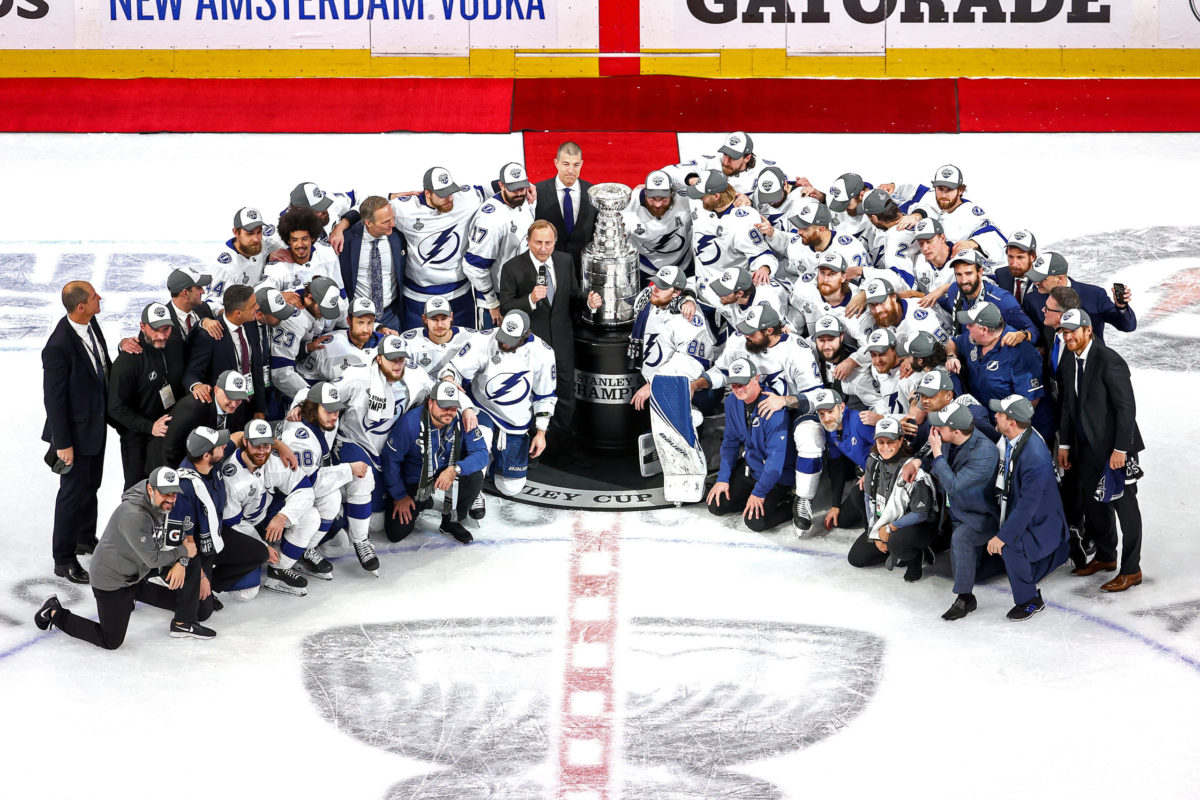 But I also look forward to regular seasons again and everything that goes with them. For me, that includes some parts of hockey I really enjoy in addition to the actual excitement of players roaring up and down the ice, seemingly without looking hitting teammates' sticks with difficult passes, and goalies making incredibly acrobatic stops on shots that are otherwise labeled.
Specifically, I love hockey statistics. I also love speculating about what players might improve during upcoming seasons. I love watching the youngsters get better, and I'll find this season's cadre of Maple Leafs "old guys" exciting.
In this edition of Maple Leafs News & Rumors, I'll engage in some considerations that touch on these hockey statistics.
Item One: Can Zach Hyman Become a 30-Goal Scorer?
Who would have thought that the Maple Leafs Zach Hyman could have such a strong 2019-20 season? When the 2018-19 playoffs against the Boston Bruins had concluded, it was revealed Hyman had played through that series with a torn ACL. He needed surgery; and, as a result, his rehab would take the entire offseason and a good part of the 2019-20 season to bring his surgically-repaired knee to full-mobility and health.
Related: Flyers Lookback: Adding Chris Pronger
When he finally hit the ice, the amazing happened. Hyman was better than ever. In fact, his play was so strong that he's now entrenched into the role of valuable partner to the Maple Leafs' top scorers. Hyman was one of former head coach Mike Babcock's favorite players while he was in Toronto; and, although the iconic veteran coach made a number of questionable decisions, Hyman wasn't one of them. Babcock kept inserting the hard-working 28-year-old into the top-six forward group and it helped the team.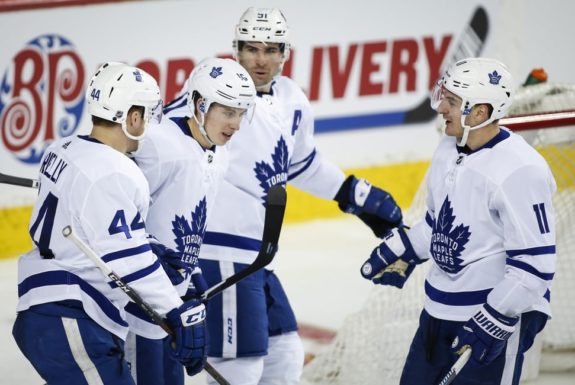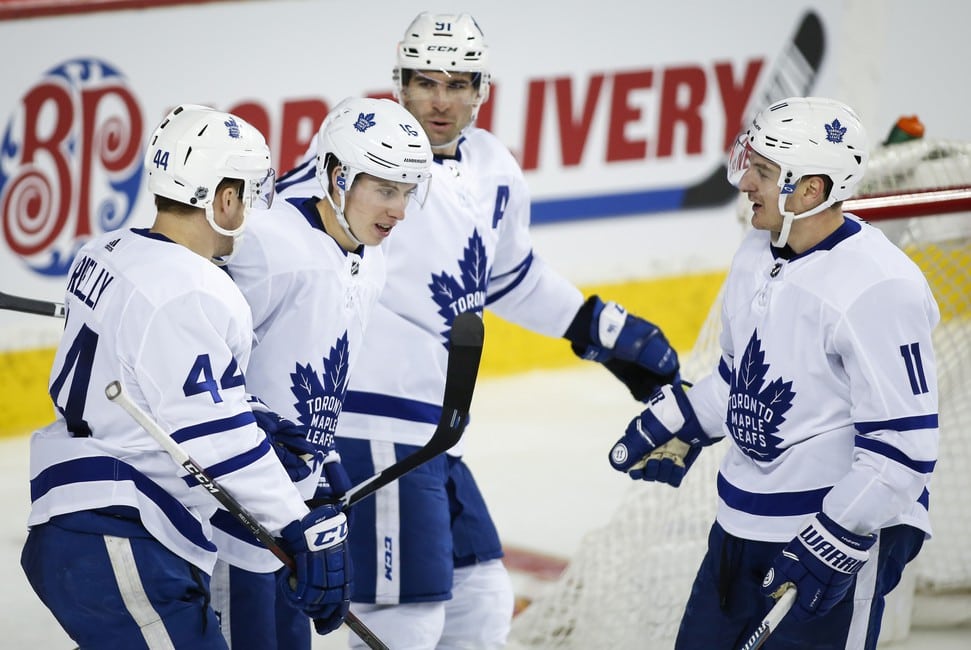 When new head coach Sheldon Keefe took over, it seemed he needed time to see Hyman's value. However, when Keefe saw how well Hyman could play, he partnered him with the high-scoring Auston Matthews and Hyman became a top-six fixture.
The results were obvious. Hyman needs someone to finish the puck battles on the boards he regularly wins. But put him with a high-scoring center or winger, and Hyman is gold. He can transform a good offensive line into a great offensive line by his sweat equity alone.
In addition, Hyman has turned into a scorer himself. Although Hyman missed 19 games at the start of last season, he still finished fourth on the team with 21 goals. Although he played 20 fewer games because his knee wasn't ready, he tied the career-high he set in 2018-19. Had he played an entire 82-game regular season, his numbers would have projected Hyman to about 34 goals and 60 points. Those totals would have demolished both his career highs for goals and assists.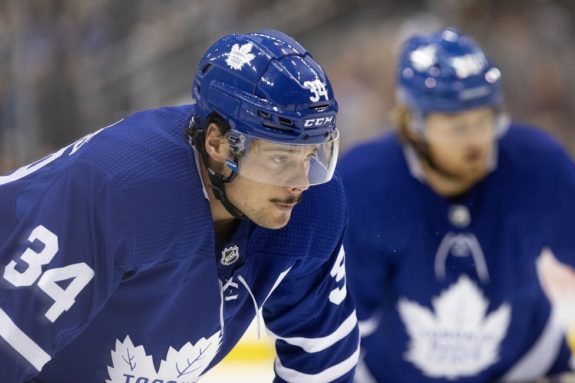 One aspect of Hyman's game that shouldn't be overlooked is the trust coaches have shown in him to protect leads with his end-of-game defense. In fact, last season Hyman became a prodigious empty-net, goal-scorer because he so often found himself on the ice after the other team had pulled its goalie and were pressing the Maple Leafs' defense in an effort to tie the game.
Hyman's ability to not only protect leads but to score empty-net goals led to one of Matthews' best lines of the season. After a Maple Leafs victory over the Vancouver Canucks at the end of February, Matthews named Hyman 'the Sidney Crosby of 6-on-5.'
Perhaps Hyman won't be able push past the 21-goal-scoring mark because of what will likely be a Covid-19-shortened 2020-21 regular season. But he's getting better, and with a new contract on the horizon after the 2020-21 season it would be a good year to hit those career marks once again.
Item Two: Auston Matthews Is Fifth Maple Leafs Player with Two 40-Goal Seasons
In yesterday's post, I shared parts of Rick Vaive's new book Catch 22: My Battles, In Hockey and Life, which was just released. Vaive was the first Maple Leafs player to score 50 goals during a season, and he accomplished that feat three times. He holds the Maple Leafs record of 54 goals scored during the 1981-82 season.
Vaive's record was in jeopardy last season when Auston Matthews took a run at it until the pandemic forced the NHL to suspend the season. Scoring 50 goals during a season is difficult, which is why so few players have done it in Maple Leafs history.
Related: Riveters Become the Latest NWHL Team to Announce New Sponsor/Partnership
Vaive's three 50-goal seasons were by far his three best seasons with the team. He scored more than 30 goals four other times and he also scored 43 goals during the 1987-88 season after he was traded to the Chicago Blackhawks. However, other than his three 50-goal seasons, he never hit the 40-goal mark with the Maple Leafs.
Scoring 40 goals during a season is also a feat, but it's one Matthews accomplished last season for the second consecutive season. In fact, in Maple Leafs history, Matthews is only the fifth player to score 40 goals more than once. The other members of the multiple 40-goal season club include Darryl Sittler (who scored 40 goals four times), Lanny McDonald (who accomplished the feat three times), Rick Vaive (who, as noted, hit that mark three times), and Mats Sundin (who scored 40 goals twice with the team).
What's Next for the Maple Leafs?
Today, Howard Berger of "Between the Posts" wrote an interesting post about the reverse retro jerseys Adidas just produced. As most Maple Leafs fans know by now, the jerseys have been less than a hit. In part, they utilize a design that reminds Maple Leafs' fans of the dark days when Harold Ballard owned the team.
In his post today, Berger remembered a story of Ballard's defiance for NHL bylaws when he refused to put players' names on the back of their jerseys because he believed doing so would cannibalize program sales. To make a point, in 1978 during a road game against the Chicago Blackhawks, Ballard had his staff sew Maple Leafs players' names on the back of their jerseys using the same color for both the names and the background – blue on blue.
Related: Maple Leafs News & Rumors: Joe Thornton, TJ Brodie, Rielly & More
The result was that the names were there, but no one could read them. They were totally imperceptible to an audience. Ballard, as Berger shared, found this amusing and asked everyone "There they (the names) are; can't you see them?"
As Berger tells the story, after that event, Ballard finally conformed to NHL rules. My how things have changed with the Maple Leafs.
---
---