After the significant changes this offseason, the makeup of the Minnesota Wild's roster is drastically different from last season. If the team desires a playoff berth next season, it will be essential for several players to have breakout seasons. A breakout season from a young player can really impact a team's outlook.
The Wild saw Kevin Fiala break out in the second half of the 2019-20 campaign when he tore up the league and had highlight-reel goals left and right. The Wild will be looking for Fiala to continue his utter dominance next season. Since he did technically break out, he has not been included in this article.
Bold Prediction: Jordan Greenway
This may not be bold to some, but to others this is very bold. Regardless of your position on what Greenway is capable of next season, there should be some belief that the 2020-21 campaign is his season to break out. He has shown some positive signs over the past couple of seasons but just hasn't been able to translate it to the scoresheet.
Greenway just signed a two-year extension that pays him $2.1 million annually, and getting him locked up through the 2021-22 season at an affordable price was very important. The next two seasons are crucial for his development and will be the most significant period of time in his career. It will provide an opportunity for the 23-year-old winger to prove himself and land a longer-term deal that gives him financial security down the road.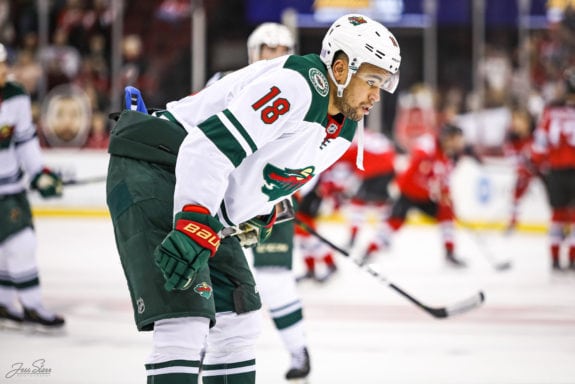 The former second-round pick in the 2015 NHL Entry Draft is looking at next season as his chance to prove the haters wrong. Greenway's stature is among the reasons why he faces so much criticism. He doesn't use his size to his advantage and the lack of physicality is one of the traits that frustrates so many Wild fans. As he continues to develop, there should be optimism that this can change for the better.
He had a very strong 2018-19 season where he was able to record 12 goals, 12 assists, and 24 points in 81 games. Although this isn't a big number on the scoresheet, his positive impact was on display. There is no doubt that he was on the path to success.
He followed it up in the 2019-20 campaign where he registered eight goals, 20 assists, and 28 points. Although his positive impact was evident once again, he hasn't been able to translate it to the scoresheet. At times, it appears he is afraid to shoot the puck or even throw his body around. It felt that his game came to a screeching halt and he took a step backwards.
With that being said, there is some hope for him next season. He has two seasons under his belt and just signed a two-year extension as previously noted. He has some pressure to prove himself and to display how capable he can be on a game-to-game basis. There is no doubt there will be an accountability aspect, Minnesota Wild general manager Bill Guerin is not playing around.
Safe Bet: Kirill Kaprizov
The Wild will finally get their first look at highly touted prospect Kirill Kaprizov. The former fifth-round draft steal by Chuck Fletcher will finally enter the 2020-21 campaign for his rookie season. He signed a two-year entry contract with the first season being burned. This means Kaprizov will be looking for another contract this summer. If he plays as good as a lot of people think, he surely will be a breakout candidate.
His rookie season will likely see him featured as a Calder Trophy finalist. He became the youngest player in KHL history to reach the milestone of 100 goals and he beat the record decisively by a couple of seasons. He has an abundance of accomplishments, but none of them in the NHL. There is no doubt he will be a very good player, but the question remains how the transition to the NHL will affect him.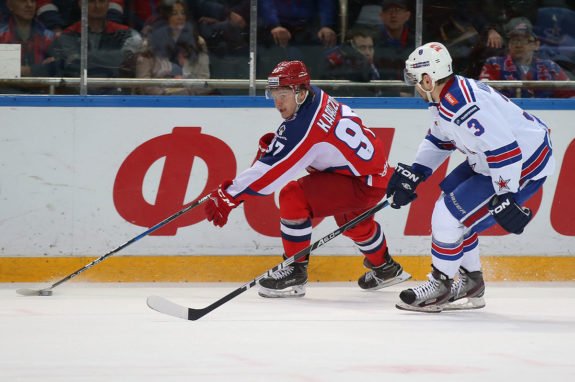 It is really hard to predict what kind of production he will be able to manufacture in his first season with the Wild. He will be in a completely different league with a new distinct set of surroundings. There will be many obstacles he will have to face, which could cause some to wonder if this would be better placed as a bold prediction.
Nikita Gusev is a strong comparison in terms of the transition from the KHL to the NHL. Gusev recorded 13 goals, 31 assists, and 44 points in his first season in the NHL with the New Jersey Devils. I think it is fair to use this as the base for Kaprizov. Although Gusev is significantly older, Kaprizov is a much better player and it's not even close.
Therefore, for the purpose of this article, I am going to assume that Kaprizov's transition is smooth and that he faces no issues in terms of production. I think he's going to be a breakout player and being named a finalist for the Calder Trophy is not too far-fetched
Under the Radar: Joel Eriksson EK
Joel Eriksson Ek is the wild card pick or the player that has been flying under the radar for far too long. While his impact is not in question, he hasn't been able to produce much in terms of point production or goal scoring. While he may never be a goal scorer, he is the closest reflection to a Mikko Koivu.
Eriksson Ek is on the second year on the two-year extension he signed back in 2019. Similar to Greenway, this is the perfect season for him to break out as his new contract gets closer next summer. Although he has less to prove, if he could manufacture more offense in the 2020-21 campaign, he will set himself up very nicely.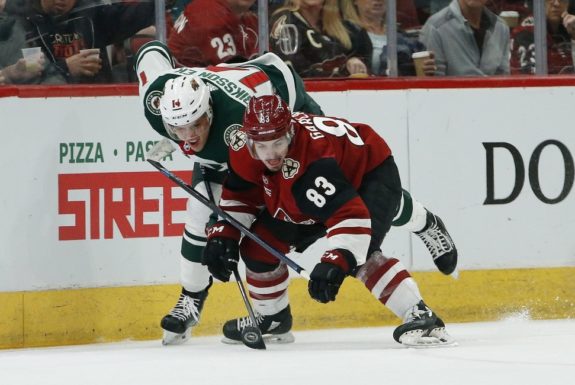 Eriksson Ek had a career-high eight goals, 21 assists, and 29 points in the 2019-20 season. Likewise, in the 62 games he played, his average of nearly 16 minutes per game was a career high. His 2.1 wins above replacement, a metric that measures his overall contributions, ranked 40th among all forwards in the NHL. His impact is not the question, it is how much he can produce in terms of point production and goal scoring.
Likewise, he is one of the best defensive centers in the NHL. It appears as though Eriksson Ek is a clone of Anthony Cirelli, but better defensively and without any offense. Eriksson Ek's 5.4 defensive goals above replacement ranked fourth among all centers in the NHL. Furthermore, he ranked seventh among centers in expected goals against per hour. There is no doubt that he is among the best in the league defensively.
Eriksson Ek is a strong candidate for a breakout season in the 2020-21 campaign, but he will likely continue to be under the radar. It would not be a surprise if he makes considerable strides next season and establishes himself as a strong second-line center.
The Bottom Line
The Wild have numerous players that could have a breakout season. Greenway, Kaprizov, and Eriksson Ek are the most likely candidates among them. There is no doubt that the team has young talent and a bright future ahead of them with who they have in the prospect pipeline.
(All Data and Information Via Evolving-Hockey, Hockey-Reference & CapFriendly)
---
---