In this edition of Toronto Maple Leafs News & Rumors, I'll report some of the news from the Maple Leafs 4-3 victory over the Edmonton Oilers last evening. I'll also share some roster changes and movements that are going on within the organization.
Related: Maple Leafs News & Rumors: Warsofsky, Marleau, Andersen & Kuemper
The Maple Leafs are on a four-game winning streak, and have done it in part by increasing their defensive intensity. They've played a solid, albeit a simplified game. Although the team is led by its elite players, during last night's game other team members stepped up as well. Specifically, Jason Spezza had a two-point game and Wayne Simmonds added his third goal in as many games a Maple Leafs' player – another game where he planted himself right in front of the net and asked his team to shoot at him. They did and he tipped it home.
Item One: Alexander Kerfoot Scored an Assist on Thursday
Alex Kerfoot was involved in the game last night. Although he only scored a single power-play assist, he also had three shots on net and drew three minor penalties – although one I saw was questionable. 
Related: Shelly Stays Strong in Net, But Riveters Fall to Whitecaps Late
So far on the season, Kerfoot has a goal and four points in his nine games. Given the way he's been playing, it wouldn't be a surprise if he came back from what was a down season in 2019-20 (where he only scored 28 points) to a more normal point-every-second-game pace. That would add good value to the team, given what he offers in the area of his defensive play.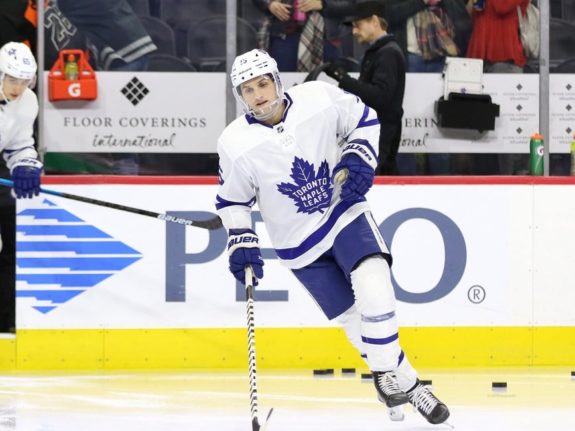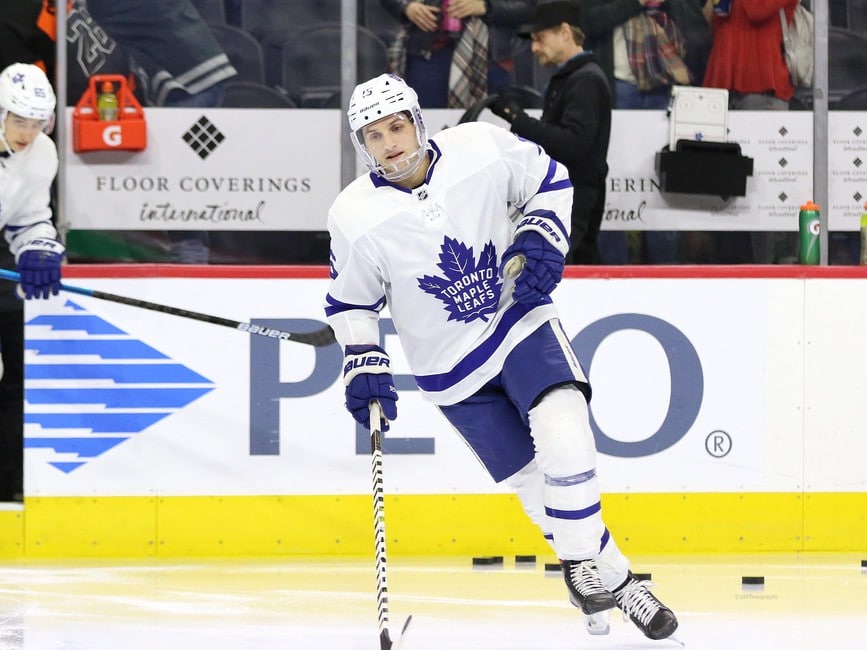 About Kerfoot's three minor penalties during the game; it's not his way to be a resident in the penalty box. His high in PIM was only 38 minutes, which was with the Colorado Avalanche during the 2018-19 season. It isn't as if the 26-year-old Kerfoot plays on the edge or anything.  (from "'WE SQUEAKED ONE OUT': Maple Leafs hang on for wild win in Edmonton, improve to 7-2," Lance Hornby, Toronto Sun, 29/01/21).
Item Two: Auston Matthews Scores Game-Winner
Auston Matthews scored the game-winning goal during Thursday's 4-3 win over the Oilers. His third-period power play goal was the margin of victory in a close back-and-forth game. Although Matthews' goal scoring started slowly this season, he's been heating up recently. It was his fifth goal of the season, and he now has nine points in eight games.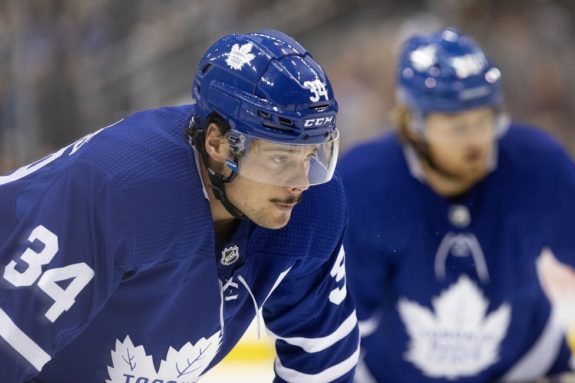 The goal also extended Matthews' goal-scoring streak to four straight games, which also ties him for second in goals scoring in the NHL. He'll look for another goal for five games in a row when the Maple Leafs go up against the Oilers again on Saturday.
Item Three: Mikko Lehtonen Didn't Play on Thursday
The Maple Leafs didn't dress play Mikko Lehtonen on Thursday night against the Oilers. It isn't as if he's been playing poorly; in fact, he's done some very good things on the ice and offers additional offensive prowess. It was more that the organization wanted to get Travis Dermott back in the lineup.
Related: Remembering Toronto Maple Leafs' Glory
Item Four: Travis Boyd Scored in His Second Straight Game
Little-used Maple Leafs' forward Travis Boyd scored an assist against the Oilers by setting up Jason Spezza for the game's opening goal during the first period. The 27-year-old Boyd has gotten his chance in the lineup and has made the most of it – scoring a goal and an assist in his first two games of the season. Boyd's playing time might not continue, but it does offer head coach Sheldon Keefe a sense that the team has a capable depth forward to throw into the mix.
 Item Five: T.J. Brodie Adds an Assist
Newcomer to the team T.J. Brodie is having a quiet season, and that's probably not a bad thing. During the win over the Oilers, he had a key assist on Matthews' goal about halfway through the third period. That goal stood up as the game-winner. After Brodie's first nine games with the team, he's tallied four assists.
Item Six: Wayne Simmonds Has Three Goals in Three Straight Games
The "Wayne Train," which seems to me a perfect nickname for Simmonds, didn't leave the tracks for the third game in a row. He scored yet another goal against Alberta-based goalies. His game, as I have noted in a previous post, is not at all complex.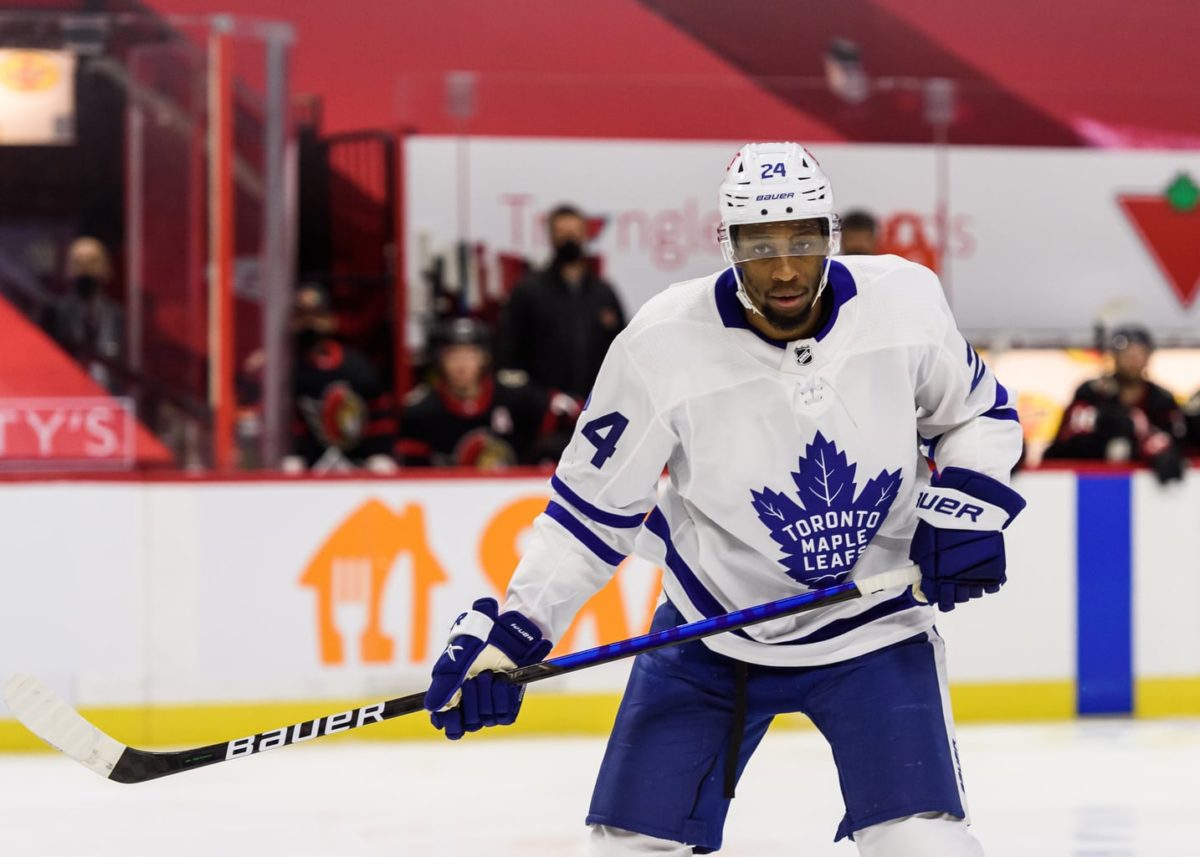 Simmonds simply takes up residence in front of the goalie and uses his big body to cause a distraction and his quick hands to either tip the puck home or redirect it past the goalie. He's good at it.
Item Seven: Jason Spezza Has – These Days – a Rare Two-Point Game
No one will argue that Jason Spezza is as good as he's ever been – he's clearly not. But that doesn't mean that he doesn't add value to the Maple leafs roster. During last night's game, he scored a goal and an assist in the 4-3 win.
Both points came during the first period. He scored a goal about halfway through the period, and he added the secondary assist on William Nylander's goal toward the period's end.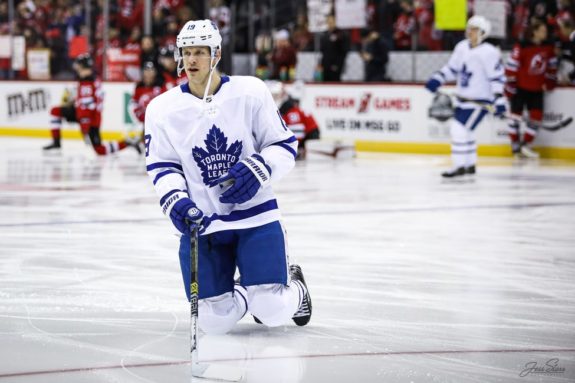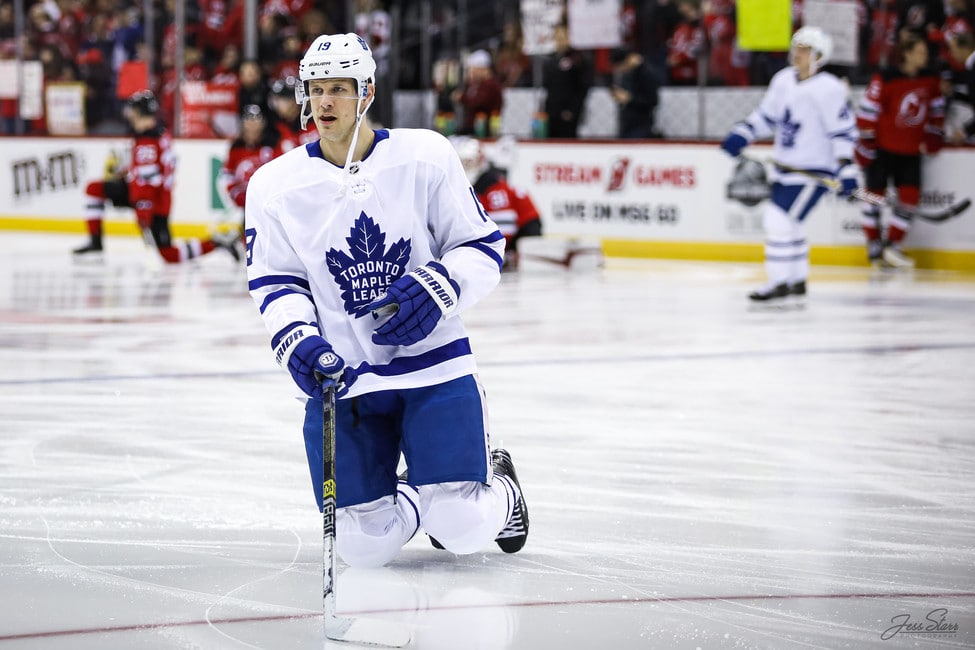 Even in limited time on the ice, the 37-year-old Spezza's been quite productive in his fourth-line role. Averaging less than 10 minutes per game, he's still scored a goal and four assists in eight games. He also obviously responds well to rest. The fact that he took the night off on Tuesday seemed to help him.
What's Next for the Maple Leafs?
It was good to see Nylander back scoring goals. After his two-goal game during the season's opener, he's been more of a playmaker than a goal scorer. It's not as if he's done poorly on the score sheet, and in nine games this season he's racked up eight points. However, his goal scoring is down. To date, the 24-year-old has three goals and five assists (for eight points) in nine games.
Related: Maple Leafs Radical Trade Rumors: Nylander, Ekblad, Nurse & Subban
I'm looking forward to the youngster having a breakout game soon, and I expect him to be more than a-point-a-game player by the time the season's finished. We will see how he does against the Oilers on Saturday evening. I know he's a bit of a polarizing player, but I like his play.
---
---