Two days. Two trades. The Toronto Maple Leafs have certainly got a jump start on the NHL Trade Deadline. On Sunday, the Leafs sent center Shawn Matthias to the Colorado Avalanche in exchange for prospect Colin Smith and fourth round pick in the 2016 NHL Draft. The Leafs have followed that up by trading defenseman Roman Polak and center Nick Spaling to the San Jose Sharks in exchange for left winger Raffi Torres and second round picks in 2017 and 2018.
We all know that Lou Lamoriello is a good general manager, but this move is an awesome one. We knew the Leafs were going to trade Polak at some point before the deadline. Spaling was also a good candidate to be moved. Now they have. However, what the Leafs got in return was totally unexpected.
In essence, the Leafs got a second-rounder for each of Polak and Spaling. All the Leafs had to do was take on the contract of Torres. The best thing about that is that, similar to what the Ottawa Senators with Matt Frattin, the Leafs have loaned Torres back to the AHL's San Jose Barracuda. Whether that is because the Leafs don't want him and his history in Toronto remains to be seen but in the long run it doesn't really matter. His contract runs out at the end of the year.
This Seems Familiar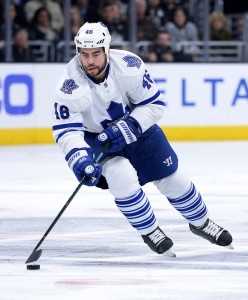 This is the type of trade that the Leafs seem to favor. If you'll recall, the Leafs traded Daniel Winnik to the Pittsburgh Penguins last season. Part of the return was a second round pick in this year's draft. So with this trade, the Leafs got a better return by taking picks in later years. The more important thing about acquiring these two second rounders is that they provide a buffer. The Leafs have to give up a third-rounder in 2016, 2017 or 2018 as compensation for both Lamoriello and Mike Babcock. So the Leafs can give up a pick each to the New Jersey Devils and Detroit Red Wings in 2017 and 2018 with these two additional second rounders.
The Maple Leafs have called up Brendan Leipsic and Stuart Percy to take up the roster spots. Leipsic performed well in his one-game call-up while this is Percy's first stint with the Leafs since last season. Whether they are up for the rest of the season is another question. The Leafs might use the two spots as a rotation of their prospects to get a look at more than a few of their prospects.
With Dion Phaneuf, Matthias, Polak and Spaling moved out of town, who knows who will be traded next. Will it be one of the soon to be UFAs left on the roster or will it be a surprise? With Lamoriello at the helm, it seems that the Maple Leafs could be getting better returns that we initially thought.
Toronto Maple Leafs Writer At The Hockey Writers.