With the Trade Deadline One Week Away, What Should the Ducks Do?
The Ducks have been on fire in 2016. They look like true Cup contenders, but with the NHL trade deadline one week away, are there any holes in their lineup they need to address going into the stretch run?
We've got five on it! #LetsGoDuckshttps://t.co/bWNVOuaZ7M

— Anaheim Ducks (@AnaheimDucks) February 22, 2016
The Ducks could easily stand pat and have the deadline come and go without making a single move. Keep in mind, they made some moves in January acquiring David Perron, Dustin Tokarski and Ryan Garbutt. Tokarski didn't fill too many needs in the organization other than perhaps adding some goaltending depth and flexibility. Perron has found a home on Ryan Getzlaf's wing and Ryan Garbutt has been a good addition to the fourth line.
The Ducks don't look like that same fragile team that got out of the gate in October with a disastrous start. Having said that, you should never judge a team while they're hot or cold. A little perspective is necessary.
I believe the Ducks can make a splash before the deadline to address some issues on offence.
We Need More Power
Even though Getzlaf and Perron have been lights out since Perron came to Anaheim, I have a hard time believing Mike Santorelli is an adequate linemate for these guys. For the majority of his career, Santorelli has been a very serviceable third-liner, but to have him on the top line is a bit of a stretch. Coach Boudreaux can always rearrange his lines to make his top two bursting at the seams with offensive prowess, but this is the setup that has been able to find the most success this season.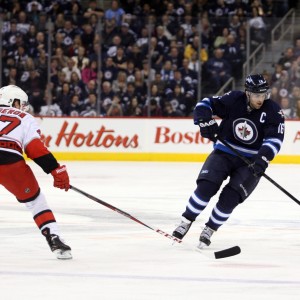 I would be more inclined in adding a left-winger for a top-two role. The player that would best fit this lineup is Jets captain Andrew Ladd. Here's a player that works in the corners, plays the body, has good offensive instincts and skills, has won two Cups in his career and has seen what it takes to win. The price will definitely be hefty though as Ladd is one of the most sought after commodities heading towards the deadline. In all likelihood, Ladd would cost any team a first-round pick, a prospect and a roster player.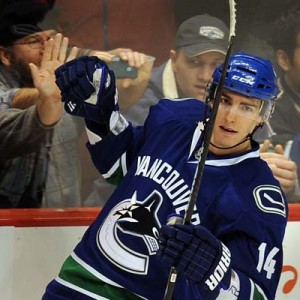 A cheaper alternative to Ladd, would be Canucks LW Alexandre Burrows. He's currently playing alongside youngsters Jared McCann and former Duck Emerson Etem, but he used to line up with the Sedin twins for a few years and found success with them. He's a pest with good offensive abilities and has shown a knack of digging pucks out of the corners for his skilled linemates. If he's not along the boards, killing penalties or chin-wagging his opponents to death, you'll find him in front of the net annoying the hell out of goalies.  Burrows has one more season after this one at $4.5M. The Canucks are in a tough position. They are one of the highest spending teams, but also one of the worst. This team needs to re-tool and cannot have a third-line winger making that much money if they are not contending for a Cup. He could be a cheaper solution than Ladd.
Playoff Proven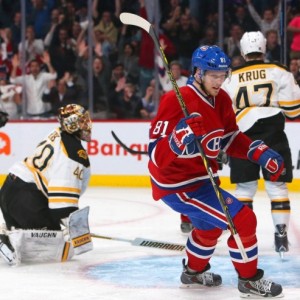 Another hole in this lineup is at checking centre. Ryan Kesler has been on a torrid pace averaging close to a point per game in his last 22, but he's a better fit at second line centre than in the third-line slot like he is at the moment. The Habs Lars Eller could be an excellent solution to plug that hole. He still has two more years after this season under contract at $3.5M per. He has had a good playoff showing over the years, as he was one of the bright spots on offence for the Habs during their run to the Conference Finals two years ago. He has been playing out of position most the year while lining up on Alex Galchenyuk's left for the first few months of the season. Since coach Michel Therrien has brought him back to his comfort zone, he has been looking pretty good.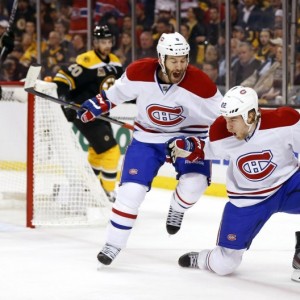 Let's stay in Montreal as Dale Weise is a very intriguing asset as well. He's a third or fourth line right-winger that has been falsely used on the top two lines at times this season. He excels on the bottom lines where he doesn't get matched up against the opposing teams' top defensive units. He desperately needs a change of scenery as he has sadly run his course in Montreal. Despite his shortcomings alongside Max Pacioretty and David Desharnais this season, he's a useful player that can get under the opposition's skin and bring energy during the playoffs . He was able to drive Milan Lucic nuts two seasons ago when the Canadiens took the Bruins out of the playoffs. I think we all remember that handshake line.
How convenient that Lucic now plays for the Ducks biggest rival.