Patrick Marleau's name has been bandied about in trade rumors for months leading up to the Feb. 29 trade deadline. The 36-year-old winger is in the twilight of his career and, having spent all 18 years of it with the San Jose Sharks, appears ready for a change of scenery. Reports in November indicated that Marleau's camp may have quietly requested a trade, and general manager Doug Wilson gave them permission to explore some options. Shortly thereafter, information surfaced that suggested Marleau would like to go to the Anaheim Ducks, Los Angeles Kings or New York Rangers.
An important ingredient
Updates have been scarce since then, and Marleau remains a Shark. He's on pace for one of the worst seasons of his career with 37 points through 57 games, though he's heated up a bit lately with four points in his last five. Currently centering San Jose's second line between veteran winger Joel Ward and California native Matt Nieto, Marleau continues to log heavy ice time with an average of 19:47 per contest. That ranks him sixth on the team and second among forwards behind captain Joe Pavelski, who averages 20:18 a night.
As a big-minute, all-situations player with speed to burn and plenty of experience, Marleau is a key cog for the Sharks despite his advanced age and declining offensive production. Even in what would be considered a down year by his standards, Marleau is second on the club in power play goals (seven), power play points (19) and game-winning goals (four). He remains a critical component to the team's success, and that will be doubly true in the postseason when scoring depth and veteran leadership are often the difference in a series.
Pushing for the playoffs
Make no mistake, this is a team that expects to be competing in the playoffs this spring. Currently ranked third in the Pacific Division with a record of 31-21-5, the Sharks' 67 points puts them just three points behind the Ducks for second place and five back of Los Angeles for the division lead with a game in hand on both squads. The Sharks are firmly in the mix and they know it.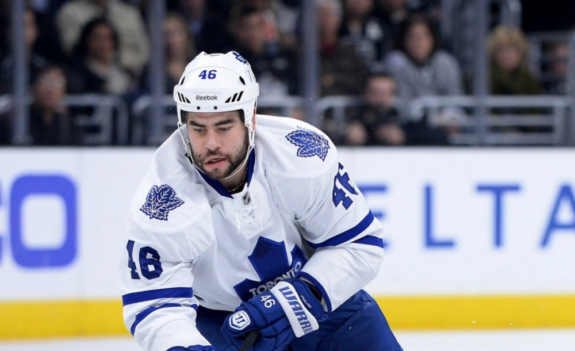 Their general manager knows it, too. Wilson traded two second-round draft picks and forward Raffi Torres to the Toronto Maple Leafs on Monday morning in exchange for defenseman Roman Polak and forward Nick Spaling. Polak, 29, was viewed as one of the top rearguards available in the rental trade market leading up to the deadline. Wilson paid a premium to land the physical defenseman in an attempt to bolster his team's blue line for a playoff run.
That's not a trade that happens if you're on the outside looking in. After the trade was announced, Wilson explained to the media that he felt the Sharks have played well enough to earn some upgrades and the best possible chance of going deep in the postseason.
Doug Wilson: "Our existing group of players has battled hard and they have earned the right to have every chance to succeed this season."

— Kevin Kurz (@KKurzNHL) February 22, 2016
He's right, and by the same token, the club has performed well enough to keep Marleau in the fold for the remainder of the season. If he's dealt for anything less than a forward of equal talent, San Jose is left with a gaping hole in its top six. It also loses a power play contributor, a key penalty killer and, perhaps most importantly, a franchise icon. Marleau is part of the core of this Sharks squad, and it's a group that could go far this season.
It can wait
If reports of Marleau wanting out are to be believed, surely a deal can wait until the summer. He's signed through next season at a manageable $6.7 million cap hit and could have a number of additional suitors in the offseason when teams have a bit more flexibility. If the Sharks miss the playoffs or suffer another early exit, Marleau and a number of other veterans are likely as good as gone anyway.
For right now, though, this group has earned another crack at the Stanley Cup. For Marleau, it's a chance for a storybook ending with the franchise that drafted him second overall in 1997 and the city that has been his home through thick and thin since his days as an 18-year-old rookie all those years ago.