In this edition of Toronto Maple Leafs News & Rumors, I'll share a recent team signing – Denis Malgin – and I'll take a look at defensemen who might be able to help the Maple Leafs fix some of the issues on the back end.
Related: Maple Leafs Pietrangelo Rumors: Are We Being Played?
Anyone who's read my recent posts must realize that, although I believe Alex Pietrangelo checks all the boxes for the team, I don't believe he's the answer in the long run. As a result, over the past week, I've been exploring other potential right-shot defensemen. Today, I'll look at one more of these – the Czech Republic's Radko Gudas, who's just finishing his one and only season playing with the Washington Capitals.
Item One: Denis Malgin Back with the Maple Leafs
The Maple Leafs reported that Swiss forward Denis Malgin has re-signed a one-year contract extension with Toronto worth $700,000. At the time of his move to the team last season, Malgin seemed like an interesting addition. He came to the team both with experience (192 NHL games) and some success (28 goals and 32 assists) with the Florida Panthers.
However, although I still believe Malgin has interesting potential, during the time after he came to the Maple Leafs he didn't score a point in eight games and didn't play at all during the postseason. It's hard to say what's likely to happen with the 23-year-old insofar as ice time this coming season.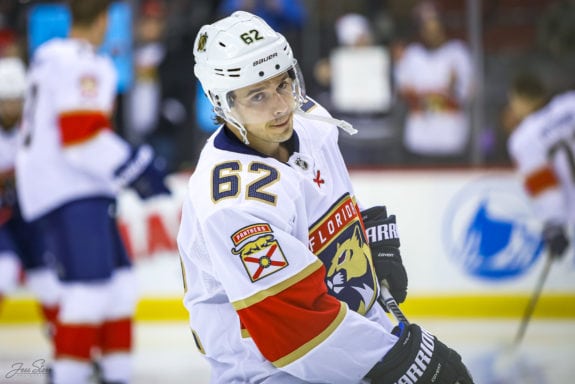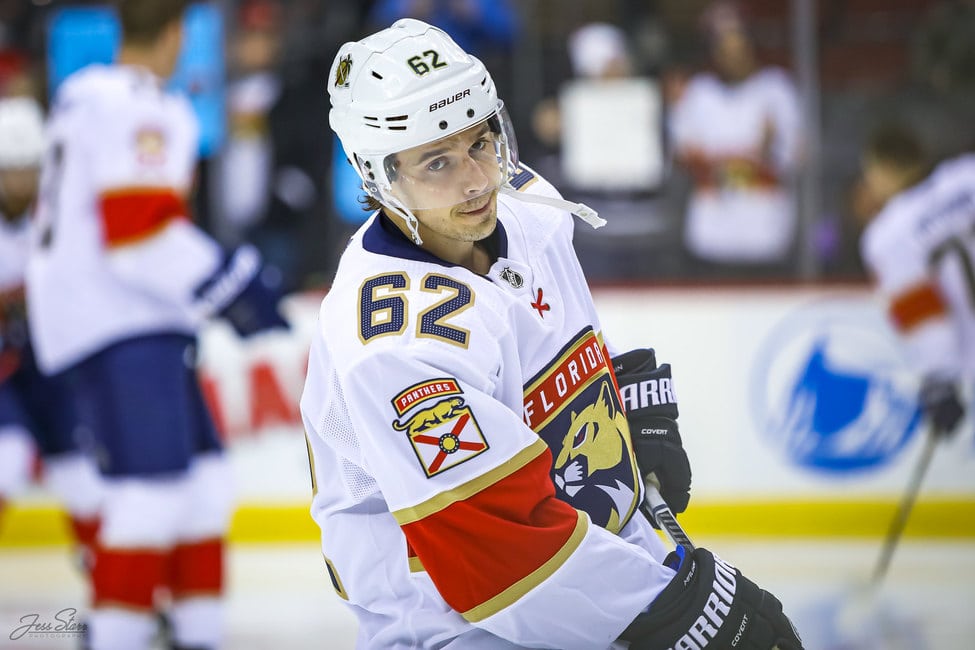 So much depends on who the team brings back, and this is the first hint about what general manager Kyle Dubas is thinking about bottom-six forwards. Frankly, it doesn't offer us much insight other than Malgin was desired. We just can't tell yet what the bigger picture will look like.
Item Two: Is Pietrangelo Even the Right Choice for the Maple Leafs to Pursue?
Although I try to speak with Maple Leafs fans regularly about what they hope happens with the team, I can't say I have the pulse of a majority of those who cheer for the blue and white. As a fan myself, I hope the team is competitive and I have my own desires about how I'd like to see the organization shape the roster to get there.
Specifically, I'd really like to see some young players get a larger chance to play at the NHL level. That includes the young defencemen in the Maple Leafs organization. For example, I'd like to see Timothy Liljegren and Rasmus Sandin play bigger minutes with the team. I've also seen Travis Dermott show flashes of great, hard-nosed play, and I wonder how he'd do in a more full-time position. Finally, from all I can see, I hope Finnish defenseman Mikko Lehtonen, who the team signed from the KHL, is the real deal.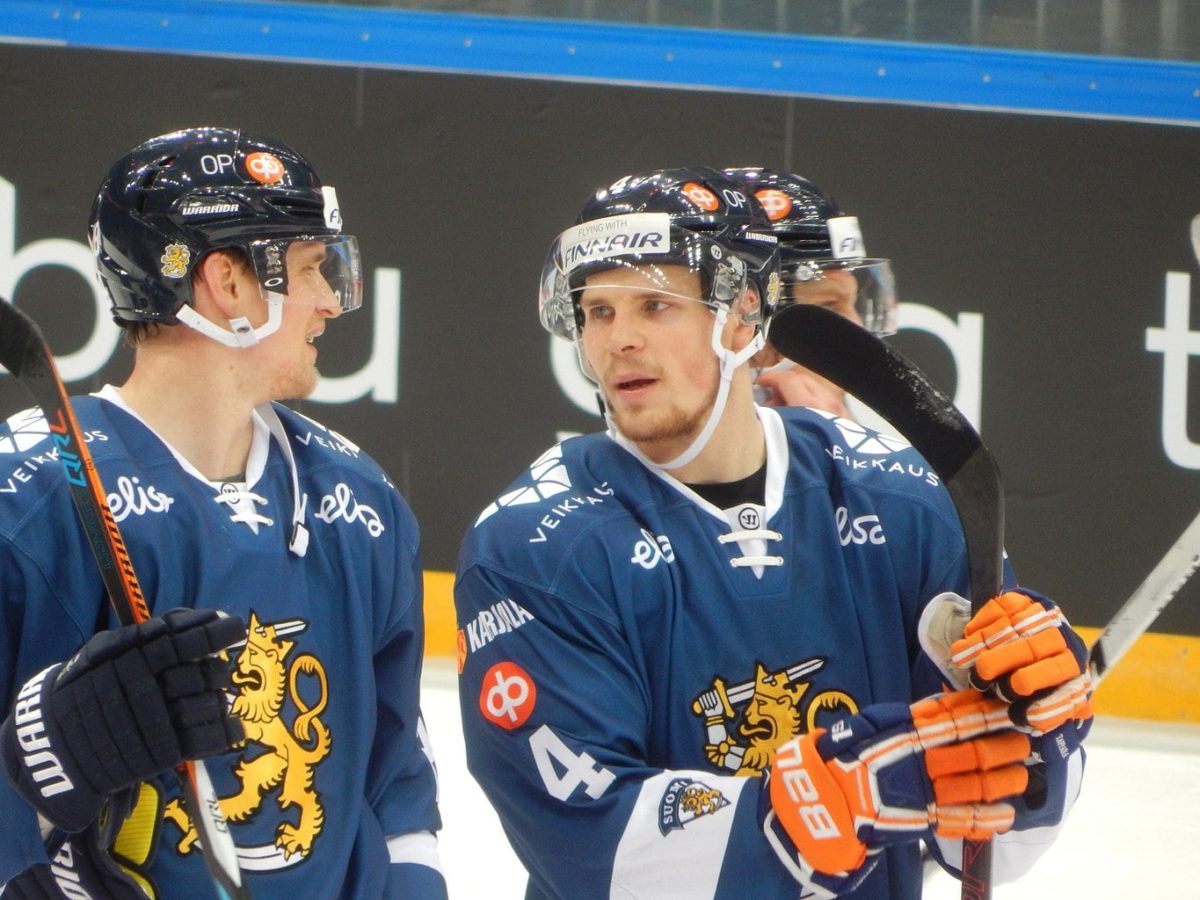 About Alex Pietrangelo, although I think he's a great defenseman, I'm not certain he fits the needs of the team better than other players. To me, the choices I believe must be made in the face of finite resources leave him out of the Maple Leafs picture. That said, how can any Maple Leafs fan be totally against their team having the best players in the NHL?
Furthermore, as I've read and engaged in the conversation about Pietrangelo's potential signing, I've become sceptical it will happen. Instead, I suspect the team could find two gritty right-shot defensemen with tenacity and willpower in their games that would allow the elite forwards the Maple Leafs have engage in the possession-style hockey that Dubas and head coach Sheldon Keefe imagine. I would love to see that style work.
If Dubas signs Pietrangelo, I'll wish him well; but, I'd love to see more development within the organization.
Item Three: If the Maple Leafs Want a Cheaper Right-Shot Defenseman, How About Radko Gudas?
There are good defensemen available with cheaper contracts. One of those players is Radko Gudas. If Pietrangelo actually stays with the St. Louis Blues (as I expect him to) or signs with another team (I hear the Vegas Golden Knights have shown interest), Dubas will likely go shopping for a right-shot defenseman among a group of second-tier players. However, the label "second-tier" doesn't mean these players can't add value to the team.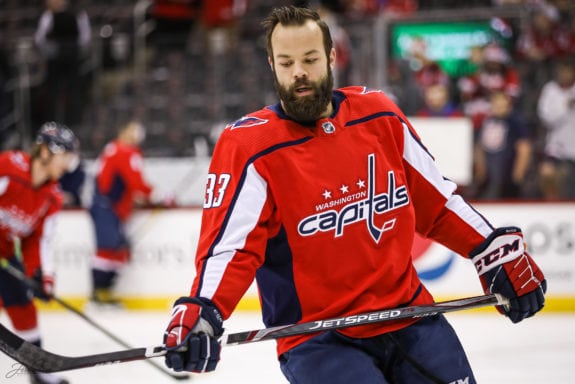 In fact, a case can be made that finding a player in that second tier is exactly what the team must do if it is to balance its other needs within a budget that fits the limits of the salary cap.
In this scenario, could Gudas work for the team? It looks as if he's going to become "one and done" with the Washington Capitals, only playing the 2019-20 season with the team.
Rumors coming from Washington suggest that Gudas isn't expected to re-sign and will be heading for free agency. Although Gudas had a good start to the season, he seemed to lose favor with the Capitals' coaches as the season progressed. Although perhaps that is mutual because, during the season's suspension, Gudas announced publicly that he wasn't likely to sign with the Capitals because of the team's salary cap situation rendered his work unaffordable.
In May, when the NHL's regular season was suspended, in an interview from the Czech Republic Gudas spoke about his contract situation in Washington and noted that he'd likely not return to the team.
He noted, "I think there's no chance of re-signing in Washington. They are grappling with the salary cap. They have young players who will play under contracts more feasible for the organization. I think a lot of the guys with contracts about to expire will leave Washington."
Related: Who is the NHL's Top Goaltending Prospect?
In short, Gudas is a tough-nosed defenseman who's made a career as a defensive specialist. His reputation is that he loves to throw his weight around. Although he's not an offensive defenseman and scored only two goals and 15 points in 63 regular-season games, he did register 75 blocks and 164 hits in those games.
What's Next for the Maple Leafs?
Right now, I can expect that somewhere from home a Maple Leafs analytic expert is crunching the advanced statistics and putting together profiles of free agents or trade-worthy candidates who might come to the team for under $1 million.
Related: Maple Leafs Rumors: Choosing Morgan Rielly or Alex Pietrangelo?
There's probably a whole lot of crunching Corsi(s) or manufacturing metrics happening as the team prepares for the 2020 NHL Entry Draft that happens in a few days or the period of free agency that starts on Oct. 9.
There's a lot happening, and I know I have my homework to do over the next week.
---
---