The Toronto Maple Leafs are always making some kind of news. There are numerous story lines that are worth following at this point in the season. They range from goaltender, Jonathan Bernier, trying to get his confidence back, to the Toronto Marlies ripping up the AHL. We can even look ahead to the 2016 NHL Entry Draft. Let's break down the biggest stories of the day.
Jonathan Bernier Gaining Confidence
When Bernier was signed to his two-year deal worth $4.15 million this past summer, it was assumed that he would be the number one netminder for the Maple Leafs. While things rarely go perfectly according to plan, Bernier's struggles really caught just about everyone associated with the franchise, off-guard.
He was allowing soft goals against and was seemingly incapable of holding off the opposition. That lead to a winless streak that extended months into the current season and a spot on the bench as Garret Sparks and James Reimer grabbed more playing time.   His stats also took a major hit  as he started the campaign with a record of 0-8-1 with a 3.28 goals-against average and .888 save percentage. The native of Laval, Quebec, simply did not have the confidence to play and win an NHL game.
When push comes to shove, tough decisions are sure to follow such as Bernier being demoted to the AHL for a conditioning stint. This is a good chance for the young goalie to get his mind right, win some games, and hopefully get his confidence back.
The experiment seems to have worked so far, as Bernier has posted consecutive shutouts with the Marlies. It's an excellent start for the former first round pick, but the real test will come when he makes his return to the NHL level.
 Maple Leafs Picks on World Junior Rosters
The World Junior tournament is a holiday staple, as each year the best young players in the world are able to represent their country and compete for a chance at a gold medal. For Leaf fans, this year's tournament will be even more exciting to watch simply because of the possible number of Blue and White prospects playing.
William Nylander, the AHL's leading scorer, will be released to play for team Sweden. This is a huge boost for the Swedes, as Nylander has the potential to lead the entire tournament in scoring. Barring an unforeseen cut, he should also get the opportunity to play with his younger brother, Alex, a projected 2016 draft first round pick.
Dmytro Timashov, the prolific scoring forward from the Quebec Remparts, was also invited to camp. Mitch Marner is all but assured a spot on Canada's team and Travis Dermott was invited to tryout as well. Kasperi Kapanen is also a solid bet to get released to represent his native Finland at the tournament. It will be a treat to watch both the Leafs prospects and 2016 draft eligible picks duke it out for the chance at a championship.
Keeping an Eye on the 2016 Picks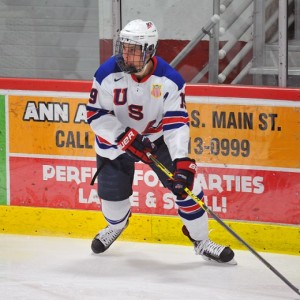 This is a full scale rebuilding year for the Maple Leafs. With that in mind, there are some real talents who will hear their name called in the opening round of the upcoming 2016 NHL Entry Draft. Obviously the Leafs would love to get as high a pick as possible.
First overall would almost assuredly land them Auston Matthews, the coveted forward currently playing his draft year out in Switzerland. There are plenty of other options including skilled defenseman, Jakob Chychrun, or power forward, Matthew Tkachuk. If the Maple Leafs land with their first pick in the five to ten range, it's also not out of the question that they draft Alex Nylander and complete the brother connection.
The Leafs have two picks so far in the first round. They have their own as well as Pittsburgh's from the Phil Kessel trade over the summer. With a smart draft and a deep pool of prospects, it wouldn't be out of the question for the Leafs to hit a couple of home runs with their selections. If this draft goes according to plan, they should come out on top with more skilled prospects to help the overall rebuilding master plan.
My name is Anthony Fusco. Through school, I completed a joint degree involving an Honours B.A. in Journalism from Wilfrid Laurier University and a Videography and Broadcasting degree through Conestoga College.
I currently work for the University of Toronto as a Varsity Sports Announcer and for the Toronto Maple Leafs as part of their game presentation squad.
I'm also the play by play voice of the Kelowna Falcons, a baseball team located in British Columbia.
My goal is to one day be a hockey broadcaster.