Driving over the San Francisco Bay Bridge, the radio played a quick sports recap of the weekend and a reminder of the local teams in action. After the locals gushed over the Golden State Warriors making the NBA look like a joke, they mentioned the Sharks. "After their six game win streak, the Sharks have dropped four of five." It brought back that narrative: the Sharks are a streaky, inconsistent team. By the way, that's five of six losses as of Tuesday night.
Top Heavy Forward Lines
Four players on the Sharks are in double digits in goal scoring. One of those is defenseman, Brent Burns. Behind those three forwards with at least 10 goals, the next best forward has 4. Joe Thornton's 4 goals rank him 5th on the team. While it is important to have your top guys scoring the most goals, if your scoring only comes from 2 lines, your team will struggle.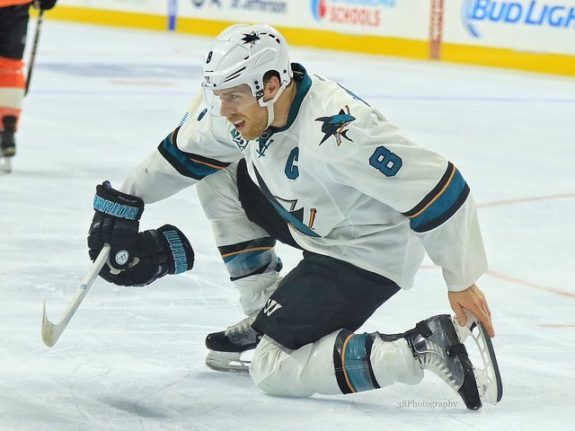 Joe Pavelski, Patrick Marleau, and Joel Ward have been great contributors so far. Thus, the top two lines have been among the league's best. But, those three skaters and Burns account for 59.1% of the goals the Sharks have scored this season. So, when those guys can score multiple times a night, the Sharks are golden. Except most NHL defenses are capable of shutting down 3 players for a night.
The younger guys on the third and fourth lines need to provide a bit more oomph. However, this could be tough sledding. 7 players have occupied three slots on the fourth line. The lack of roster consistency on the bottom six only hurts the Sharks chances of getting rid of their streaky ways.
Skittish Defensive Pairs
This website gushes over Marc-Edouard Vlasic and his defensive superpowers. But when he goes down, the Sharks are a ship lost at sea. When looking at the advanced stats, only Justin Braun stands out. However, those numbers are heavily skewed by Vlasic's partnership. Braun's Corsi for with Vlasic is nine points higher than without him. Suffice it to say, Braun needs Vlasic to survive.
Burns has been analyzed ad nauseum as well. He's an offensive threat, but his excursions forward leave his partners to defend alone. Paul Martin has been disappointing to a point. His Corsi and Shots for are under 51% even with a pairing next to the offensively minded Burns.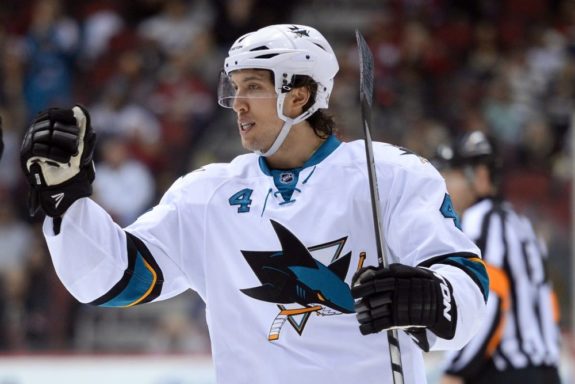 Odd man rushes, sustained defensive zone time, and poor zone exits have made it difficult to keep the goalies sane. Virtually, anyone not named Vlasic is tough to watch. When under pressure in their own zone, the Sharks struggle.
Hot and Cold Goaltending
Sharks fans shouldn't be surprised here. Martin Jones is in his first year as a number one goaltender. He is young and inexperienced. However, he is talented. The hot streaks the Sharks enjoy coincide with his, and the losing streaks also follow Jones' performance.
To put this inconsistency into perspective we look at the Sharks goals against. 2.75 goals per game is the midpoint of teams in the NHL. So, we'll say that 2 goals or less against is a strong performance, 3 is average and 4 or more is a bad showing. Out of 27 games, the Sharks have had 14 good defensive performances. But they've also had 11 poor ones with opponents scoring 4 goals or more.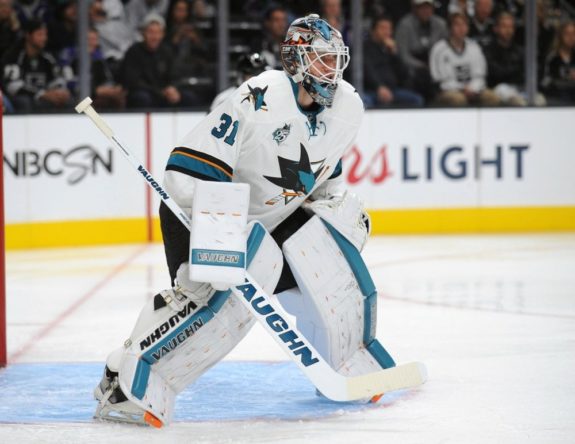 Jones and Alex Stalock have bounced back and forth between fantastic to head scratching. Jones is 39th among goalies with at least 300 minutes in low danger save percentage. Stalock is 46th among 49 qualifiers in that category. Can these soft goals be attributed to poor defense? Sure, but at some point, a goalie needs to bail his teammates out, especially when the saves are supposed to be of the easy variety.
Growing Pains
This year's iteration of the San Jose Sharks is very new. They have missed Logan Couture for most of the season, they have new faces in major roles in all three sectors of the game, and a brand new coach to boot. These problems are somewhat expected. However, it is up to coach DeBoer and his staff to rectify these struggles.
Right now, the Sharks are winning their games on talent alone. Gameplans are not being followed and the team can look plain flat for extended periods. In the NHL, sustained success is chalked up to team wins. However, right now, they are relying on one or two of their big names stepping up and having monster games.