While all signs point to the obvious, that Alexander Semin hasn't worked out with the Montreal Canadiens after all (in more ways than one, looking at his lack of hustle sometimes), it does not mean inking him in the first place was a mistake.
Making Sense of the Semin Signing
It's admittedly a contradiction of sorts, but general manager Marc Bergevin arguably had a single mandate over the offseason, to improve the team's offense. He did, albeit almost in spite of the actual moves he made, by trading for Zack Kassian, who is now in the league's substance abuse and behavioral health program, and signing Semin, who may very well end up in parts unknown.
Alexander Semin goal right now is to find a team in the KHL in the next few days. Not sure now he'll report to the IceCaps. Could change.

— Renaud Lavoie (@renlavoietva) December 8, 2015
In a way, Bergevin had to sign Semin, as it was just too good of an opportunity to pass up. Like the move(s) for Bergevin's willingness to take a risk/give second chances, or hate them in retrospect for how they did not pan out, either way you cannot deny that the Canadiens are still first in the league with 93 goals scored.
Sure, if you're a detractor of either move, both, or the Canadiens in general, you may be pointing and laughing in Montreal's direction right now. However, any suggestion that there's egg on Montreal's face as a result in any way, shape or form translates into an inability to process simple statistics such as the one above.
Alex Semin Sent Down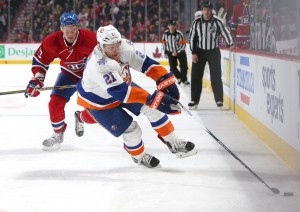 Another would be Montreal's Eastern Conference-leading 19-6-3 record, which has been achieved largely without either player, with Semin having been a healthy scratch for long periods this season, scoring just one goal and four assists. In essence, Montreal is no worse for wear following the announcement that Semin was being assigned to the St. John's IceCaps of the American Hockey League.
Granted, Montreal may still be on the verge of floating back down to Earth with all their injuries accumulating and consecutive losses to the Washington Capitals and Carolina Hurricanes in their last two games—their first two regulation losses to Eastern opponents all season.
Even if that happens, that's one thing few people, including head coach Michel Therrien—who seemed to scapegoat the Russian forward following the team's first loss of the season despite decent play in general—won't be able to blame on Semin.
So, this hilarious notion that Semin is a cancer and harbinger of failure has been proven to be inaccurate at the very least and a complete falsehood in all likelihood. If he was, would the Canadiens be where they are right now in the standings? If he was, would Bergevin, a pretty smart guy by general consensus, have assigned him to the AHL to play with the team's top prospects?
Really, all that's happened is Bergevin gambled on a player by signing him to a near-risk-free $1.1-million contract, and it simply—forget backfire—didn't work. That's all. If you need to classify it as a mistake, feel free, but know Bergevin has made worse ones, and we're talking mistakes that weren't even all that bad in retrospect.
Montreal Canadiens Moving on
Now, in theory, Semin is not done with the Habs. He can still work his way back into the lineup. That of course depends on him staying in North America… and Therrien coming around and liking the guy. What? I said "in theory."
All of that's unimportant at this stage, as the Habs have seemingly moved on, with Sven Andrighetto ultimately taking Semin's spot in the lineup on the second line. If lines at practice are any indication, he may have even since been promoted to the first line.
Trios du #CH à l'entraînement:
Pacioretty-Galchenyuk-Andrighetto
Eller-Plekanec-Byron
Fleischmann-Desharnais-Weise
Carr-Flynn-Thomas#Habs

— Jonathan Bernier (@JBernierJDM) December 8, 2015
So, if the Habs had Andrighetto as a contingency plan or even if it just so happened to work out that way, does it really matter that the Habs even signed Semin? By all accounts Andrighetto brings a different, speedier, maybe even better dimension to the right wing. If the Canadiens were as good as they were with Semin—and then without him—in the lineup, they should be better now.
Some mistake, eh? When it all has worked out like that? The operative phrase being "it all has worked out." No, Semin won't go down as a black mark on Bergevin's record, but merely as a footnote on an otherwise great job well done.